I have been wanting to write this blog entry for some time but with everyday life, commitments and holidays  taking over, time has elapsed and we are already in mid September! As a courtesy to my sponsors of
Food Blogger Connect
,
Olives from Spain
, I wanted to write up a favourite recipe using their lovely black olives. For me it was an obvious choice; Linguine Puttanesca. Okay, I know it's of Italian origin rather than Spanish, but it was a dish I simply could not resist making. This recipe however, will divide the masses, with ingredients such as olives, capers and anchovies, you will either love it or hate it! I sit firmly in the "love it" camp!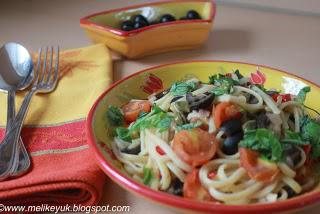 Linguine Puttanesca
Time:
Preparation: 10 minutes
Cooking: 17 minutes
Portion Control:
2 generous portions
Ingredients:
200g of cherry tomatoes, cut into halves
250g of  dried linguine
150g of black olives pitted and cut into quarters
1 red onion, finely chopped
1 tin of anchovy fillets (8 fillet tin)
3 tbsp of capers, rinsed
1 red chilli, de-seeded and thinly sliced
1 large garlic clove, crushed
2 tbsp of olive oil
Salt and pepper for seasoning
2 basil leaves, shredded
Directions:
Put the linguine into boiling salted water and cook according to packet instructions.
Meanwhile, add the olive oil to a frying pan along with the chopped onion and chilli and cook for a couple of minutes.
Then add the anchovies and the crushed garlic to the frying pan and cook for a further minute. The anchovy fillets should start to break up and melt.
Add the olives, capers and tomatoes to the pan and turn up the heat. Cook until the onions are soft.
When you are happy that the linguine has been sufficiently cooked, rinse the pasta reserving a couple of tablespoons of water to add to the sauce.
Pour the pasta to the frying pan, along with the water and toss all the ingredients together. The sauce should have a silky texture and should coat every strand of pasta.
Taste and adjust seasoning with salt and pepper accordingly. Remember anchovy and capers will already be heavily salted.

Serve into two bowls and garnish with some shredded basil.
Buon Appetito!
Of course, you can always use Spaghetti instead of Linguine, I just prefer the shape of this pasta and it's ability to absorb more sauce. My thanks again to Kirsty and
Olives from Spain
for my weekend conference pass and for those lipsmacking delicious olives.