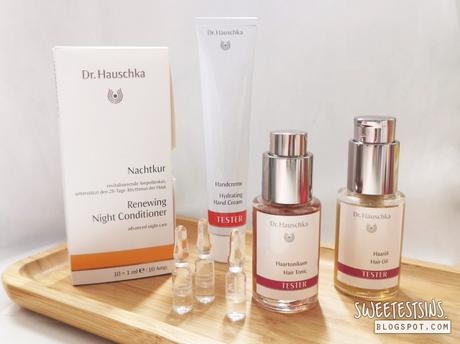 Before going to bed, I like to indulge myself with a night time skincare routine. It is my way of relaxing and indulging myself.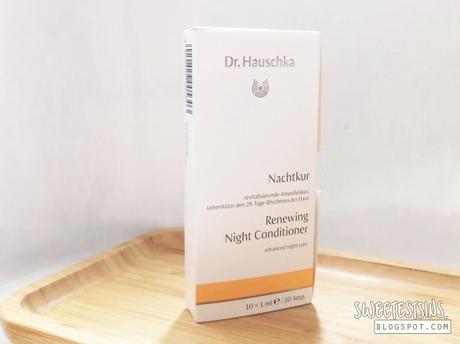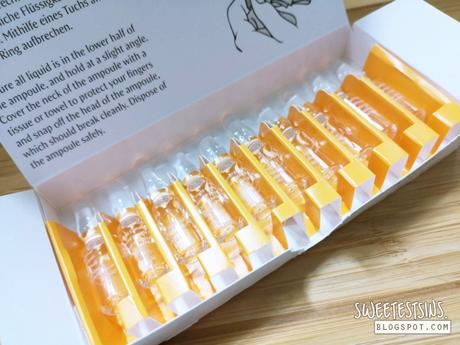 After cleansing my face, I apply a vial of Dr Hauschka Renewing Night Conditioner and pat it evenly on my face, neck and décolleté.
It has a liquid consistency and feels light on skin. I like how it doesn't feel sticky after application. Besides, it replaces night time skin care which is very convenient! Imagine swapping your toner, serum and moisturizer for just a vial of Dr Hauschka Renewing Night Conditioner!
Dr Hauschka Renewing Night Conditioner is an ampoule to be used for 28 days as the skin renews every 28 days. Your age determines the number of usage each year. So if you're between 30-39 years old, you use this ampoule for 28 days, 3 times a year. If you're between 40-49, use the ampoule for 28 days, 4 times a year. You may choose to spread this out across the year. 
I realised that my skin looked more soothed and is less prone to flaking the day after I use Dr Hauschka Renewing Night Conditioner. 
Dr Hauschka Hair Tonic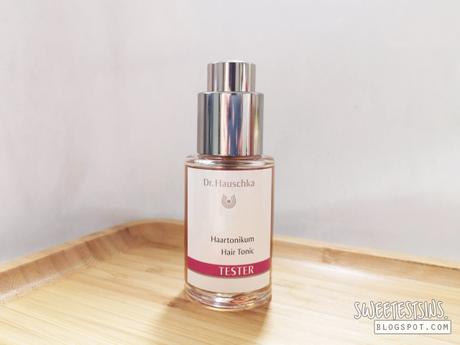 I started using hair tonic on a daily basis earlier in April this year when I was experiencing postpartum hair loss. I usually section my hair and spray Dr Hauschka Hair Tonic directly onto my scalp. After that, I will massage my scalp with my fingers. 
It has a cooling effect and together with the scent, it feels rather relaxing.  
Dr Hauschka Hair Oil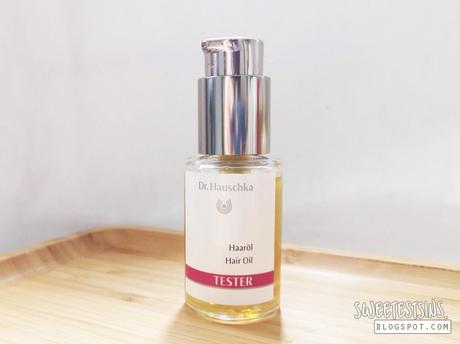 After applying hair tonic, I will apply Dr Hauschka Hair Oil to the ends of my hair. 
With this hair oil, less is more. I only require 1 pump, around pea-size for my armpit length hair. 
I also tried using this as a treatment by applying a 20-cents coin size on my hair, leave-on for 30 minutes before shampooing my hair and it made my hair shiner and less dry. 
Dr Hauschka Hydrating Hand Cream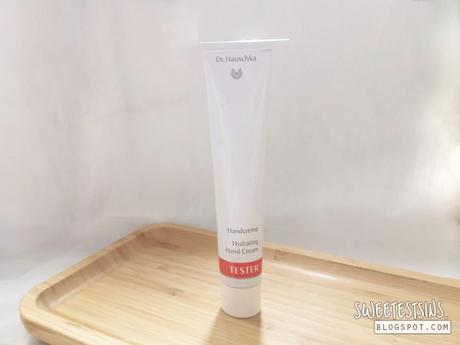 I like how Dr Hauschka Hydraing Hand Cream absorbs into skin quickly and is non-greasy. With this hand cream, a little goes a long way. I only need a pea-size of it to moisturize my cuticles, hands and elbows. I like the refreshing scent of it and how it makes my hands feel softer after application. 
About Dr Hauschka
Dr. Hauschka originated from Germany and has been around since 1967. Our products are all 100% organic and natural, and we abstain from the use of artificial fragrances, preservatives, paraben, azo dyes, and chemicals, making it safe for expectant mothers and babies to use. The ingredients used in our products are mostly plants, herbs, flowers, minerals, fruits and nuts. Most of these ingredients have a natural healing property that is able to help treat people with sensitive skin, or problematic skin such as eczema. When producing our medicinal plant extracts, we harness the rhythms of nature - light and darkness, warmth and cold, movement and rest. The elemental polarities help us to retain the character and vitality of the raw materials. Medicinal herbs prepared this way can unleash their full potential.
Dr Hauschka
drhauschka.sg
facebook.com/Dr.HauschkaSingapore
Instagram @drhauschkasg

--------------------
CONNECT WITH
--------------------
SWEETESTSINS