I am absolutely excited about the new monthly subscription websites that send you beauty products. I received my first box from Julep Maven this weekend and you would've thought I was a kid in a candy store. The box I received contained 2 bottles of nail polish (Renee & Eva) along with Pedi Crème, and Separators.  I know you're saying "who gets excited about nail polish", but there's a reason, I was a chronic nail biter for 30 + years and didn't have nails to polish (just call me nubby). I stopped biting my nails after a long period of wearing acrylic tips. Now, I wear my natural nails with a gel overlay; I'm wearing the color Renee in the picture.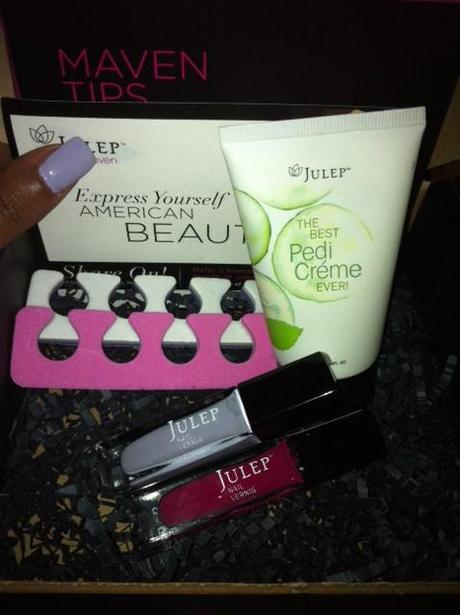 Here's what I liked about Julep Maven
Essentially, I noticed that each bottle of polish was $14.00 (quite pricey) but upon application I see why
1)   It took one coat of polish to give my nail great coverage not 2 or 3 like I normally do with some of my nail polish.
2)   My nail set and dried completely in about 5 minutes. Normally, after applying a few coats I would have to wait like an hour or I risk messing my nails up.
3)   They have beautiful colors that are named with real women names like Renee, Eva, Annette, & Ellen….maybe they will name a color after me Shauntee

4)   Proceeds from sales are donated to various organizations that support women.
5)   With the subscription you get 20% off all products.
6)   I love the blog that shows you cool nail designs and how to create the design yourself
7)   I'm a sucker for super cute packaging, the items cames nicely wrapped in pink bag with a black filler.

Photo & Design Courtesy of Julep Maven
The monthly subscription is $19.99 a month. You receive a preview of your box on the 20th of each month. If you love it, do nothing and it will ship out on the 27th. You can try them out by clicking here
Let me know what you think.