So all, I am moving. There I said it. I have been avoiding this fact for the past few weeks, but I am now very close to the moving date and as each day gets closer I get that little bit more stressed out. Don't get me wrong I love moving; the excitement and the blank canvas gives me the chance to redesign, but as we all know they can be stressful times as well.
I have had to consider many points for this move, but the biggest one is that I will need new furniture. Firstly my new home is smaller than my current home….the size of the rooms are smaller but there are more of them in essence. I have also sold a lot of my old furniture as it out with the old and in with the new. So I thought I would share my plans for my new home with you…now I am getting the butterflies of excitement.
I need some extra storage
One of my current issues is that I will now have a hallway – I know I am really growing up! It is spacious enough to be utilised and the obvious choice is to use this space for extra storage. I have a vintage coat rack and a beautiful Venetian style mirror, so I am looking for a side board that will work well for storing letters and smaller items, but also remain in keeping with my country/vintage theme.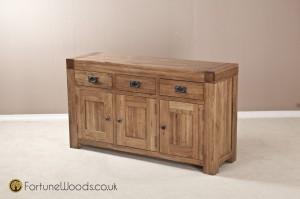 After some searching I managed to find the most beautiful oak sideboard from Fortune Woods. I chose this one because it has lager cupboard space for shoes and handbags…I am handbag obsessed after all, but it also has smaller draws for those items I always seem to keep lying around. I chose the Boston Side board equally for its country cottage style. It is too good to miss.
My bedroom is going to be a calm oasis
My bedroom is the area I am most looking forward to being in. I want it to be calming, relaxing and the perfect place to chill out after a hard day. My main focus will be the wall my bed will be against, it is an attic room so the sloping ceilings direct the eyes to this wall and for it I want some stunning wallpaper.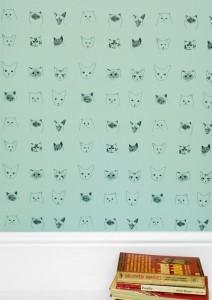 I love patterns, but equally I want to create an air of serenity. After much deliberation I settled on this wallpaper by Bainess and Fricker. It is simple yet patterned and the color is divine; strangely even though it is heavily patterned it relaxes me just looking at it.
The sofa will be my safe place
As I said earlier, the dimensions of the rooms in my new home are…well strange to be honest mainly due to the age of the house. Sloping walls, non linear walls, you name it, it has it and that is why I love it. My only niggle is that the living room is not big enough for a large sofa so I have been trying to find a smaller one than I currently have, that still offers the same level of comfort.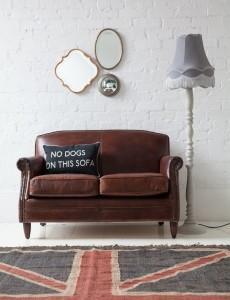 I also want to take the opportunity to move away from cloth sofas and go for leather…there is nothing better than sinking into a soft leather sofa and listening to some good music….HEAVEN! So I have chosen this sofa as my must have item for my living room – big enough for two so definitely works for little old me!