No matter how experimental I get with my sartorial choices, down the line I find myself hooked onto delicate, feminine pieces. These lady-like pieces give me solace, whenever I am in a state of fashion freeze. Whenever the fashion side of my brain stops functioning, I inadvertently reach out for these pieces to put together outfits.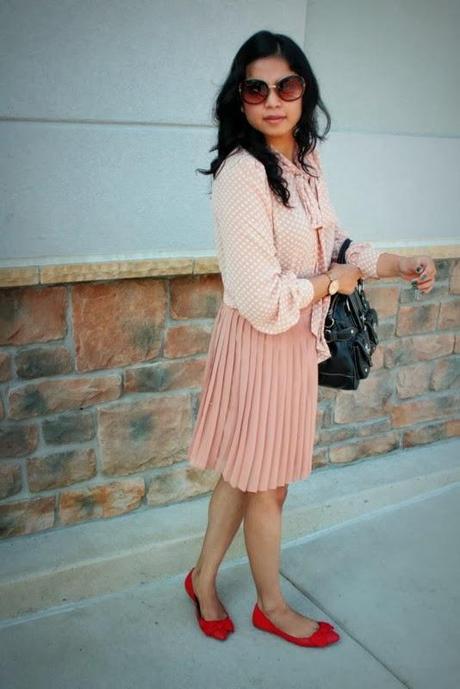 Anyways, talking about today's outfit, there are not a whole lot of pieces, but each piece in this look has a story of it's own.
This blouse is a recent purchase from the Eva Mendes collection for New York and company. I had spotted this blouse in a fashion magazine much before it was launched. Right away I knew it was becoming a part of my ever growing closet. The day the collection hit the stores, this blouse was sold out online and the stores were out in my size. However, this did not dishearten me much. With high hopes of finding it someday, I kept checking back everyday. Until one fine day this got restocked and without any ado, I bought it. So all the wait and efforts  paid off. Totally deserving and a score !!! ( # EvaMendesNYC ) 
This skirt  was bought 2 years ago, only to become a part of the abandoned side of my closet. Back then, it was snug as I was still struggling to loose the baby weight. Last year, under deliberate ignorance, the skirt continued to gather dust. But, this year it got lucky and mad it to the first place in the debutantes category. Yay for the winner....I wouldn't have realized how cute this skirt was, hadn't I taken a chance and paired the two neutrals together. I can visualize myself wearing it now with loose shirts  ( as today ) and with tights and jackets as the air gets cooler. That's the beauty of neutral pieces, they transition so well from one look to another and from one weather to another. So three cheers to this again !!!

At the end, I had to wear my bow flats to add the pop of color to this otherwise plain outfit.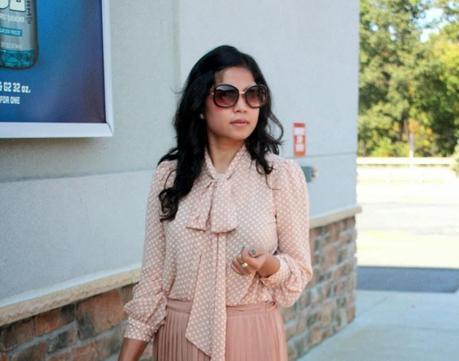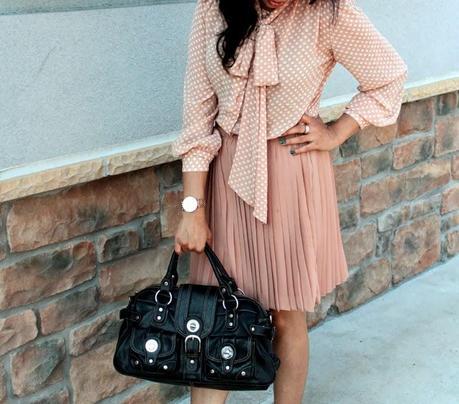 Well, I am enjoying my NEUTRAL TERRITORY, but you free to trespass and let me know how I look.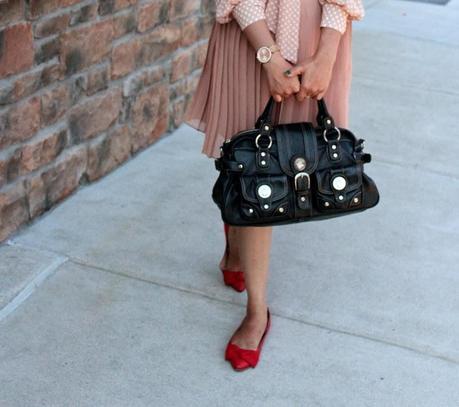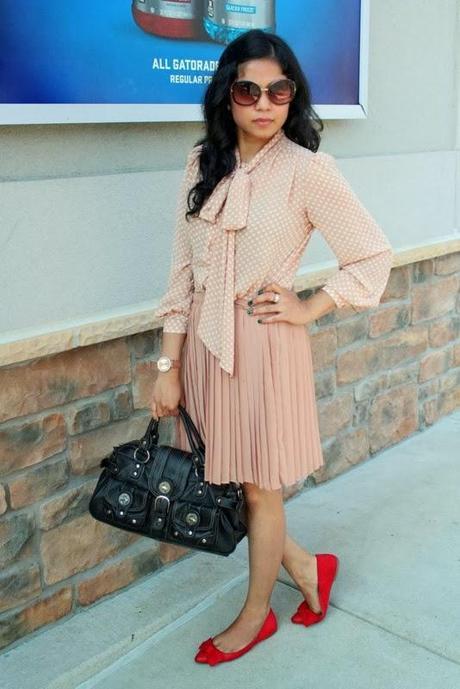 blouse- Eva Mendes ( the dress version )
skirt- Lauren Conrad for Kohl's ( dot print, linen version )
flats- Express ( save option, splurge option )
bag - London Fog ( option 1, option 2 )
Thanks for stopping byConnect with me 

SAUMYA