As my style has evolved and I've become more selective, my seasonal must lists become smaller. I'm more discerning about the pieces that I add to my wardrobe. If I'm going to spend the money, I want them to be quality pieces that will last. I save the super cheap purchases for trendy items. Now that doesn't mean that I pay full price for my long term purchases. I still look for the best price and the best value for my money.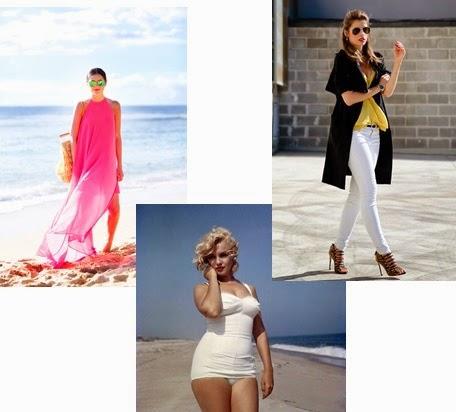 photo credits: Pink Peonies, Getty Images, Ms Treinta
The images above scream summer to me. Sun, beach, warm weather, sandals, white, and bright colors are all the best of summer fashion. They inspired me to make a few updates and acquire a few new summer items.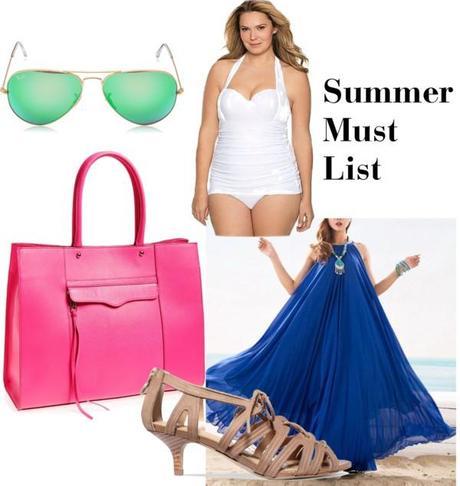 Click the photos above to view buying information.
I've been obsessed with mirror sunglasses since I wrote this post two summers ago. I purchased a couple of bargain pairs last summer and then Ray Ban released some new mirror versions. These green aviators are fantastic. I might just have to take the plunge. You can't get more classic than Ray Ban aviators. A big tote has been my constant companion lately. It can hold everything. I love this Rebecca Minkoff MAB tote in hot pink. A great summer update to a classic shape. I've been loving lace up sandals but I knew a 4 inch high pair wouldn't get much wear. I tend to gravitate more toward my 2.5 inch heels and below. Lucky for me, over the weekend I scored a pair by Nine West at Nordstrom Rack. I posted a photo on Instagram. I'm in love! A super flowy maxi dress in a bright color is high on my summer must list. I love this trapeze style that can be worn loose or belted. I'm in desparate need of a new swimsuit. We live by the pool and at the beach all summer. My suits have seen better days and I've had a retro one piece style in mind. I love this one in white.
What is on your summer MUST list?