Vintage fashion is a source of inspiration for modern designers. Where else would they get ideas for how to make clothes, than from vintage full-skirt dresses and high-waisted two pieces? I prefer to skip the modern trends completely and go right to the source. It doesn't get any classier than vintage fashion – modest and cute at the same time, you don't need to show a lot of skin to be fancy. It doesn't have to be an actual vintage piece to have a vintage feel. Poofy skirts, old nurse uniforms, ballgowns, and hippie dresses from the sixties are all vintage items. To get fashion inspiration from previous decades, all you really have to do is get dressed in the morning- that outfit probably has vintage influence. Here are some of my favorite vintage trends for inspiration that are taught inaccredited online colleges for design.
Formal Suits
Stately vintage suits often have original silhouettes that you can't find in stores anymore. One of my favorite designers, Gilbert Adrian, got his start making costumes for MGM in the 1930s. His suits are classic enough for black and white movies, with added femininity in peplum and A-line shapes typical of vintage wear. Adrian's vintage suits also don't have any of the hypermasculinity that made its way into women's formal wear in the 80s. His feminine, yet businesslike pieces are sources of vintage inspiration whenever I need to wear a suit (which honestly isn't very often). Paired with dramatic hats, these executive outfits are both womanly and serious at the same time. For vintage-inspired formal wear, look for suit sets that feature full, feminine skirts and slim shoulders. Even if I'm just surfing guides to online schools, putting on a vintage-style suit makes me feel professional.
Swim Suits
Vintage bikinis are cute and classy. Well, they're still bikinis, so they show a lot of skin. But characteristic high waists, stripes, polkadots, and structured tops give vintage swimsuits a modest feel. They show off your body while still looking prim next to other beach get-ups. I have a soft spot for vintage French swim suits in particular. Jaques Griffe made very French navy striped two pieces with high waists back in the 1940s that inspire me when it's time to look for swimsuits. If you feel inspired and want a suit with a vintage feel, try looking for bandeau tops, broad stripes, and polka-dots for a cutesy, modest look.
Uniforms
Aside from all types of suits, vintage uniforms, and nurse's uniforms in particular, are an inspiration. The tailored cuts and cotton dresses are much more stylish than today's hospital scrubs, and would make nice cotton sundresses. In the 40s, nurses wore them buttoned up under cotton nurse's aprons. I think they would look great by themselves, paired with a sun hat instead of a nurse's cap. Who says work wear can't be pretty?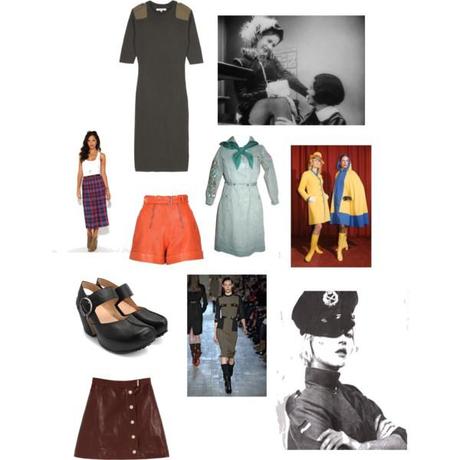 Vintage inspiration is really everywhere. Most, if not all, modern fashion trends have some root in the past.