No, not French men.

Anyway, watching Les Misérables made me think about my French connection. Allow me to share that story with you as I reminisce. (Please excuse the photos. We didn't have digital cameras back then.)
I'm not really sure how my love affair with the French started. I just decided that I wanted to learn the language and without giving it a lot of thought, I took up International Studies in college and chose French as my elective. 15 units of French won't really get you anywhere, and while I learned some curse words and the usual greetings, nothing prepared me for the 3 weeks that I spent in France.
I was one of the 2 delegates from my school chosen to participate in the Study in France program of the French Embassy in 1999. Not sure what my school would gain from it as we left in May and I graduated the previous month (LOL!), but I still went – grateful for the opportunity and excited as hell.
We stayed with foster parents at the university town (you know what that means – hot guys everywhere!) of Toulouse, the south of France, where Alliance Française has a school and that was where we were attending along with other international delegates. I made fast friends with the other girl from my school, Kat, and Wilma from Ateneo (because we felt a certain kinship since she was formerly from La Salle :P). The ladies from UP did not hang out with us. Their French was flawless and I felt really inadequate.
I was 19, it was my first long flight experience (18 hours including a lay over in Paris), and it was my first taste of spring at 10 degrees. I had to walk 2 kilometers to and from school everyday over the Garonne while it rained and I was freezing, with only a raincoat on.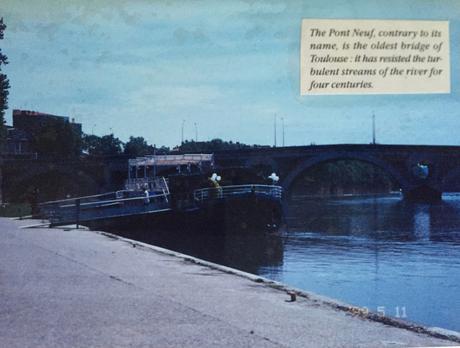 Pont Neuf – "New Bridge"
I remember crossing this bridge (about 100 feet) and cursing my sister under my breath while tears rolled down my cheeks. She had advised me not to pack heavy clothing as I won't need it. As a cabin crew, I took her word for it. Now everywhere I looked, people were bundled up in heavy leather jackets. Needless to say, I got sick. Really pathetic. I had to miss two days of school and nobody was home to take care of me. My foster parents, the Pagés, were seniors and very dear but they still worked. I had never felt so homesick in my life.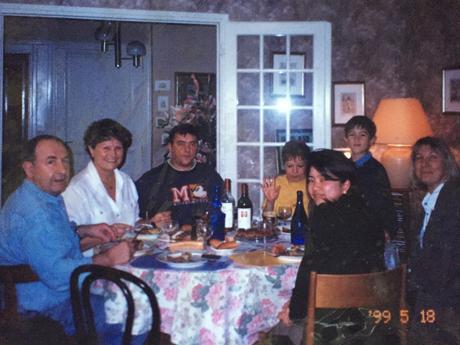 Famille de Pagés – with their friend, their daughter and her family. The Japanese lady is Mika, another student staying with the family.
To be continued…