I'm a prolific online window shopper! I'm always adding thousands of pounds worth of stuff I'd like to have in my life into virtual shopping trollies... usually with the intention of whittling it all down to maybe just one or 2 things that I *must* own and that my bank balance can stretch to, but without the decisiveness to actually do so.
So, when I was asked to make a wishlist of things I'd like from Littlewoods, I jumped straight on it as this is totally my forte. As usual, when adding products to my wishlist, I went TOTALLY overboard, so I then had to limit myself to just my favorite 8 items from each of the departments I was 'shopping' from.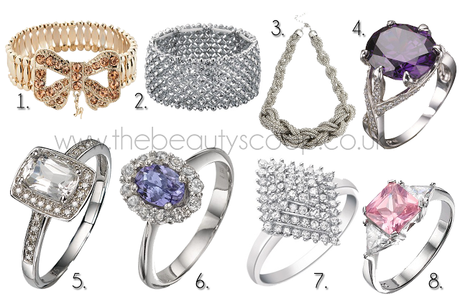 First stop was Littlewoods range of Jewellery, and I'd say this was probably the hardest department to limit myself to just 8 items in, due to the sheer volume of different items available added to my magpie 'shiny shiny' tendencies. I tried to do a mix of fashion and more classic products, as I do like both... they all have a place in my jewelry box, but I do love a statement piece of jewelry. The products I've chosen relate to each of the links below, numerically.
1. Lipsy Bow Stretch Bracelet, £15
2. Fiorelli Stretch Crystal Wide Bracelet, £42
3. PIECES Knot Necklace, £27
4. Sterling Silver and Purple Cubic Zirconia Ring, £55,
5. Tanzanite and Silver Ring, £117
6. 9 Carat White Gold 50 Point Diamond Cluster Ring, £326
7. 9 Carat White Gold, White Topaz, Diamond Set, Radiance Set Ring, £276
8. Sterling Silver and Pink and White Cubic Zirconia Ring, £19
Total spent: £877.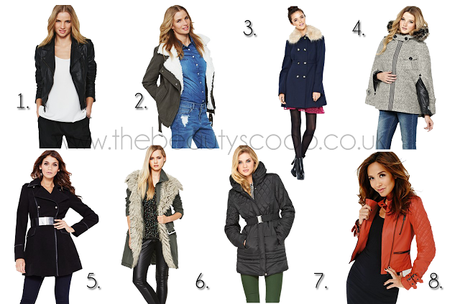 Next up I headed to Littlewoods range of Women's Jackets, since I've been desperate for a winter coat or 3 for some time now, since losing all the weight, as everything is way too big. There's a mixture of styles included here because to be honest, I'm still not entirely sure which style will suit me more these days.  Before, I used to just go for items that fit me and were quite loose in fitting so as not to show my numerous lumps and bumps. however I do like the look of all of these, and so that's why I chose them.
1. South Leather Biker Jacket, £139
2. South Fur Lined Biker Jacket, £60
3. Love Label Dolly Fur Collar Coat, £85
4 Superdry Eskimo Cape, £118
5. Lipsy Belted Coat, £105
6. Definitions Lux Military Parka, £110
7. Vero Moda Yatsy Padded Coat, £44
8. Myleene Klass Genuine Leather Biker Jacket, £160
Total spent:  £821.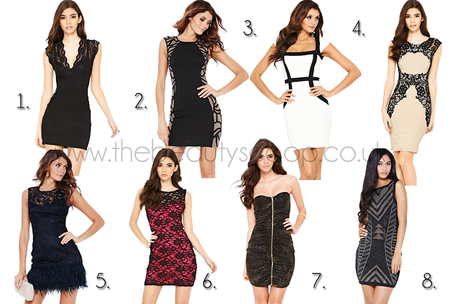 Finally, I found myself loitering in Littlewoods range of Lipsy Dresses, because again, now I've lost weight, I am a total sucker for a pretty party dress; and, since we're rapidly heading towards party season, I thought what better way to warm up than by choosing some of my favorite dresses from the range.
1. Lipsy Bandage and Lace Dress, £68
2. Lipsy Bodycon Illusion Dress, £74
3. Lipsy Jersey Bodycon Dress, £62
4. Lipsy Lace Detail Bodycon Dress, £74
5. Lipsy VIP Lace Feather Dress, £142
6. Lipsy Sleeveless Sequin Lace Dress, £44
7. Lipsy Shimmer Bandeau Dress, £60
8. Lipsy Cap Sleeve Dress with Stud Detail, £62
Total spent: £586.

So, there you have it... my 8 favourites from each of just 3 of the Littlewoods ranges available online. Being the indecisive madam I am, this was actually incredibly difficult to do; and should I ever be asked to further whittle it down to less than these 8 items per department, well I just don't think that would be possible, I would be totally bamboozled and probably end up in an indecisive heap on the floor. Ha.
My only wish, is that these items were being sent to me right now, instead of still only being a distant dream in my virtual trolley.
What do you think to my choices? Are there any items from the ranges that you'd have picked differently? x

This post originated at www.thebeautyscoop.co.uk