The My Little Pony Fair and Convention, a traveling annual event, stopped in Schaumburg this past weekend. Being a My Little Pony fan since birth, I couldn't pass up the chance to attend this show.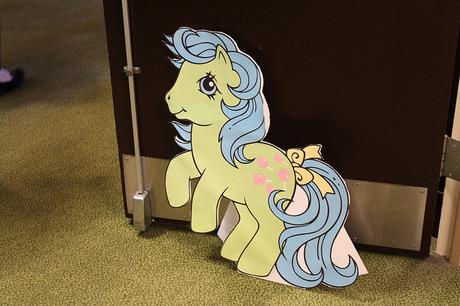 Tagging along was my mother, who isn't a pony fan herself, but thought it would be a good place to buy future holiday gifts for, well, yours truly.  (She came home with a few mystery bags, so you and I will have to wait until December to see everything she may have picked up!)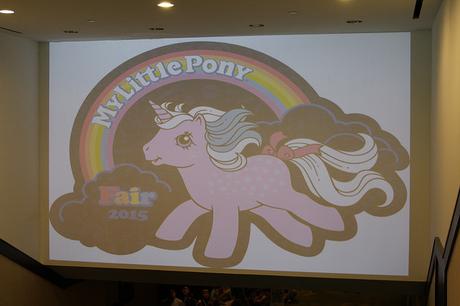 2015 marked the 12th annual My Little Pony Fair and Convention. It was our first year attending.  It will probably be our only year attending, actually, as I don't plan on traveling around for it.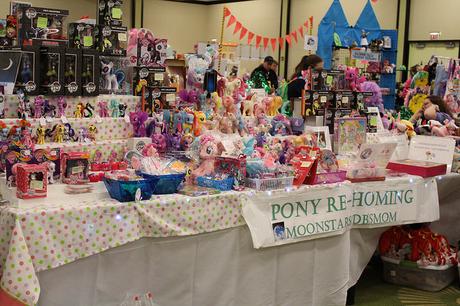 Let me give you a feel for the convention before I go into what we (mostly I) bought. Unlike the large fan gathering feeling of Puddle, the My Little Pony Fair was more 'convention-like'.  It had a small amount of panels and encompassed more than one room. On top of that, they expected to get at least 1,200 attendees through the doors during the two day show.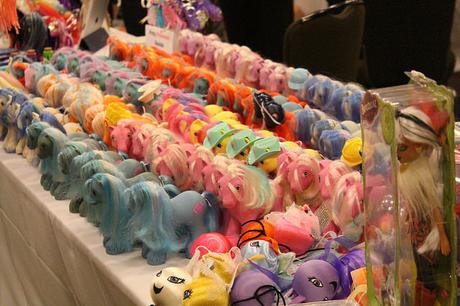 One room held about 50 vendors selling pretty much anything Pony related. There were tables filled with G1's, G2's, G3's and G4's in various conditions, fantastic custom pieces, neat My Little Pony playsets, plush, and more.  One vendor even sold kitchen towels and oven mitts!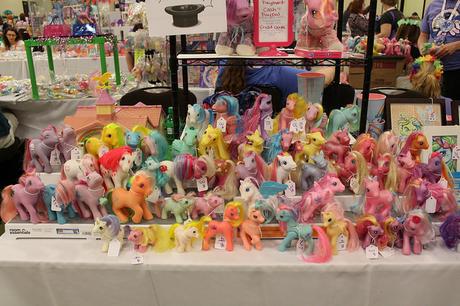 The programming was limited and repeated throughout the weekend, in many cases.  While there were a few panels I would have liked to attend, it turned out nearly all of them were at the same time.  We caught the tail end of the Hasbro Q and A panel, in which the two Hasbro reps read a scripted Q and A.  The panel ran fast, so we missed most of the questions.  From what we gathered, there was a lot of 'great question, we can't answer that right now, but stay tuned' sort of answers.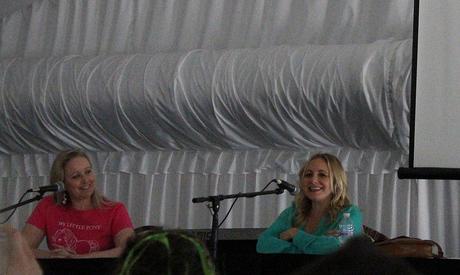 The second panel we attended was much more entertaining.  It was a Q and A with voice actor Andrea Libman. She voices Pinkie Pie and Fluttershy in My Little Pony: Friendship is Magic, as well as countless other characters.  Fun fact, she voiced Madeline in the old cartoon.  I caught some of the fan Q and A on camera, so I'll post that to my YouTube channel shortly for you to enjoy. She said her favorite episode to date is probably Party of One, in which Pinkie Pie freaks out a little when her friends all decline to attend one of her parties.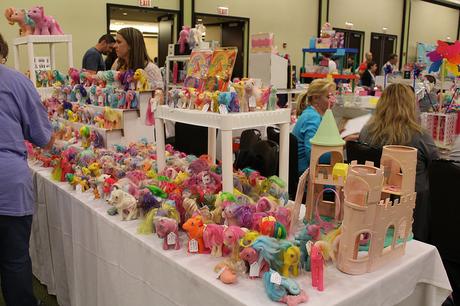 One room was dedicated to carnival type games. Each attendee received a play voucher to play six games in the room for a chance to win small prizes.  That room was very hot and crowded.  Lines took forever to get through.  In the end, I only got to play two games and won a notepad and a sticker.  It didn't help matters that the room wasn't open all day, just short spurts. Good effort, but I don't think this room worked out how they imagined it would.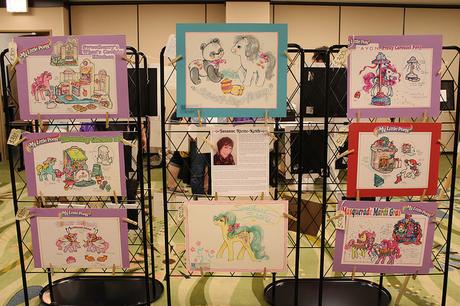 Two other special guests are worth mentioning.  In attendance were two designers who had a hand in crafting the original G1 line– Bonnie Zacherle and Susanne Riette-Keith. I didn't actually get to speak to either of these influential ladies, because, I'll be honest, walking up to people sitting at autograph booths makes me totally nervous (especially when I am not planning on paying for an autograph or photo). I know you're allowed to say hello to guests if they have no line, but it's totally awkward feeling to me. The scheduled panels with the two guests didn't exactly work with our schedule, either. Not to mention, most were ticked events and again, I wasn't going to pay to attend a panel after spending $40 to get in the door. Still, it was neat being able to look at them from a far and the artwork Susanne brought in was gorgeous!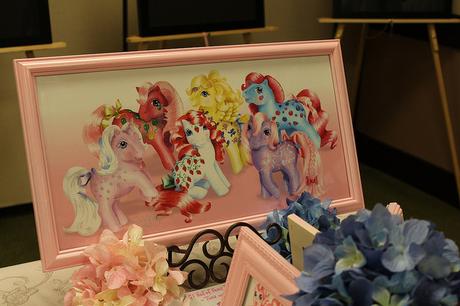 Speaking of artwork, this convention introduced me to the wonderful artwork of Sarah Keefer.  She's an artist who brought in fantastic examples of her My Little Pony watercolors.  She also made the convention bookmarks, which were stunning.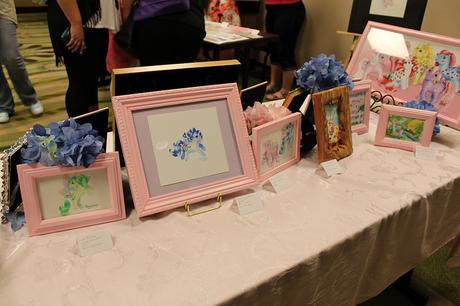 I quite liked walking around the retrospective room.  Displayed in small glass IKEA cases were ponies grouped together in chronological order.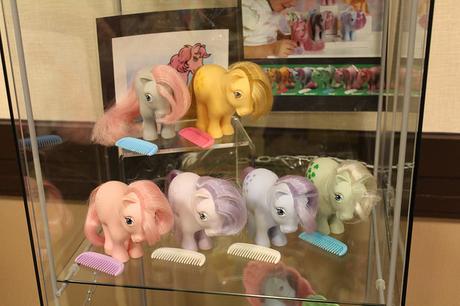 It was really interesting to see G1 ponies from every year together. The change from the first line to the last was vast and noticable.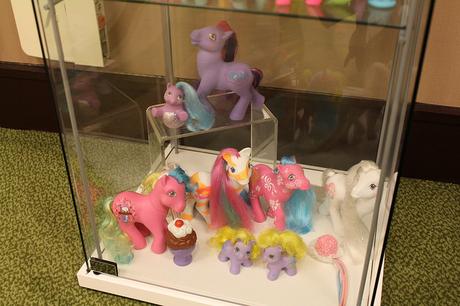 My favorite things in the room, however, had to be the prototypes that were painted to look like real ponies.  They were adorable.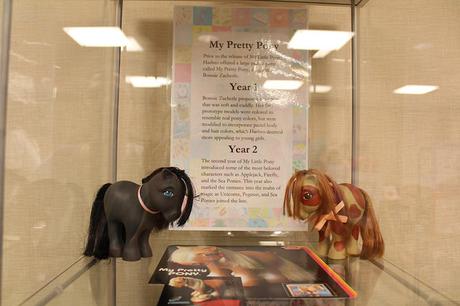 What did I buy, you ask? Well, the real question is what didn't I buy.  I spent more than expected at the show, but to be fair, I rarely spend money on my pony collection, so it was about time to put some effort (and money) into it.  I went in wanting to pick up So Soft's, Twinkle Eye's and customs.  I ended up achieving all three of those goals.
So Soft Ponies: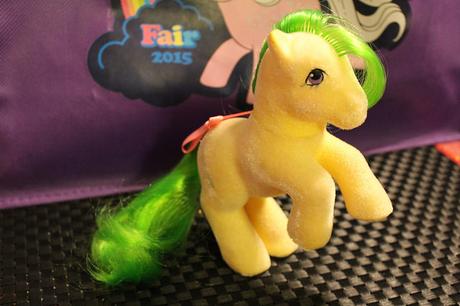 Magic Star
– I picked this pony up because I love her unique pose. Now to find a rearing pony stand for her!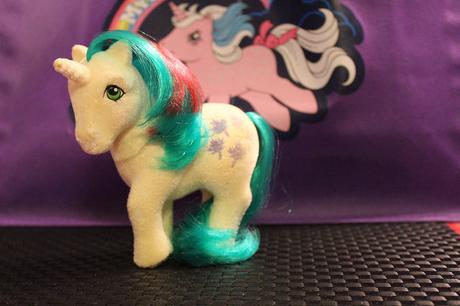 Gusty
– I love Gusty. My goal was to come home with the so soft and non so soft, but that wasn't meant to be. I am very happy with this so soft version of her, though!  Now, to try to snag the Italian Gusty, Gustavo.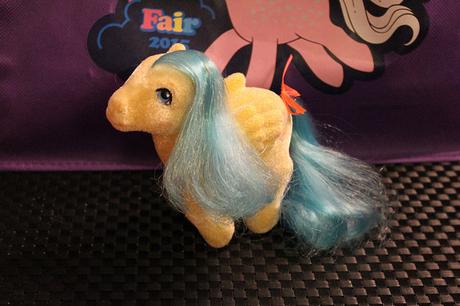 Bouncy– I didn't have Bouncy's name on a wish list, but couldn't pass up this cutie.
Twinkle Eye Ponies: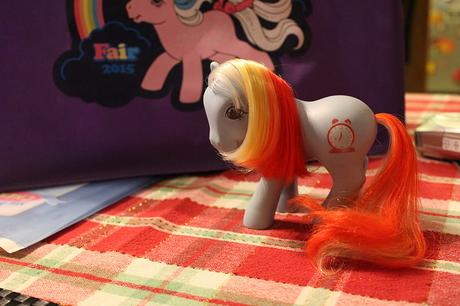 Bright Eyes– This isn't the most flashy pony on the block, but I think she's very pretty! For some reason, she was super expensive at the show– priced between $45-$60 at most booths. I found this one for $12. It's not minty fresh, but the condition is fine for me and the price was right.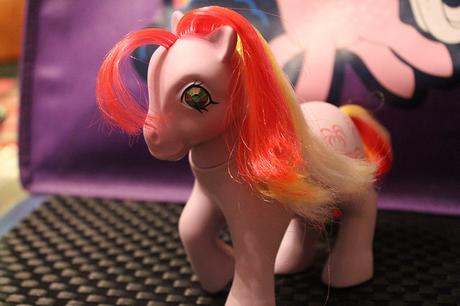 Sky Rocket– I just thought Sky Rocket was cute and she was priced right.
Customs: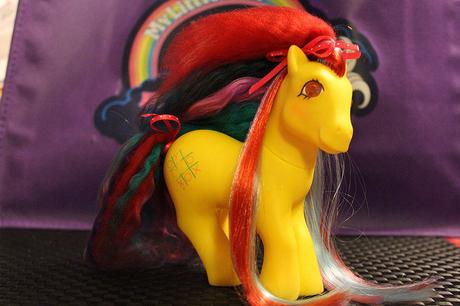 Custom by
Perfume Puff Princess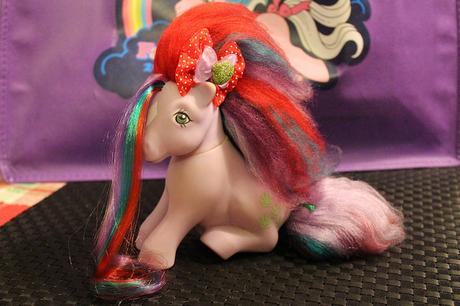 Custom by
Oat Couture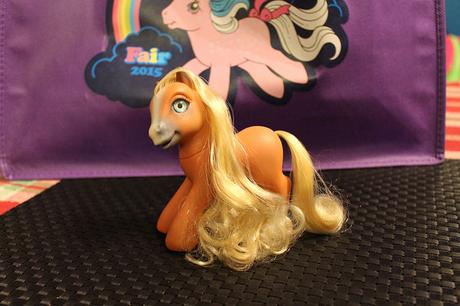 Custom by
PandaBear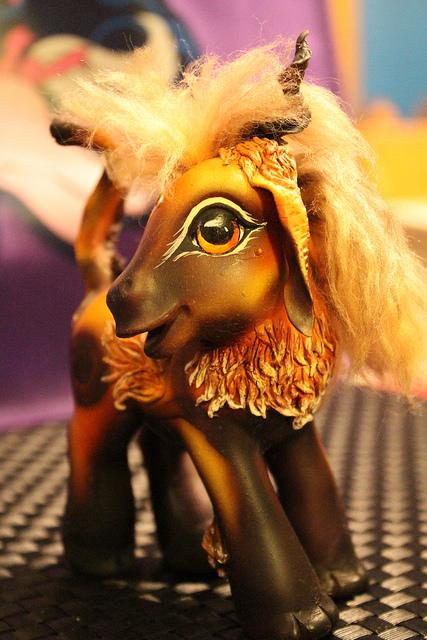 Custom by
GotBunny
All of the above customs called out to me. In fact, the GotBunny custom was my first purchase of the day.
Other: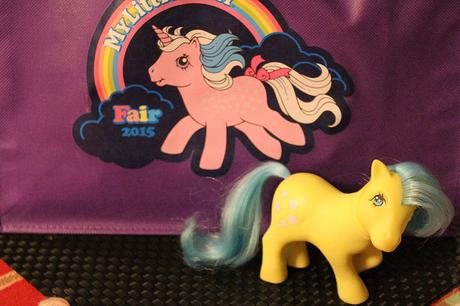 Tootsie– Tootise has great coloring and was on my pony wishlist.  I'd also like to one day pick up the Italian version (blue hair) of this pony, known as Titti.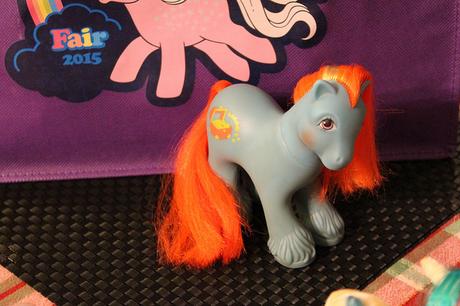 Big Brother Barnacle– My goal was to leave with more Big Brothers, but the prices at the show were very high for them, especially those that had all their accessories. I had really wanted to find a Wig Wam, but left with Barnacle, instead. Again, the price was right. One day, I'll hit up eBay to find his hat.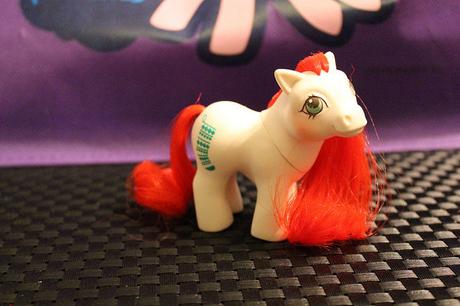 Christmas
Baby Pony (fan name Baby Stockings)– I love Christmas dolls. This was a must purchase.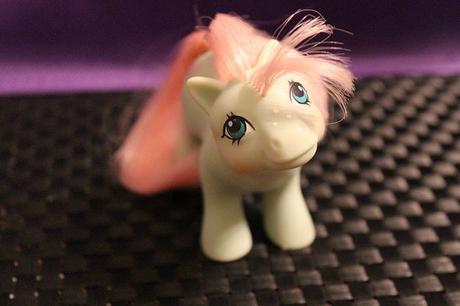 Baby Cuddles- I liked this little baby pony because of her three freckles.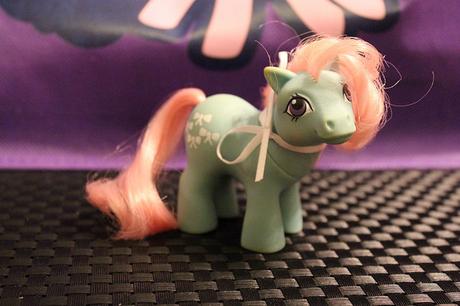 Baby Bow Tie– This baby pony was on my wishlist. I am a huge fan of Bow Tie in all sizes.    Baby Bow Tie was exclusive to the UK market. There are some interesting Columbian variants I may want to find one day and there is a very pretty French Bow Tie with white hair that would be neat to own.
I also picked up a Baby Heart Throb, but her picture will have to wait until her visit to the beauty parlor.  Last, but not least, an animation cel from the original cartoon and a pretty watercolor by Sarah Keefer also found their way into my bag.
The Show Exclusive: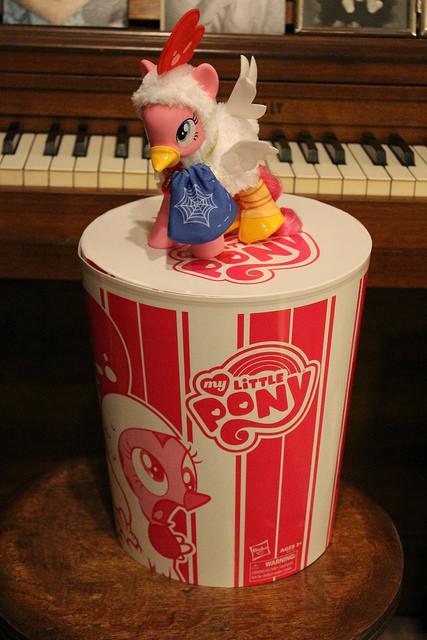 6″ Chicken Pinkie Pie- The My Little Pony Fair and Convention exclusive is also the
San Diego Comic Con Exclusive
! When I tweeted the convention about the price of the exclusive, I was taken aback. $50.00 for a G4 pony? Well, it turns out, this wasn't a tiny G4 pony, but a 6″ Chicken Pinkie Pie. The price suddenly made a lot of sense.  Chicken Pinkie Pie made an appearance in the My Little Pony: Friendship is Magic cartoon back in season 2 in a
Halloween
themed episode where Pinkie Pie donned, you guessed it, a chicken outfit. It's ironic that this would be the SDCC exclusive, as well, as I have more My Little Pony SDCC items than any other brand.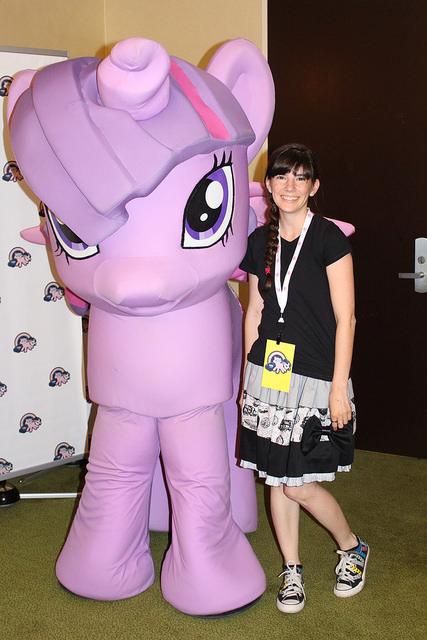 While I don't plan on traveling around the US to attend, I'm very happy this convention came to Illinois.  My pony collection grew tremendously. I may not have found myself a Mimic, but I found plenty of other amazing ponies!
Video Posts:
For more pictures, visit my flickr page! Keep track of the My Little Pony Fair online via facebook. Have you attended a convention or picked up a new My Little Pony recently? Share your thoughts below!
July 3, 2015. Tags: convention, conventions, hasbro, mlp, mlp g1, my little pony. Articles and Doll Histories, Introductions & Reviews, Uncategorized.