This past weekend was the My Little Pony Fair. Like last year, it was held in Schaumburg, IL. Being a My Little Pony collector, I wasn't going to pass up the chance to attend! The My Little Pony Fair is a family friendly celebration of My Little Pony. Mostly centered around G1 ponies, it features a handful of high-profile guests, limited panel programming and, one of the most important elements of any convention, a vendors area!
To be honest, the convention could use some improvement. While it's more organized than some of the conventions of its scale, it lacks a lot of quality panel programming. It would be great to see them expand on the panel programming for next year and add a little more variety to the mix. That being said, they have a great vendors area!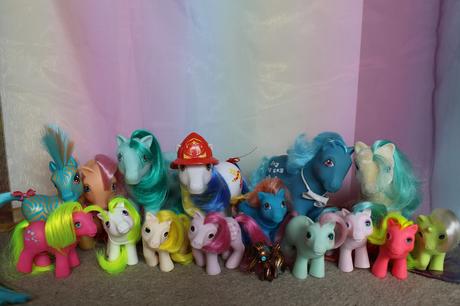 The vendors hall had a whole slew of My Little Pony sellers, the majority stocked full of G1 ponies. The room that held the vendors was a little small this year, which made it slightly cramped and hard to maneuver. We managed to find a lot of good finds, though! Care to know what they are? Here's the goodies we came home with!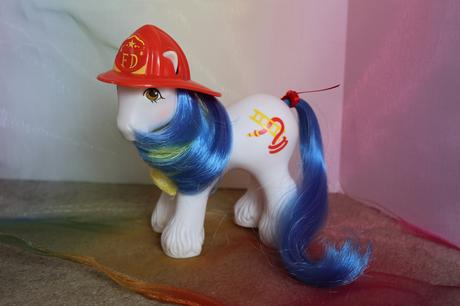 My main goal (pun intended) was to pick up some Big Brother/Clydesdale ponies. I'm happy to report that I found a few great examples of that kind of My Little Pony at the fair! While I couldn't snag the Big Brother (series 2) Wigwam, I did buy Chief, a fireman themed pony with his hat and handkerchief. (The number of Big Brother's missing their accessories was so sad! Half of their charm came from their hats, handkerchiefs, etc! I'm proud to say that both of my childhood My Little Ponies, Slugger and Tex, have their accessories.)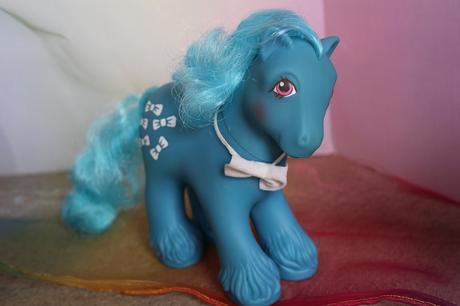 I also picked up the mail order only pony Coats n' Tails (also known as Tux n' Tails). He's a blue Clydesdale with bow ties on his hip. Coats n' Tails has been on my radar for a while, because he's be the perfect companion for my Pony Bride!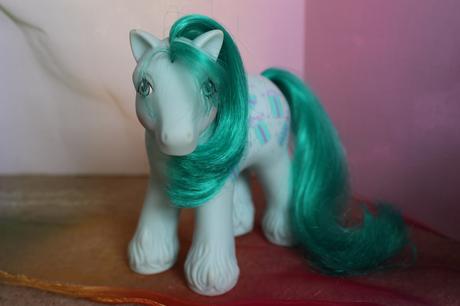 The last adult Clydesdale I picked up was Daddy Sweet Celebrations. He was part of the Loving Family series that consisted of three (or four) like ponies (mom, dad, baby, sibling). I thought Sweet Celebrations would go well with my birthday themed ponies from the year 4 birthday set, so I picked him up.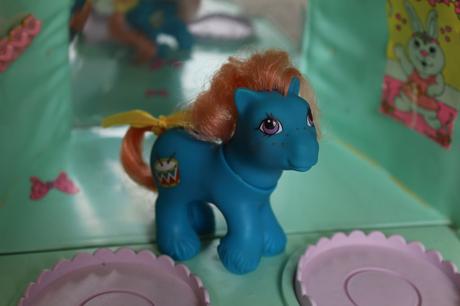 The last of the Clydesdale's that went home with me was Baby Drummer. Baby Drummer was just too cute to pass up with his dark coloring and freckles!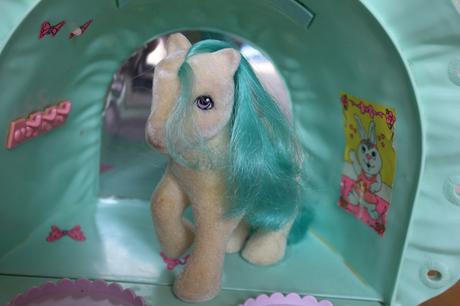 Also added to my My Little Pony family was a So Soft Cupcake and an Italian Peachy! Last, but no least, I picked up a print of concept art for the Pretty Mane series. Only two of the ponies on the poster were produced (both mail order ponies).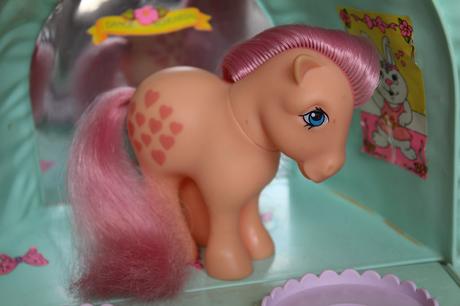 Usually, I come home with some OOAK My Little Ponies. This show had some very pretty OOAK ponies, but very few were in my price range. It wasn't a total bust, though. I did come home with a beautiful Zorse from Sunshine's My Little Pony Shoppe. She had a nice array of OOAK's on display, a few of which I am still considering buying if they show up on the Etsy shop!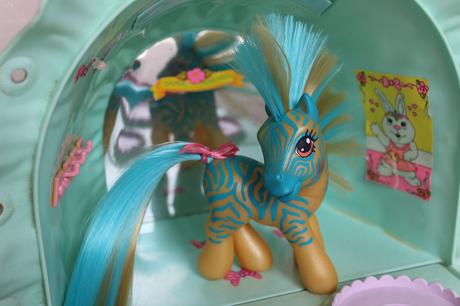 My smallest purchase was this cute little blind bag repaint by My Little Demon, dubbed a Petina Pony. I couldn't pass it up!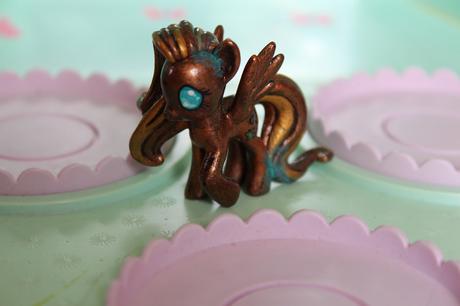 My mom picked up a nice variety of ponies herself, mostly beddy bye eye ponies. She likes them and because they were only released for a year or so, it's easy to collect them all. (See them in the video, linked above!) Overall, it was a fun day and resulted in a lot of great ponies being added to my collection!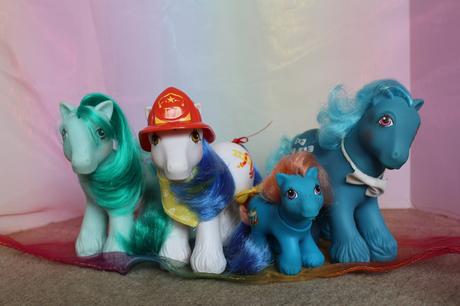 I didn't take a ton of photos at the show, but there are a few in my Flickr album. Check it out! Have you picked up a My Little Pony recently? Do you have any favorites of the ones we picked up? Let me know in the comment area!
July 14, 2016. Tags: convention, conventions, mlp, my little pony, shows. Introductions & Reviews, Uncategorized.