Dear Readers:
I wanted to share with you my latest article in
Palate Press |  Burgundy 2016 : Bad Weather, Brexit and Beyond
by L.M. Archer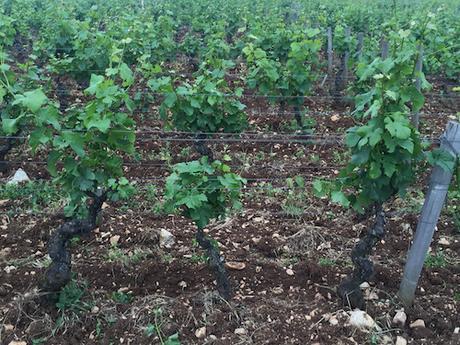 Burgundy's weather damage in Chambolle-Musingy's Les Amoureuses, owned by Comte-Georgesde-Vogüé.
Chambolle-Musingy-Les Amoureuses-Comte-Georgesde-Vogüé | Image Credit: Scott-Wright – Caveau Selections.
In Burgundy, the year 2016 is proving an annus horribilis of ruthless proportions.
Crushed between the Scylla and Charybdis of catastrophic hail and frost damage in April and May, followed by humidity and passage of Brexit (the British exit from the European Union), Burgundians strain to retain their trademark composure amidst the carnage.
Admits Pierre-Henry Gagey, President of Maison Louis Latour, "Everyone is very anxious…It's really very difficult to know [the impact] right now, but we will know at time of harvest." Read more.
CORRECTIONS: M. Gagey is the head of Maison Louis Jadot, not Maison Louis Latour. Scott Wright is the owner of Caveau Selections and former owner of Scott Paul Winery.
Copyrighted 2016 binNotes | redThread™. All Rights Reserved.