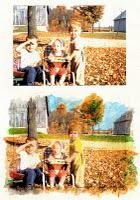 My father scanned our family photos last year, and I've been dying to play around with them ever since. This image had lost a lot of it's original color, but I had fun handpainting it back in. (Just for the record, I'm the cute one in the chair.)
1. I printed my scanned photo onto watercolor paper, using my
Epson Photo 1440
printer. A high-resolution setting is best to get a nice, bright image.
2. I used Prismacolor® Watercolor pencils to add color to the picture edges. Try to match the colors and shapes that are started in the photo. Color can be added inside the picture as well, as I did with the sky and skin tones.
3. Brush the drawing with water to turn it into a painting.