Because of my great love for good Vietnamese food - and my deprivation of it in New York - I was almost as happy to learn of a sizable Vietnamese community around Fort Worth as I was to learn of a Lao community. There are a LOT of Vietnamese restaurants in the Fort Worth/Haltom City area.  I won't, unfortunately, have time to try all of them, but Nhà Hàng Mỹ Lan (nhà hàng means "restaurant") seems to have the best reputation, and I'm guessing it's deserved. It's great - the best Vietnamese food I've had since I was in Albuquerque a couple of years ago.
Although not particularly adventurous, I have to try the chả giò (fried egg rolls) whenever I try a new Vietnamese restaurant. Mỹ Lan's are as close to perfect as I've ever had - the minced meat-and-vegetable filling had great texture, and they were perfectly fried. Served with a plate of lettuce and various herb leaves to wrap them in before dipping in fish sauce.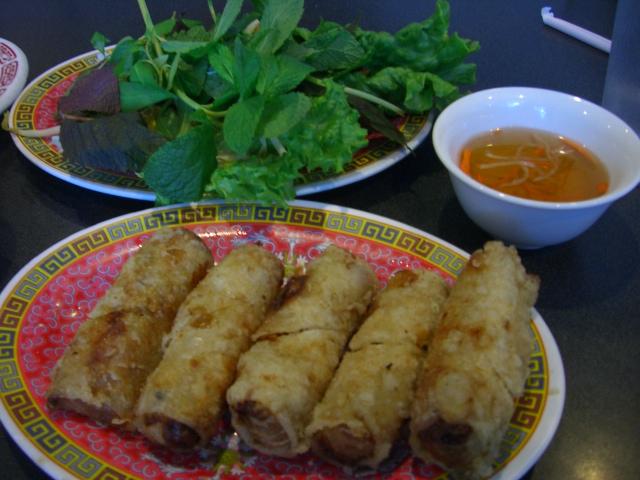 Cơm chiên dương châu is Vietnamese for Yang Chow Fried Rice, but I don't think I've ever had ANY kind of fried rice as superbly flavorful as this - thanks, in large part, no doubt, to the beautiful addition of thin slices of Chinese sausage to the standard roast pork and shrimp.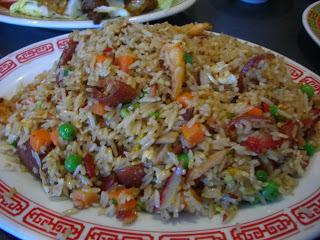 One of my favorite Vietnamese dishes naturally involves meat, and I tend to try it at every place I go that serves it. Bò lúc lắc is often translated as "shaking beef", a somewhat mysterious moniker for a dish that consists essentially of cubes of stir-fried marinated beef. Apparently, "shaking" refers to the motion one makes with the wok or skillet while frying the beef... lúc lắc means "baby's rattle" (bò means "beef"). A lot of restaurants in the U.S. make this dish with filet mignon - Mỹ Lan uses flank steak. It's just as good, if not better: flank steak has a lot more flavor than filet mignon (it also means they can only charge nine bucks for it). Delicious - it's simplicity is its greatness. Served with a side dish of a lovely sweetened garlic and black pepper sauce for dipping.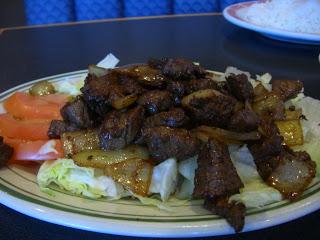 Closed Wednesdays.
Nhà Hàng Mỹ Lan
4015 E. Belknap St., Haltom City, TX 76111
817-222-1471