I really like this place. It's quaint and quiet…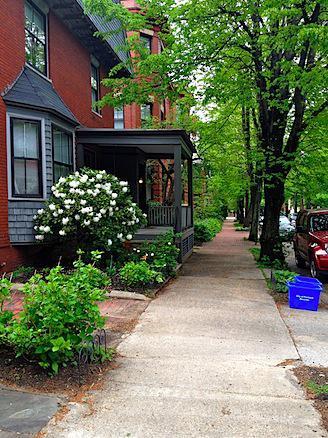 … but also has a fun downtown area right near the water.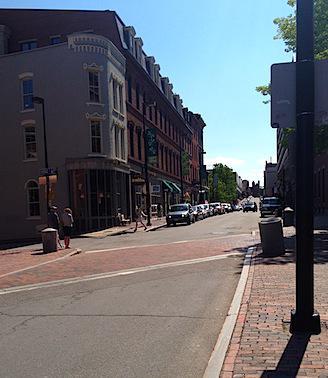 There are also plenty of cute spots for a solo gal like me to plunk herself down with a good book and a hot mug and relax for a few hours. Yordprom, a Thai-American coffee shop near our Bed & Breakfast, makes fabulous green tea lattés (my latest liquid addiction). The café is also dog-friendly, and you'll meet Yordprom's mascot Jasper, a giant golden retriever!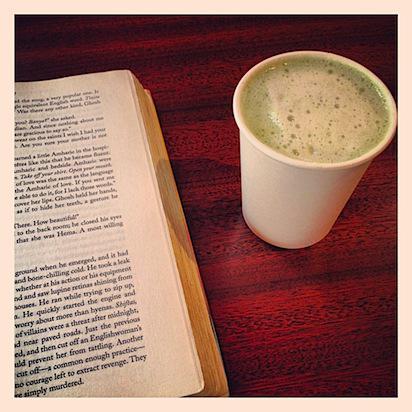 After a few wrong turns (yes, even with Googl Maps on my phone, I still get lost all the time) I finally tracked down the Public Market House, a collective of boutique vendors similar to New York's Chelsea Market. In addition to a small grocery, the two floors of shops tempt you with everything from cupcakes to burritos to fresh juice. And, of course, coffee and tea!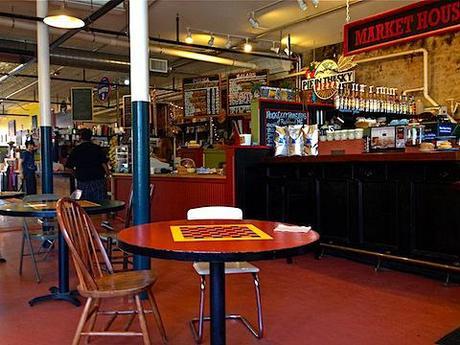 Yesterday afternoon, I had the pleasure of dining with my good friend Sarah, who lives about an hour outside of Portland. We went from hardly seeing each other at all to getting together twice within two months! It was so good to see her. We got a little goofy, as you can see…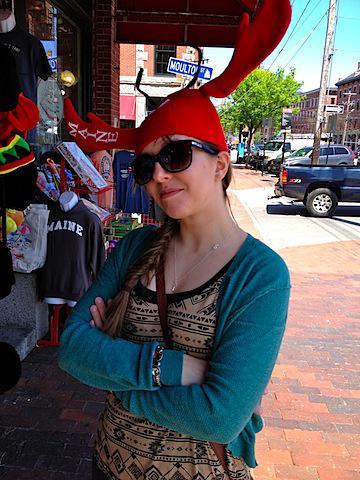 We went to Local Sprouts, where I've now been four times and am just a few days away from being mayor on Foursquare. What can I say? I really like this place!
I took our server's suggestion and ordered the tempeh wrap instead of what I was really in the mood for (a vegan BLT). It was supposed to come wrapped up with beets, carrots, tomatoes, greens, and miso-tahini sauce, but both the sauce and beets were missing. Instead of speaking up as I should have (a side effect of years of working in the restaurant industry is that I never want to hassle the servers), I doused my wrap in hot sauce and ketchup and ended up with a huge, red, soupy mess. Blegh! (I still love Local Sprouts, though, and will probably head over there on our way out of town

.)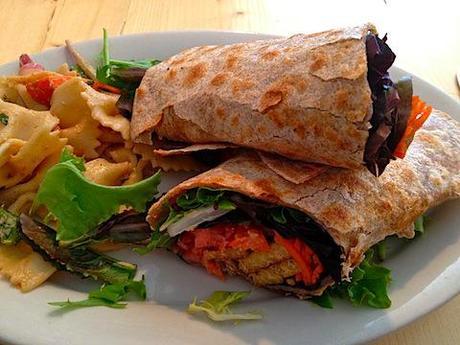 For dinner a couple nights ago, B and I went to Green Elephant, a vegetarian fusian restaurant that literally every local we spoke to recommended. It was even featured in the food issue of Maine magazine, and is known as "the" place to go if you're a vegetarian in Portland.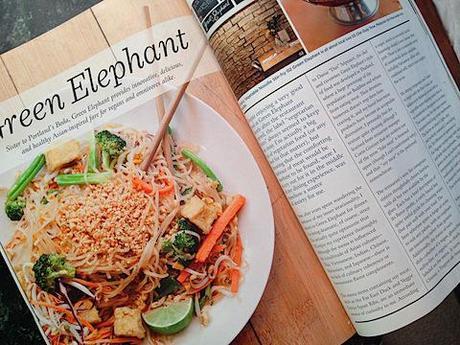 To start, we shared an order of roti canai: Indian-style pancake with curry dip. I first had this at Penang in New York (they have chicken and vegetarian versions) and I have to warn you: it's really addictive! And really yummy.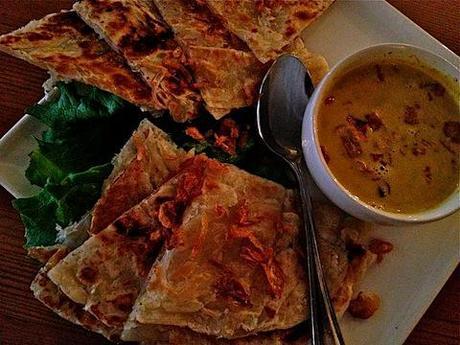 For my entrée, I ordered the Panang Curry Vegetable + Tempeh: Thai eggplant, red + green pepper, zucchini, broccoli, carrots, buttercup squash, Thai basil, lime leaves and tempeh in a coconut milk curry. It was served with brown Jasmine rice, and rather than fill up on sauce, I picked all of my veggies and bites of tempeh out of the curry and ate it with the rice.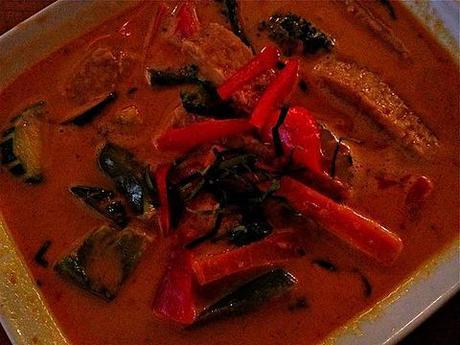 For our last night in Portland, we went to Silly's. The beer specialist at Whole Foods referred us here for "vegetarian junk food," but they serve meat as well and had some really interesting looking items.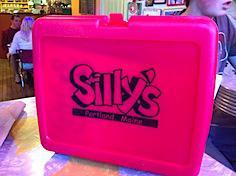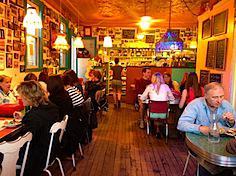 The menu was completely overwhelming, and we had a really tough time choosing what to order!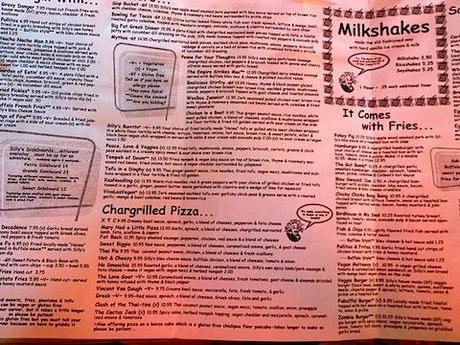 A tin cup of IPA for him, a goblet of Merlot for her.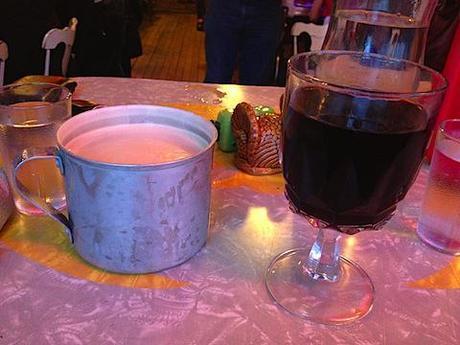 Fried pickles to start! I'm not a huge fan of the actual fry part (I don't even really like French fries) so I picked most of the batter off before dipping it into the dairy-free dip our (extremely nice) server brought us.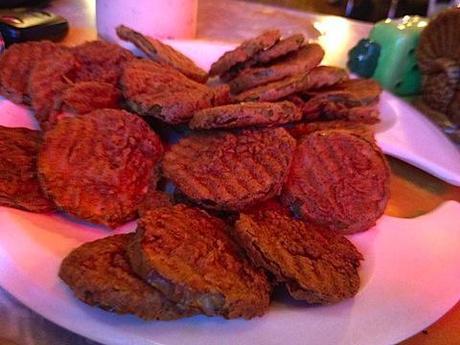 We both ordered personal pizzas for dinner. B's Love Goat came with caramelized onions, a blend of cheeses, fresh tomatoes, goat cheese, almonds and a drizzle of honey.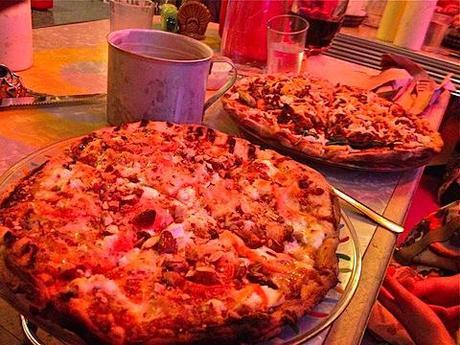 My Cactus Jack was almost twice as thick, with spicy salsa, herbed tempeh topping (this contained nuts and seeds), vegan cheddar and Mozzarella, spinach, caramelized onions and tomatoes. It was really good… there was a lot going on here! I'm kind of obsessed with vegan cheese (Silly's uses Daiya brand, which is considered to be the best on the market because it actually melts and stretches like real cheese) and am really excited to dig into my leftovers.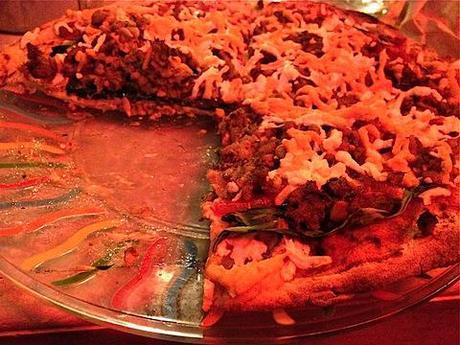 We were pretty stuffed, but ordered the motherload of desserts to try: a triple-layer vegan chocolate with rich vanilla frosting. It was divine. Even as the box arrived for us to pack the better half of it to go, I couldn't stop myself from picking at the remaining crumbs on the plate. Mm-mm-good!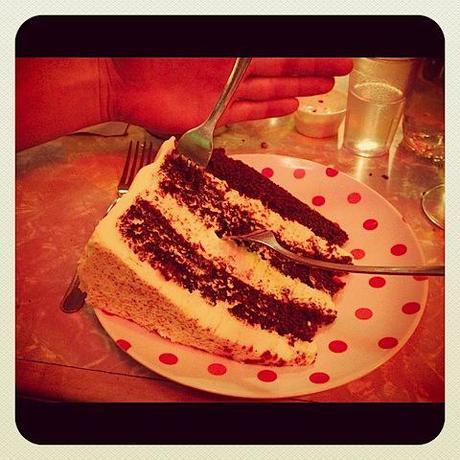 It's been a twice-a-day-dessert kind of week here. Gotta sample all of the local goods! I tried the whoopie pie (vegan) from Local Sprouts (made by Bomb Diggity Bakery). It was good, but was a little stale… I'd seen it on the shelf a day before, and it probably would have been better fresh.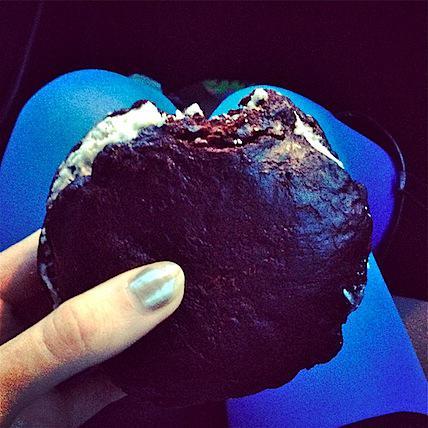 The Chocolate Love Cookie (vegan, also by Bomb Diggity Bakery) that I picked up at Market House Coffee, however, was delicious. You can bet I'll be trying to recreate that one at home!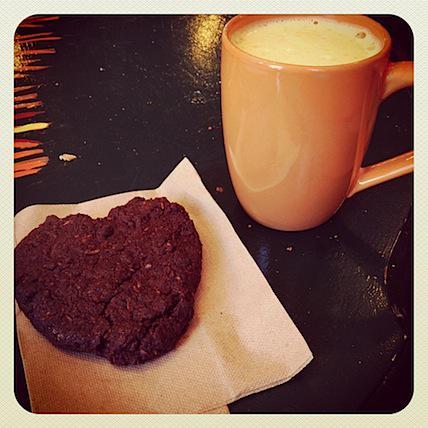 We've had a great time here in Maine these past few days. It's been so nice to get to know the city more, sample the food (duh!), catch up with Sarah and spend time with B. I'll be back tomorrow with details about the gem of a Bed & Breakfast we found… if you're in the area, it's not to be missed!
See ya later, Portland.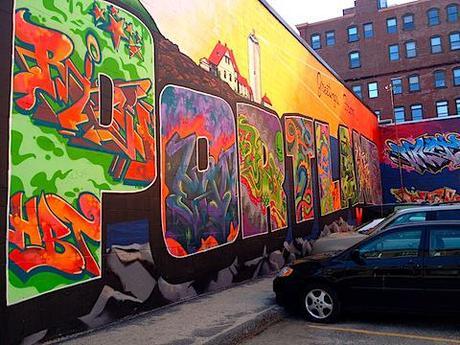 Have a great weekend! What are you up to?