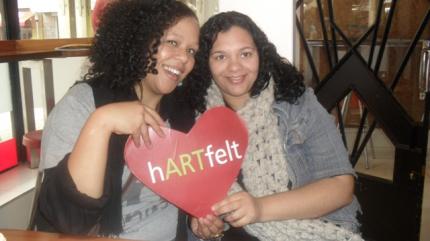 The day Dee and Bee started hARTfelt ideas
For a long time Bee and I wanted to start something that makes a difference in this world. Something that says: "Hey you, God totally hearts you man". Living God's love, and not just preaching it. God's love is what drew me to him in the first place, and it is the one thing that keeps me going in this loveless society.
What has caused us to become so self absorbed that we fail to see the physical impact of our lack of love?
Okay so that was a few of the things mulling around in my mind for a long time. If God has said: "I will give you a new heart and put a new spirit within you; I will take the heart of stone out of your flesh and give you a heart of flesh." – Ezekiel 36:26… Why am I not allowing my heart to feel,be and do love.
Love, the one thing freely given and freely accepted.
So this is when Bee and I decided, we want to brand the world with love, God's love. Love that inspires us to love. A love that holds you steady when the whole world falls apart around you. Love that comforts, love that is so overwhelming, it consumes all your fears and worthlessness. Love that captivates and validates our hearts.
These amazing thoughts birthed hARTfelt.
A brand that is aimed at making a difference; one moment felt at a time. hARTfelt, is basically Bianca and I making felt products, anything from badges to brooches, to coasters etc. We aim to sell them at affordable prices to the public and devote 25% of our profits towards spreading love. Everything we make is once off, so you won't find the the same thing again, because no two people's hearts are the same, no matter how similar you are.
We plan to take on one project at a time (over a period of 6 months) and fund it with the money we make over the period of time. We have our first project ready and will be posting this on our blog hARTFeltblog.wordpress.com. So I want to ask that you please check it out. Oh and we have a facebook page called hARTfelt…
We are super stoked that by using our creativity, we can actually make a difference in people's lives. If anything spread some hARTfelt love.
Living, Loving God

I have posted some of our products as well… to order the badge of your choice mail us at [email protected]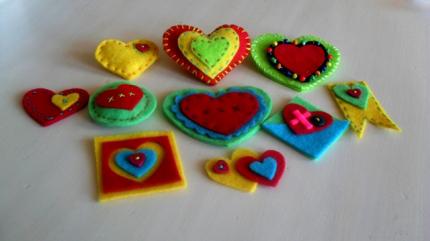 First 10 hARTfelt badges