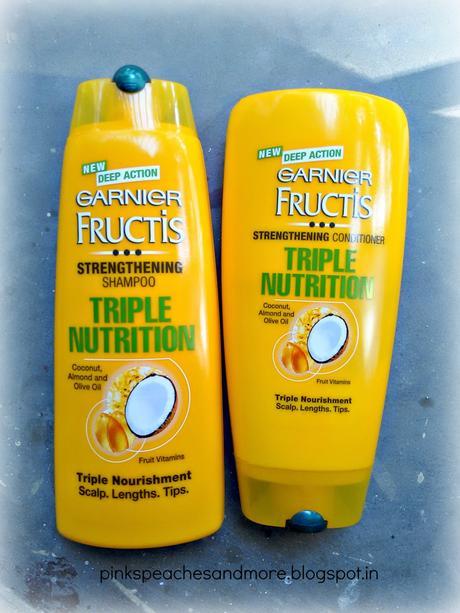 Hello all, how are you? My exams are still running and I have three more papers to attend. Anyways, today I am going to post my final verdict about the Happy Hair Challenge I took with Garnier Fructis Triple Nutrition shampoo and conditioner duo.
A few weeks back, I started using the new Garnier Fructis Triple Nutrition shampoo and conditioner and now as it is officially one month of using it, I am ready to share my views with you.
Before starting the review, I want you to know that I was made to fill in three evaluation forms starting from the initial to final stage of using the duo. In my last post I had shared with you my hair story- the problems and needs before using the shampoo and conditioner and in this post I will share with you my hair story after using them for 30 days.
The problems I faced before using these are hair fall, oily scalp and dandruff. You can see my previous post where I have talked about these issues. The first impression I had while using the Garnier Fructis Triple Nutrition shampoo was that it smelt amazing. It does not have that chemical-y strong scent, rather it was mildly scented which I love. The next thing I knew while applying it to my scalp was firstly, it easily and evenly distributed and lathered very well, secondly, it made my hair feel really smooth during the wash. Its consistency makes it spread evenly. It is not highly concentrated which is again a good quality for me as I don't have to work hard to dilute it to make it easy for applying. A problem I have with most of the shampoos I have used recently is that the moment I start massaging them into the scalp the hair fall starts, but with this shampoo the hair fall during wash is just one-third of the usual which is really surprising. I won't say that my hair fall has stopped entirely after using the shampoo for one month, but it surely has reduced noticeably. I did not find anything that would prove that this shampoo controls or prevent the greasiness of the scalp. I find its effect on oily scalp very common to any other shampoos, not anything palpable. I must tell you that it has worked on my dandruff problem quite well and I can see the difference after using it continuously.
The conditioner is supposed to work on scalp and on hair too but I have noticed that using it onto my scalp made the crown area very flat, no volume at all. So, I discontinued using it onto the scalp. Overall, the conditioner is a perfect complement for the shampoo and it works very well to keep the hair tamed. I did not face a great problem of unmanageable hair but the little did I have is now gone with the help of this shampoo and conditioner. My hair is visibly and touchably soft and smooth. It appears more shiny and well-behaved while I keep it open. It is now very easy to try various hair styles without the fear of facing messy hair problems.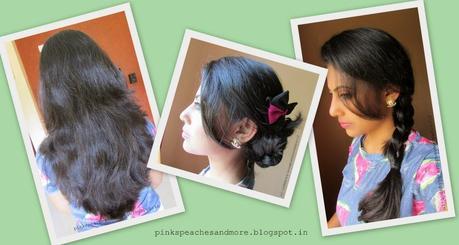 The best things about Garnier Fructis Triple Nutrition shampoo and conditioner are that this range is super affordable and totally true to its claims. This was my ultimate experience with the Garnier Fructis Triple Nutrition range. I would totally recommend it to all of you. Hope you liked this post. Will be back again with a new post. Till then stay safe and keep smiling!