A topic I seem to neglect on my blog is hair care so I thought it would be good to include my hair care routine from start to finish. Now just to start, my routine doesn't include any fancy hints or tricks and I tend to use affordable drug store brands for my hair care.
A little background info about my hair would probably be helpful too so currently my hair is pretty long and sits just below the boobs. I'm naturally a dirty blonde color and have fiddled with the color since it was first highlighted when I was about 14, with countless shades of home-dyed blonde color sitting in my hair at the moment. I probably don't get it trimmed as much as much as I really should (bit of a phobia of the hairdressers it looks like) so the ends tend to become quite dry and split due to heat damage. Oils and greasiness are a big problem for second day and I tend to wash it every 2 to 3 days, and it is naturally very straight with the occasional wave. Ok, now on to what I do to these locks...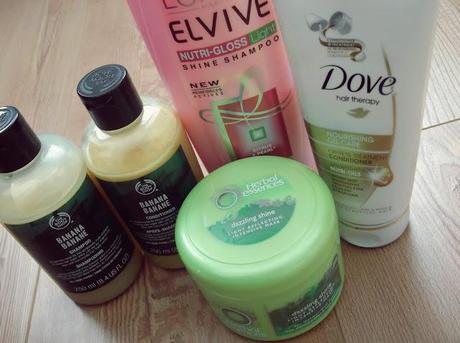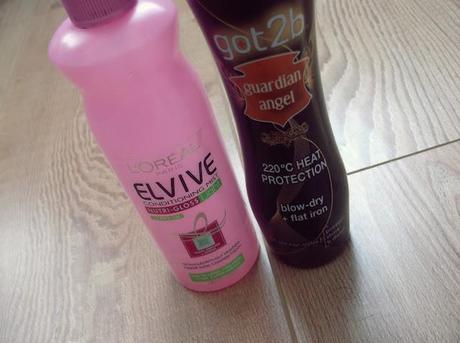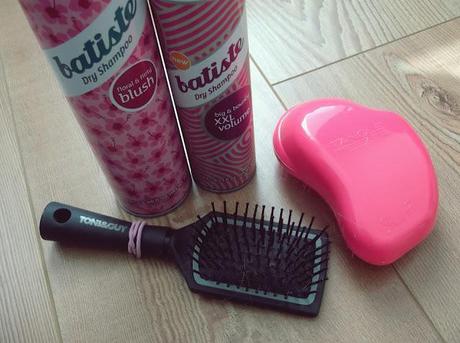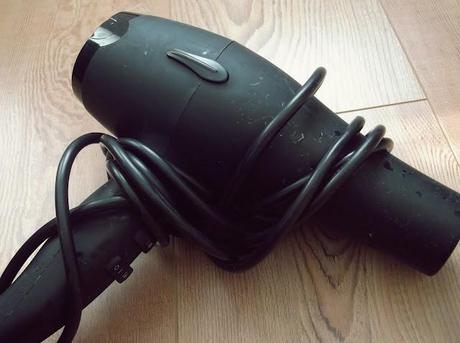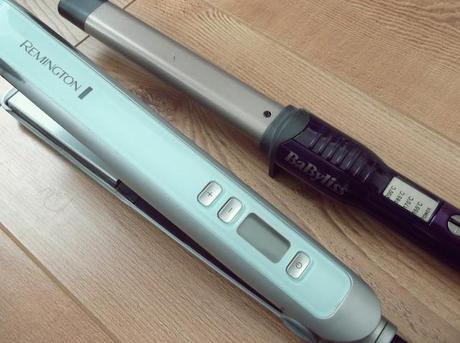 Washing: I'm being a bit naughty at the moment and have been trying out a number of shampoos and conditioners based on blog reviews and current deals in Boots/Superdrug (yes, price definitely helps me decide). Right now I am using the L'Oreal Elvive Nutri-Gloss Light and The Body Shop Banana shampoo for washing my hair and have been loving the results for both. Sometimes build up can be a problem but there has been no sign of it after using these shampoos and I tend to use them for about a week at a time before rotating. I've been loving deep and intensive conditioners lately and have been trying out Herbal Essences Dazzling Shine Intensive Mask, Dove Nourishing Oil Care Express Treatment and The Body Shop Banana Conditioner. I'm enjoying using all three and while the Banana conditioner isn't a treatment or deep conditioner I tend to leave it on for about 5 minutes before rinsing and it works just as well as the others. And the final secret in terms of washing has to be dry shampoo. Anyone who doesn't know about dry shampoo, it is a greasy hair savior and should be a staple in your routine! I tend to use the Batiste Blush dry shampoo as the scent is very nice and floral, and occasionally use the XXL volume spray when my hair is looking greasy and flat.
Drying: Most days I will blowdry my hair but on the nights when I can't be bothered I just leave it to dry naturally while continually combing through with my Tangle Teezer. My hair is quite thin but there is a LOT of it and manages to get tuggy from just sitting still, so a lot of combing through is definitely necessary to make sure blowdrying can be as stress free as possible. While my hair is still damp I tend to spray the L'Oreal Elvive Nutri-Gloss Light Conditioning Mist all over as an extra de-tangler and a little spray of the Schwarzkopf got2b Guardian Angel before blowdrying. Here's my big secret, my hairdryer is none other than a Tesco's own brand. Now you'd think whyyyy would you have such a cheap dryer, but honestly it is so powerful and I don't feel like I'm missing out on anything compared to other hairdryers. It ticks all my boxes so why not!
Styling: Now normally my hair is pretty much poker straight but I tend to give it a little go over with my straighteners to add a little more shine and a smoother touch. The straighteners that I use are the Remington S9950 Shine Therapy straighteners which I bought a couple of years ago when they were being sold half price in Tesco and they have certainly done the job since then. When I don't feel like straightening my hair I tend to curl it and for this I use my BaByliss Waving Wand to create lovely soft waves rather than tight curls. I'm sure most people have heard of this waving wand but if you haven't then I'd definitely recommend that you have a look as they leave such a nice finish to the hair and a very girly look. Before using both of these heat styling tools I again use the Guardian Angel spray throughout the hair which protects against heat and leaves the hair feeling nice and silky.
So there we go, that is pretty much everything I do to my hair from start to finish. I apologize for this being such a long and rambly post but when it comes to something like hair there are so many little things that need mentioned. I'd also love to see what products and tricks you use in your hair care routine as I'm just such a nosey person so please give it a go if you haven't already. I hope this can helpful in one way or another and for anyone who has made it to the end of this post, a gold star for you!