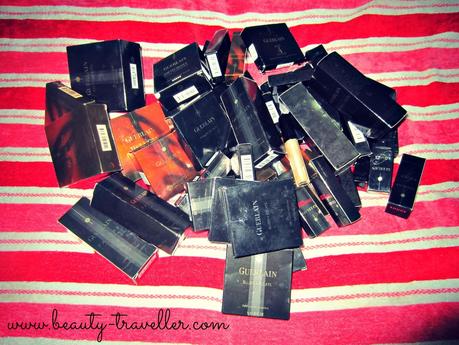 This is an ode to all the Guerlain products I own. Not all have made into the reviews yet and I am trying my best to get them reviewed asap but the line up is large and the back log is mind boggling. So here's a small post on what all I may own from Guerlain. This will be like a reminder post for me to know what has to be reviewed. Btw there are many more additions to this already inflating Guerlain collection and I shall update that some day. Also I plan to take out some more time to compile all the products together and lets when all that happens.
Lets have a looksie.........
This is a list of all what I remember owning. There may be more that I may not be aware of. Lets see. This happens to be a great memory test too.
FACE
Parure Aqua Foundation - 23, 02 and 32
Parure Extreme Foundation - 04,24
Tenue De Perfection Foundation - 04
Les Violettes Loose Powder - 04
Meteorites Press Powder - Nacre Des Mers
BRONZERS
Four Seasons Bronzer - 02 Brunettes
Terracotta Light Bronzer - 02 Sun Brunettes
Terracotta Illuminating Sun Bronzing Powder
Terra Ora Highlighting and Sculpting Powder
Terra Inca
BLUSHES and HIGHLIGHTERS
Blush 4 Eclat Sculpting Blush in Soleil Couchant
Blush 4 Eclat Sculpting Blush in Nuit D'ete
Blush 4 Eclat Sculpting Blush in Rose Plein Vent
Rose Aux Joues in Pink Punk
Meteorites Pressed Powder in Cruel Gardenia
Parure De Nuit Highlighter and Blush
METEORITES
Perles Du Dragon
BRUSHES
EYES
Eyeshadows
Single
Ombre Eclat Mono eyeshadow in L'Instant D'Un Baiser
Ombre Eclat Mono eyeshadow in L'Instant D'Un Soupir
Duo
Le 2 Couleurs in Two Extravagant
Eye gloss - cream water resistant eyeshadows - Ombre Fusion Eyeshadow
Quads
Velours D'Or
Rose De Boise
Bronze Dore
Les Ombre De Nuit
Les Fauves
Coup De Foudre
Les Ombres De Turandot
Terre Indigo
Eye liners
Khol Me Kajal in Noir Volcanique
Retractable Liner pencil in Black Jack
Mascaras
Le 2 De Guerlain Lacque
Noir G
Cils D'Enfer
LE Palette for Eyes and Lips - Liu Palette
LIPS
Lipsticks
Kiss Kiss Lipstick - Pink Boop
Kiss Kiss Strass Lipstick - Rouge Imperiale
Rouge Automatique - Flirt D'Un Jour
Rouge G De Guerlain - Geisha, Gala, Gwen, Gaby, Galia, Bridget, Grenade
Lipglosses
Terracotta Lipglosses - Salsa, Tango, Mambo
Kiss Kiss Lipgloss - Champagne Pearl, Crystal Pearl, Opal Pearl, Sunset Rose, Abricot Gourmand, Pink Pearl
Gloss D'Enfer - Gold Tchlak, Rouge Shebam, Praline blop, La Petite De Robe Noire
That's all. It doesn't look like a big collection though. I hope to add more products to it soon.
Hope you liked the list. Do let me know what is your wish list from the house of Guerlain. Hope your wishes may get fulfilled.
Till then,
Ciao

Please do not copy any pictures or content of Beauty Traveller without prior permission. Thanks for reading my blog. I don't give 100% on the authenticity of the content here and it is subject to change without prior notice. Please read the disclaimer for any questions.Thanks a lot for reading my blog. Do subscribe, follow and support. Thanks.