Roy Hodgson must be despairing as Vicente del Bosque omits the likes of Roberto Soldado and Iker Muniain while Germany and Netherlands desperately seek underdog status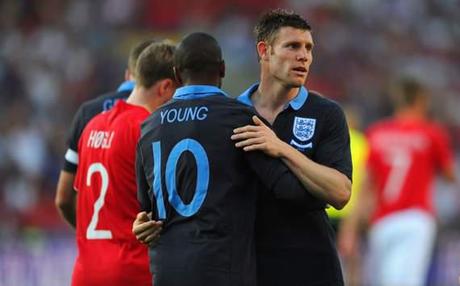 Indisputably better than Norway
Tore Andre Flo, John Arne Riise, Stig Inge Bjornebye - can you hear me, Stig Inge Bjornebye? Your boys took one hell of a beating!
If anyone was wondering which was the better nation between England and Norway, they found an answer - for this year at least - on Saturday as the Brits exerted a dominance over a foreign country not seen since the glory days of the Empire.
Roy Hodgson triumphantly marshaled his troops to 30 minutes of gloriously acceptable football against a side with nothing for which to either play or prepare before imperiously, colonially sitting back and drifting to the 1-0 result.
And, while the Three Lions not so much roared as hummed their way to a debut win for the new manager, septuagenarian crooner Engelbert Humperdinck was busy sticking it to the Norwegians as the United Kingdom's representative at the Eurovision Song Contest, finishing a well-deserved second-last but (comparatively) comfortably ahead of the rock-bottom forgettable dance number flying the flag for Oslo.
With long-standing captaincy, managerial and form crises, much has been made of the lack of expectation surrounding England for a change, which could be refreshing and pressure-relieving for the players.
So, taking that lack of expectation into account alongside the glory of this total superiority over another nation, MTW is now fully expecting nothing less than the trophy in Poland and Ukraine. (Regional) football is coming home.
Embarrassment of riches
Spain's squad selections are becoming almost satirical events these days.
So it is that, while England can name Stewart Downing in their party and reasonably point to a paucity of left-footed wing alternatives from which to choose, Vicente del Bosque can afford to leave out several players who would all be automatic or seriously-considered starters if they had been born in Basingstoke rather than Barcelona.
Celebrity owl impersonator and part-time Three Lions boss Hodgson must have been crying into his team-sheet as he saw the announcement on Sunday that Roberto Soldado, Iker Muniain, Thiago Alcantara, David de Gea and Adrian Lopez were all omitted from La Furia Roja's 23-man list.
As sections of England support furiously hailed Andy Carroll's ungainly efforts to play the target-man role without a first touch as thrilling in the hopes that it might inspire him to suddenly morph into Alan Shearer, what they would give for the world champions' discards instead.
Soldado's hatful of goals for Valencia and hat-trick on his return to the Spain setup in February weren't enough for Del Bosque, and neither was exciting forward Adrian's strike on his international debut on Saturday against Serbia. Meanwhile, there is a very real threat that Jermain Defoe will get on the pitch for England.
Add the delicious passing and penetration of Thiago and Muniain and you would have yourself a genuinely fearsome international front four - Spain could do a lot worse than enter a 'B' team into international competitions just as the top La Liga clubs do in the lower domestic leagues.
At the very least, it'd be more fun than watching Greece.
'Seriously?' | What Soldado would give to be English right about now...
GOOD WEEKEND
Pep Guardiola
Barcelona's comfortable 3-0 win over Athletic Bilbao in Saturday's Copa del Rey final sealed a frankly-obscene 14th trophy in just four years for the departing Blaugrana coach. At this rate he'll win the Spanish Supercopa next season even while on sabbatical.
Stewart Downing
Ashley Young's eye-catching display deputising in the No.10 role in Wayne Rooney's absence made it much more likely that Liverpool's statistics-defying chance-vacuum will seal the most undeserved of starting berths against France on June 11.
Serge Pizzorno
The Kasabian guitarist gave David Seaman Ronaldinho-themed nightmares with an absolute peach of a chipped goal for The Rest of the World in ITV's pro-am charity match 'Soccer Aid'. Harry Redknapp is already being linked with a cheeky transfer swoop.
BAD WEEKEND
Steve Simonsen
Everyone likes seeing goalkeepers take penalties. Fact. If you don't like it, MTW doesn't like you. Not so much enjoyment for Sheffield United keeper Simonsen, though - his hoofed miss at Wembley gifted Huddersfield Town victory in a remarkable League One play-off final shootout.
Cristiano Ronaldo
The Portugal captain spent a frustrating evening blazing long-shots off-target as he failed to one-man-team his side to better than a 0-0 friendly draw against Macedonia. At least, on the weekend's evidence, Germany and Netherlands will defend a lot worse in Group B.
Gareth Barry
England's reliably glacial underwhelmer-in-chief is in doubt for the Euros after coming off with a groin problem against Norway. A bad weekend for the Three Lions, too, then - Jordan Henderson is the next cab off the rank.
Tweet of the weekend part I
"Also to everyone who has asked…as if it wasn't unlucky enough, it IS my ring finger and also my first ever broken bone!"
– Not only is Norwich City goalkeeper John Ruddy out of his first international tournament with injury, but he suffers a crucial blow ahead of his wedding next weekend
Desperate to be underdogs
Germany & Netherlands
They took this trick straight from the England playbook, only this time it might actually work.
As indie football fans try to stand out from the crowd by claiming to be getting bored by Spain and their tiki-taka regime - the sort of envy which mid 1990s-early 2000s Manchester United were used to - Germany and Netherlands have been hailed by many as the insiders' favourites for Euro 2012.
No doubt both are genuine contenders breathing down the holders' necks, but savvy bosses Joachim Low and Bert van Marwijk have clearly identified expectations as needing to be dampened.
So the two European giants loaded the form book into a catapult and gleefully ejected it out of the window by contriving to lose bizarrely against unfancied sides.
Jogi's Germans were, somewhat ironically, mullered by Switzerland, for whom Eren Derdiyok was seen blinking in open-mouthed astonishment at Per Mertesacker's, erm, accommodating contribution to his hat-trick in a crazy 5-3 demolition.
The Dutch, meanwhile, let slip a half-time lead and conceded a stoppage-time goal to lose 2-1 to a hardly-exceptional Bulgaria side.
MTW only hopes that their respective collapses were a marvelous diversionary tactic - if not, we're in for a footballing car-crash when the two rivals meet in Group B.
Quote of the weekend
"Sometimes everyone thinks you're a p***k and sometimes you're a hero. Last week, I was a p***k."
– Arjen Robben on his Champions League final penalty miss. What a ... plank.
Animal welfare awareness campaigner
Yakubu (Blackburn)
An appeal to Premier League clubs: Do what you can for our natural world.
Your donation of just several million pounds per year could help feed the starving Yak and allow it to thrive once again in this, its familiar adopted home of England.
Yes, he's already been an on-pitch chicken rescuer and now Yakubu is tired of being fed on scraps at Ewood Park, so he's looking for a top-division club to take a chance on him this summer.
"I still have two years left with Blackburn, but I played in the Championship before," said the striker who inexplicably conjured 17 league goals out of that Rovers team in 2011-12. "It was good but I don't want to play in there again."
So won't somebody give the Yak a generous, loving, assist-rich home, all for a good, forward-thinking cause?
Tweet of the weekend part II
"Who fancies a water fight in Huddersfield!!!"
– Fraizer Campbell may be trying too hard for things to do this summer after being passed over for the England squad
Fantasy Hero
Nick Powell (Crewe Alexandra)
Almost certainly set to be snapped up by the Premier League's talent connoisseurs this summer, the young midfielder could not have picked a better way to say farewell to the Alex. His hype-a-licious flick and volleyed finish to open the scoring at Wembley set Steve Davis' men on the way to a 2-0 win over Cheltenham Town in the League Two play-off final.
Fantasy Zero
Patrice Evra (France)
The left-back's 24-month downward spiral of form continued with a distressingly bad performance in Valenciennes as he was embarrassingly culpable for Iceland going 2-0 up over a stunned Les Bleus. Laurent Blanc's side came back to win 3-2 but the Manchester United man may well have played himself out of his place - which Theo Walcott will be unhappy to hear.