Following on from last week's article, I recieved, via The Hinckley Times letters page, my very first letter of complaint.
The fact I'd put my runner beans in a tad early and the frost got them annoyed Mr Taylor sufficiently to write in about it. Apparently I'm a bit 'gung ho' with an 'Oh dear, never mind' attitude.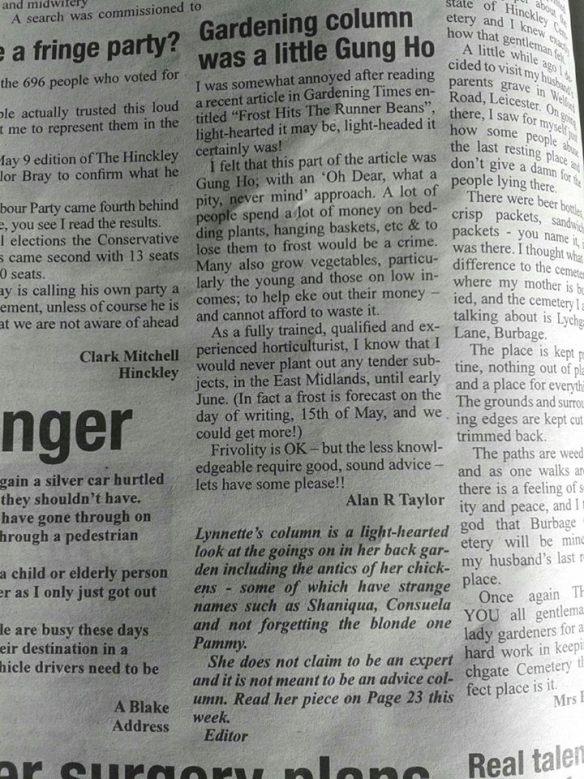 Gardening column was a little gung ho
I'll not hang my head in shame. Mr Taylor is completely right… I get excited about putting stuff in, and sometimes – yes – I am impatient, and things don't quite work to plan. But isn't that part of the fun of gardening? Mistakes are made, and you learn from them. Then you suck it up, and try another way of doing things.
Mr Taylor also calls for more good, sound knowledge. I thought there were a couple of good, sound messages in there…
Don't be fooled by a few warm days in thinking that summer's here – there can still be a danger of a late frost
Don't do as I did and put stuff out too early – look at it – it died
If you have put things out too early, and a frost is forecast, get out there and cover the plants up at night
The article may have actually saved people their hard earned money – one look at my beans and it would have put them off planting for a good couple of weeks…
I was also quite chuffed to have sparked a reaction – it meant that someone out there actually reads my ramblings and had a strong enough opinion to put pen to paper. I'm calling this one a landmark