Back in the day I was never one for bothering too much about makeup brushes as it used to be all about sponges and my hands for makeup application, but since joining the blogging world I've been completely converted to brushes. The ease of use and overall finish left on the skin are huge selling points for brushes, especially with liquid or cream products, and I thought I'd give some of my favourites a mention as they definitely deserve it. I store all of my brushes in a large pink mug which I picked up in the Matalan sale months ago, and with the words 'drop dead gorgeous' written on it I thought the mug would be perfect for makeup. It is quite obvious which brand of brushes has stolen the show but let's have a look at my favourites..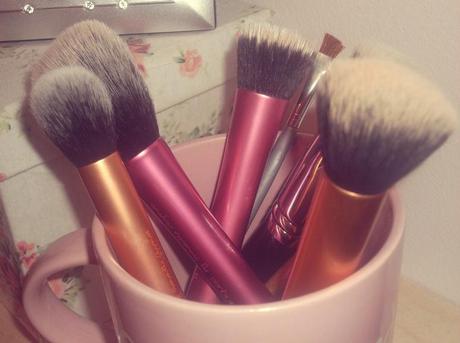 Real Techniques Buffing Brush: A cult favorite in the blogging world for applying liquid foundation, this brush is without a doubt my most reached for as it leaves such a flawless finish on the skin and absorbs very little product so your foundation can last that bit longer. The brush is so lightweight which makes it very easy to use and the soft but sturdy bristles mean that the foundation is buffed into the skin in no time at all. 
Real Techniques Blush Brush: This is the newest brush in my collection and has quickly become my go-to for all powder application as it is the perfect size and shape to give an even application whether it be brusher, bronzer or a setting powder. The tapered end is great for applying just enough blush without leaving you looking like a clown and the super soft bristles always make blush/bronzer application a lovely experience.
Real Techniques Contour Brush: This little brush is perfect for contouring, just like the name suggests. It is a great size for fitting right into your cheekbone area and I also tend to use it for applying powder highlighter as it is just big enough to your face a nice glow without going overboard.
Real Techniques Stippling Brush: I don't tend to use this brush as much as I save it primarily for cream blush products although you can use it for liquid foundation too since the dual-fibre bristles are great for blending foundation and giving you a flawless finish. 
Pheww, I think that's enough Real Techniques love for one post. Now on to the others..
Sigma F80 Flat Top Kabuki (*): This has been my other go-to brush for liquid foundation application although I tend to save it for those days when my skin really isn't behaving and needs a heavy cover up job. The F80 is more dense than the RT Buffing Brush which I like when I need heavy coverage as I just feel that it makes application that bit easier.
Unnamed Eyeshadow Brush and Angled Brow Brush: These little brushes are just your averagely shaped eyeshadow/brow brushes and although I probably should invest in better eye brushes, I'm happy enough with them at the moment as they do their job nicely. I can't even remember where the two of them came from but I'm guessing they were from sets that I received years ago. The eyeshadow brush is a nice shape for both lid and crease application and although it might not be the best for blending, it still does the trick after a little bit of work. The angled brow brush is a newbie as I have only recently started filling in my brows a little due to my on-going mission of growing out my dyed hair and going back to my dirty blonde natural colour, and again it does the job nicely without giving me caterpillar brows.