Here comes another selection of my favorite polishes and this time I'm covering yellows and peach colours which have been slowly making their way back onto my nails lately. These colours are so flattering whether you have pale or tanned skin and I'm sure they would brighten up any hand, especially now that summer (and hopefully some sun) is here.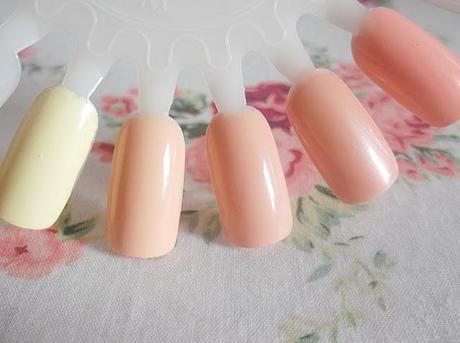 L-R: Models Own Lemon Meringue, Models Own Peach Sherbet, Beauty UK Peach Melba, Eyeko Nude Polish, Barry M Peach Melba
I went through a huge peach phase last year and now that we are into June I thought it would be the perfect time to reach for the peach again, and Models Own Lemon Meringue had to be included simply because it really is the most beautiful pastel lemon color I have come across. All swatches shown were achieved in two coats with the exception of Eyeko's Nude Polish which is more on the sheer side and required three coats to become opaque. Are you a fan of yellow and peach polishes?