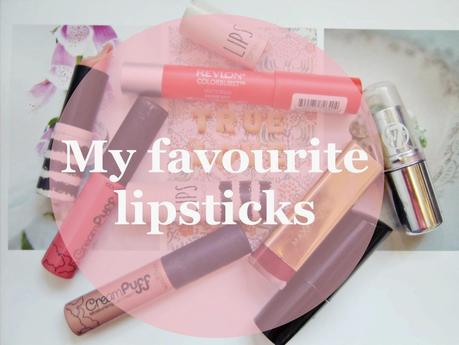 Hi my name is Sian, and I am addicted to lipstick. Phew! Glad I got that off my chest. I believe a good lipstick can finish off an entire outfit, I think it can be the best accessory and it's my best friend! So I thought I'd share my personal favourites that I've loved from day 1.
The Nudes: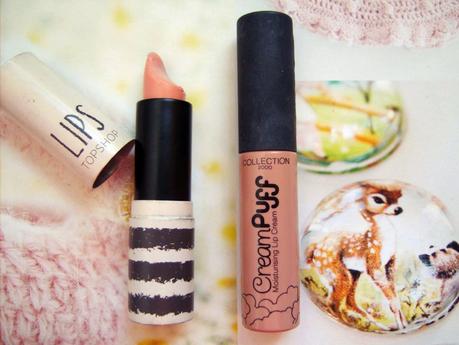 Topshop Lips in color Saint.
Collection Cream Puff in Powder Puff.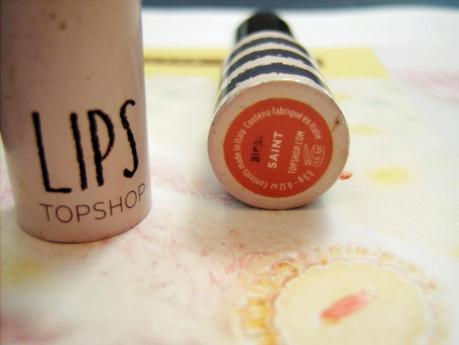 It was only last year that I made my first Topshop Lipstick purchase, where the hell was I? Why did I wait so long to join the train? I love them! 
Topshop - Saint

. The color pay off is amazing, this one is very true to color and it's really buttery and a beautiful texture. You do however have to have super moisturised lips to wear this one, it can attach itself them dry bits (that sounded horrible). The color online is actually nothing like the color in the bullet, it's much more of a nuder color than that, not that baby pink.
Collection - Powder Puff

. I first brought this product when I saw Annabel wear it, it's a gorgeous buttery lip cream. I've got two colours from this range and I love them. Although they say they're a moisturising lip cream, I don't think they're that moisturising and can stick to crack lips a little. So make sure you use the old lip balm before hand.
The Pinks: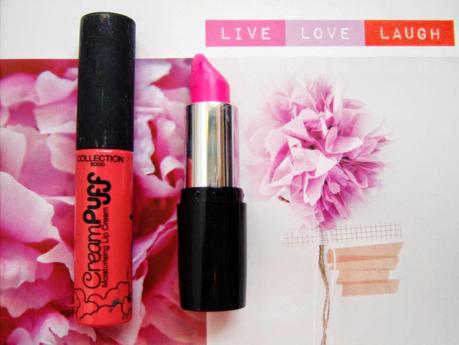 Collection Lasting Colour in Pink Shock.
Collection Cream Puff in the color Fairy Cake. 
Collection - Pink Shock

. This is an amazing bright bold vibrant pink. Slightly more on the purple side of pink, it's stunning! I will usually wear this lipstick if I'm wearing a really dark outfit, so usually black, just to add a little pop of color. It's not drying and only fades a little throughout the day. I usually only touch up once around mid day when I wear this.
Collection - Fair Cake

. This is the second color I have out of the two Cream Puff's this is another bold color. It's got a slight red tone to it and I like that you can build up the color with this, so if I wanted a minimal look I'd only use one layer of this.
The Oranges: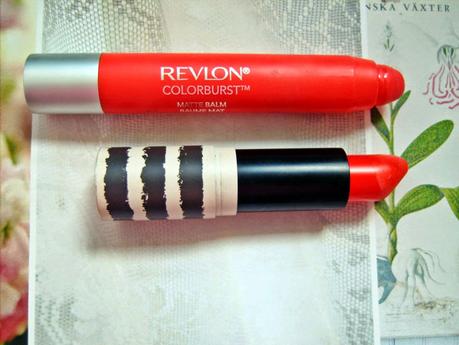 Revlon Colourburst Matt Balm in the shade Audacious.
Topshop Lips in Infared.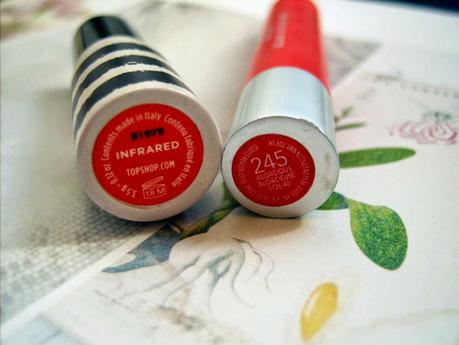 Orange lipsticks are my favorite at the moment, it's just the perfect color to finish off a minimal look. A winged liner and a quick swipe with one of these and your good to go!


Revlon - 

Audacious

. This is slightly more on the pink side, it dries matt instantly when you put it on but it doesn't look or feel dry, they feel really moisturising. It does need a touch up throughout the day I've found if you want it to continue looking vibrant.
Topshop - Infared

. 
This was the first orange lipstick I'd brought, it's slightly on the red side of orange but beautiful. Again it's a buttery texture, super moisturising but doesn't last that long on the lips. I do have to touch up a few times a day with this. Such a gorgeous color though.
The Big Bold Lips: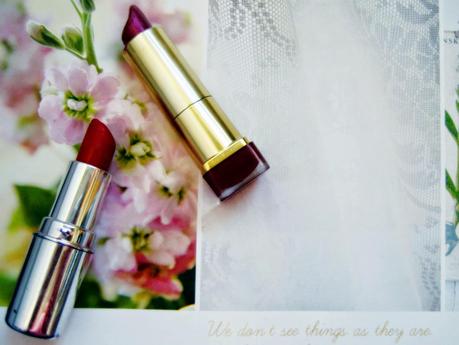 Max Factor Colour Elixir Lipstick in the shade Mulberry.
W7 Kiss Lipstick Matt in Vampire Kiss.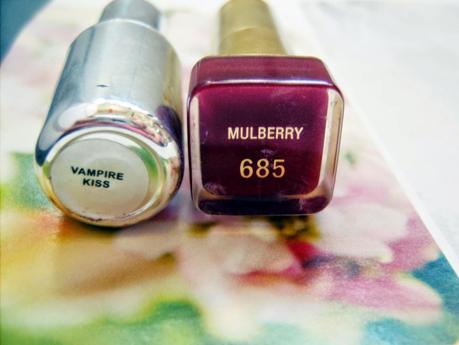 Maxfactor - Mulberry

. This is the lipstick I've repurchased the most. It's a really moisturising feeling on the lips, the color is really dark so you wont get a light wash of color with this one. It's a gorgeous deep purple with a pearl shine to it, not sparkly but super shiny. It is the perfect color to make them lips stand out!
W7 - Vampire Kiss

. I got this lipstick in a goodie bag at an event I went to last year and it's the only red lipstick I run to. It's a matt texture but not drying at all, I wouldn't say it's moisurising but it doesn't cling to them dry lips either, its magic I tell you. It's got a velvet look it when it's on the lips it's beautiful. It's a postbox red, there's no beating around the bush with this - It's RED alright. This is the most amazing lipstick ever, it literally lasts the WHOLE day! I don't have to touch up once and still looks the same at the end of the night as it did when I put it on. No joke! It really does last that long!! I really want to try some other shades from this range, I am so pleased with every aspect of this lipstick, colour, duration it lasts, texture everything. A massive 10/10!
The Lip Care: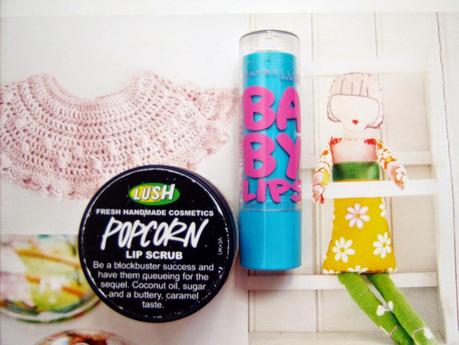 Lush Popcorn Lip Scrub.
Maybelline Babylips Lip Balm.
I seem to always have dry lips, no matter what weather we have what products I use it's just a thing that I have to put up with. I have found these products help them out a lot and leave them feeling less sore. I've written a review on the Lush Lip Scrub here it's a bloody brilliant product! I was a bit late jumping on the babylips train, It's a good products but I think maybe a little over hyped. It works well but it's not the most amazing lip balm I've tried.
What's your favorite Lip product? Do you wear lipstick to finish off a look?
With Love,
Sian x