Over the past couple of years I have accumulated a fair few bottles of foundation in my drawer and after trying them all out I thought I would do a little sum up of my two favourites. I'll admit I've never invested in a higher end brand for foundation and have stuck with brands such as Bourjois, Rimmel and Maybelline which I've found to be just fine for me. They tick all the boxes for my foundation needs so I can't see myself venturing over to the higher end now that I have these two favourites in my collection, these being Bourjois Healthy Mix and Rimmel Wake Me Up. These two favourites are very popular within the blogging world and for good reason too, they're bloomin' great!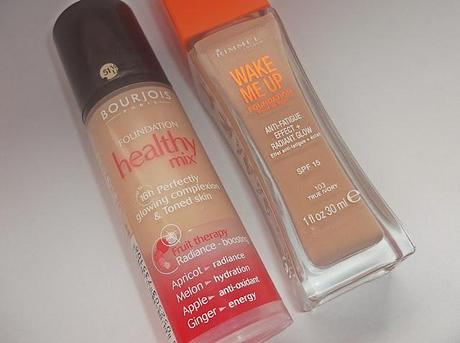 Bourjois Healthy Mix Foundation is just the nicest formula I have ever tried and applies like a dream. I find the formula to be nice and light while still providing great medium coverage for any imperfections and a general skin pick me up. Healthy Mix leaves a lovely dewy finish to the skin without looking shiny or greasy and is so light that it feels as though you aren't wearing any foundation at all. The foundation also features a fruity scent due to the 'fruit therapy' as suggested by Bourjois and I have to say I'm a fan this smell and like that it lasts a little while but doesn't stick around to bug you during the day. While I doubt that the foundation lives up to the 16 hour claim (mostly because I wouldn't wear my foundation for that long in a day), I find it to last nicely during the day and is still visible when I get around to taking my make-up off at night. All in all, if I had to choose my absolutely favorite it would be Healthy Mix as I adore the finish left on the skin and will definitely be repurchasing when my bottle runs out. Bourjois Healthy Mix costs £9.99 and is available in Boots, Superdrug and numerous other places such as supermarkets. 
In close second is Rimmel Wake Me Up and this is the newest addition to my foundation stash. This had a LOT of hype surrounding it when it was released a couple of months ago and after trying it myself I definitely understand why. I find this foundation to look more noticeable on the skin (as in it's easier to spot that you are wearing foundation, I'm horrible at explaining things!) but this doesn't put me off as it still looks very natural and again provides a nice medium coverage. The foundation contains teeny tiny glitter particles which are there to literally wake your face up without making you look like a glitter ball, and I love this effect as my skin has never looked so healthy and glowy. I find the lasting power of this foundation to be great as long as powder is applied and would repurchase this if I wasn't already in love with Bourjois Healthy Mix, although I may still mix it up in the future once this bottle is finished. Rimmel Wake Me Up retails at £8.99 and is again available in the likes of Boots, Superdrug and various supermarkets and smaller retailers.
Now that I have shared my favorite foundations, I'd love to hear what yours are so please let me know!