Along with an obsession of lipstick I also have a lot of love for blushes-I love how you can get a variety of shimmers, matts and blush really can add dimension to your face.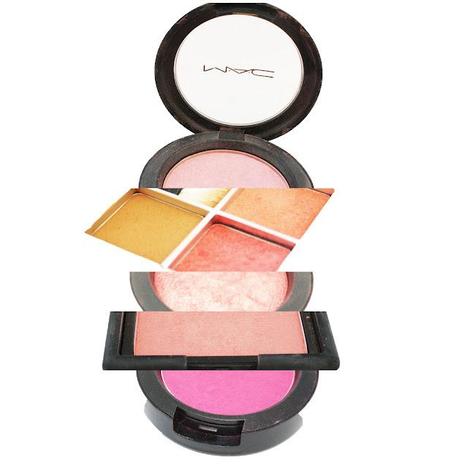 I always enjoy top 5 posts because they open my eyes to blushes/colour I may not have seen or tried before.I like to think Ive picked a pretty good cross section of color for different occasions.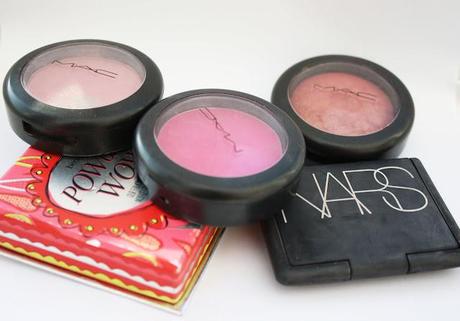 MAC Well Dressed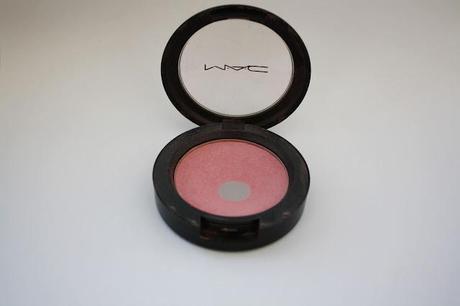 This was my first ever MAC purchase- Can you tell?The pan explains everything- This blush is so incredibly transitional and multi-occasion.If I'm not feeling all that adventurous chances are it ll be MAC well dressed.The blush is a baby pink with a discreet amount of silver flecks
Benefit Powda Wowza (Bella Bamba)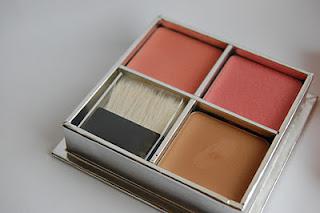 I have a full review of this little box of treats Here When I bought this box initially it was to get my hands on Coralista and Hoola but Bella Bamba has been a welcomed surprise.Its the most pigmented deep pink with a hint of shimmer and has been keeping my cheeks glowing a lot of the winter. The pigmentation means that one swipe is necessary to do the job so I like to think its longevity with endure.....Although whether I would fork out 20 FLIPPIN QUID!!? for a full size size remains to be seen.Hats off to Benefit these box's are a wonderful way of experimenting with what they have to offer for a reasonable price.
MAC Mineralise Blush-Merrily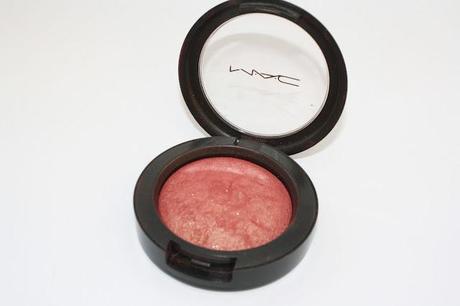 I'm so glad the camera picked up the flecks of gold in this blush!This is the Christmas equivalent translated into blush....and on that mention this was a limited edition blush for Christmas...sorry ladies!Its a deep red with orange undertones filled with gold flecks and is statement-makeup.I picked this little beauty in a blogsale and have been enjoying wearing it out.
Nars Deep Throat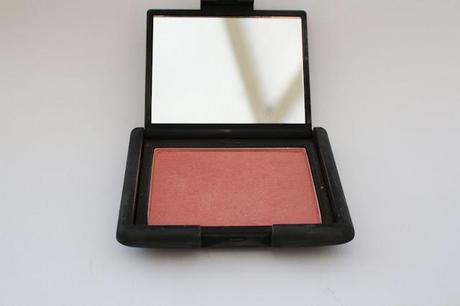 This is my only Nars Product.I should buy more really as I get a nice little student discount off of ASOSDeep throat is a pink with silver flecks of shimmer....yes more shimmer.This is a another go to for daytime and works really well in adding definition to your face.
MAC Her Blooming Cheek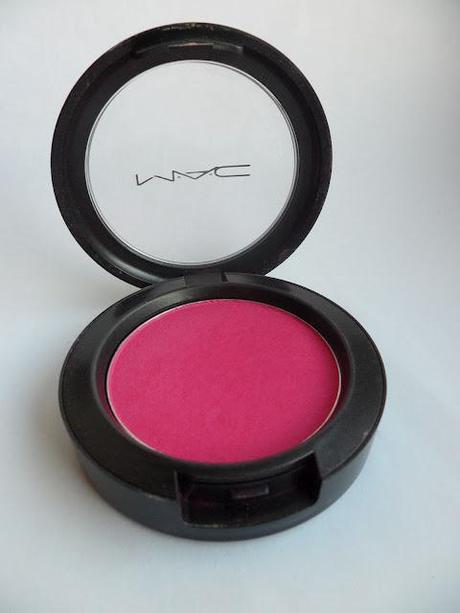 Fully reviewed here This is like an old friend that I just cant let go of.I go through fazes with this one and then it goes back into the drawer for prolonged periods.Used sparingly this can be worn in the daytime and equally at night. I'm yet to find a drugstore equivalent that holds pigmentation quite as well (if you have Id love to know!)
So there we have it my 5 favorite blushes!On the blush lust note I am really excited to try MUA's new blush collection I really do think their up my street. I will no doubt be hoarding some more mineralise MAC blushes as Ive just proven I am a complete shimmer whoare!
What are your favorite blushes?Send me your links!