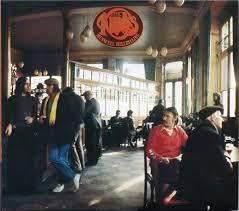 I'm a bit of a sucker for album cover art. I like everything from Tiki gods spewing forth fire and destruction on old Hawaiian albums to dystopian future landscapes depicted by unsmiling synth-wielding minimalists. My favorite album cover, however, is firmly rooted in the year 1971 and the city of London. It's the Kinks' slightly schizophrenic ode to Americana and condemnation of urban renewal entitled 'Muswell Hillbillies.'
The cover is a photo of a typical london pub (presumably in Muswell Hill) which is sparsely occupied in the afternoon by what appears to be 'the regulars.' There's some besuited businessmen in the background, an old man in the foreground and a hard-to-define casually dressed man staring disdainfully to his right sporting a moustache and an orange jumper. He looks like the sort of stereotype that Steve Coogan based his Paul Calf character on: Unemployed, student-hating, extra-strong lager-drinking man's-man. You might argue that his jumper looks slightly effeminate, but the orange color is all the better for disguising blood stains when he head-butts you in the face after daring to make such a comment.
The full glory of the cover can only be appreciated by opening the gatefold sleeve. The second half of the photo features the members of The Kinks in all their bell-bottom wearing, tie-dyed, long hair and bearded 1970s glory. They look relaxed and oblivious to the fact that Mr Orange Jumper looks ready to take them on single-handedly and give them a right bollocking. Presumably The Kinks' celebrity status and regular custom at the pub makes them tolerated by the staff and there appears to be a reluctant truce in effect.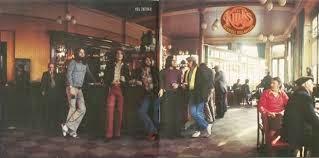 Besides being an hilarious image, it also makes me nostalgic for my own youth. Half way 'round the world in Brisbane, Australia, I myself was able to illicit similar disgust in people for doing so very little. I was born the year this album was released, but by the early 1990's this 'hippy' look seemed to have come around again and I was an enthusiastic adopter. I felt like I was doing something right when my friends and I would walk into a pub with long hair flowing, ironic t-shirts, pirate earrings and beads and watch as all conversation seemed to suddenly cease. If it was the old west, then I would imagine the guy playing honky-tonk piano in the corner would suddenly stop also. As it was the 90s, maybe the CD in the jukebox just skipped.
Of course this shock effect can't last forever. Over time we seemed to bridge the divide between The Kinks and Mr Orange Jumper. Gradually we went from being 'the outsiders' to being 'the regulars.' Both have their good and bad points, but I always tried not to roll my eyes at the latest cocky young upstarts that came through the door.
* * * * * 
In 1994 I visited London. I was curious to talk with my uncle who managed pubs in Muswell Hill in the early 1970s and enthusiastically asked if he had any good stories about The Kinks. He seemed to be rather dismissive in the way Mr Orange Jumper might be, but it also might have to do with a big city trend of seeming casual and dismissive of people that add cultural relevance to the place where you live. My theory is the bigger the city, the more dismissive people are.
When I lived in Brisbane, I was always delighted to see local heroes Grant or Robert from The Go-Betweens walking down the street, or Ed Kuepper from the Saints. Now that I live in Melbourne, however, it seems like nobody bats an eye if Cate Blanchett is sitting at the table next to them. My small-city mind in 1994 could not grasp the fact that there was no annual Kinks holiday in Muswell Hill, or at least a monument in the town square!
That trip to London also reminded me how different pub culture was in England. Pubs used to be packed at lunch time with people downing pints in thick smoke-filled environments before reluctantly returning to work. Australians certainly didn't seem to smoke as much as the English, and it is one vice I have never really succumbed to. I remember almost getting into a fight with someone at a pub in London because I told him I didn't smoke. It seemed like an unfathomable concept.
I have to admit there are things I miss about smoke-filled pubs. The lighting was less harsh and made you feel like you were in some sort of film-noire with the light carefully dissipated and lending an unearthly aura to everything. Today the light is a lot more harsh and smells besides the heavy aroma of tobacco are all-to-easy to detect. Also, it's hard these days to know what clothes you wore out the previous evening without being physically repelled by how much they stank of cigarette smoke.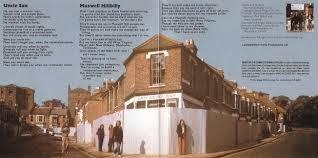 I haven't returned to London since 1994 and I find it hard to fathom how much it must have changed, with new anti-smoking laws and a general greater emphasis on healthy living. I'm reminded of one of the themes from 'Muswell Hillbillies' - urban renewal. It seems in my absence London has had another shift besides a physical transformation to a cultural one.
I can imagine if this album was made today the cover would be very different. The Kinks and Mr Orange Jumper would be leaning against the bar sharing a pint together and laughing at the people seated near the window. The air is smoke-free and pure. The people near the window are sipping green tea. They are not looking back, however and are oblivious to the fact that the other customers are laughing at them. They're too busy looking at their iPhones.
Hmmm, I might join Ray and the boys for a pint.