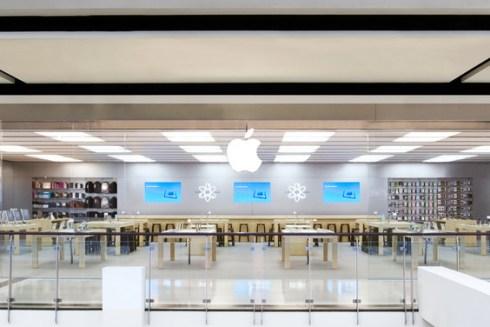 I must admit, I felt a little uneasy when I stepped into the apple store last night.
It may sound funny, but it seemed like I'd stepped into another universe. I'm not a monkey, I know the shops are clean, digital – a peek into the future, but what I was really surprised with was what happened once inside.
I walked up to what looked like your average dude that works in an apple store [read: glasses, baggy jeans, kind of like someone you'd find on How I Met Your Mother] and asked him for some help getting my phone out of 'headphone mode' – a mode it had been stuck in for around two months.
He was a cute in a goofy way, trying to talk fast and make me laugh which was nice, and he said he'd "get a techie to help me with that right away." I laughed and walked over to the 'Genius Bar' with him, only to be greeted by a punky kind of guy, who really reminded me of one of the guys from How I Met Your Mother. It seems the whole cast works in the apple store. He and dude #1 both focused on my phone and instantly admired my iPhone case (a peeling Mexican skull cover from Sportgirl) and the whole thing reminded me of guys admiring other guy's cars, or mums complimenting other mum's children. Was I supposed to be proud of my cover? Gloat at the compliment? I smiled at them both and said thank you – and then it was back to business dealing with the wedge in my headphone socket.
Punky dude smiled and said that he was try a number of things to fix it – and that I might have something wedged in the headphone area – and then he found it straight away and showed me, as he smiled at me. It was like he'd found the buried treasure. I was equally as thrilled. He told me he would go out the back to try and get it out for me – at this point I nodded along, feeling some relief. I also thought about what the clear little object that had annoyingly wedged itself into my headphone socket might be, and then I felt a little naked without my phone – and then I worried for a nanosecond that he might be going through my photos or my messages – and then I just went to reach for my phone again and went back to feeling naked again.
You don't realize how much you depend on them until they're gone. It's the story of  your love life, isn'it?
So as I sat there admiring the Kate Spade and Michael Kors iPad sleeves, as well as the HUGE wall of various iPhone covers, I got a little lost in this world that had been created that everyone has seemed to be sucked into. I read that the faster way to buy an iPhone cover is to scan it by using your app and then walk straight out. Things really have changed.
I was shocked back into reality at the sound of clapping. A man had just purchased an apple Mac desktop computer, which sent all of the staff into a huge clap. It was like he'd found a cure for arthritis, like he'd come first in a marathon. I didn't know whether to join in the clapping or just sit there and keep smiling. I chose the latter.
It reminded me a little of a cult. Everyone just seemed so happy. I must have been told by three different people in 5 minutes that "it wouldn't be too much longer" – even though two of out of three didn't even know why I was there or what I was waiting for. Or did they? Perhaps they're wired together by a radio – I wouldn't be surprised.
When punky dude finally came out, he had removed the clear little culprit and we tested it. Ba bow. Still no sound. Not satisfied with the results of my visit, punky dude asked me if i was still under warranty – turns out I am. So he advised that I back up my phone at home and come back and see him.
I'm still tossing up.

NQC x
Have you had a weird experience in the apple shop?
Do you think they're a little cult-like?
Where else have you had crazy customer service?