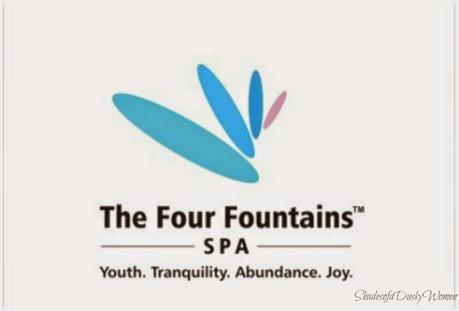 Wow!! It feels so weird to post after such a long gap. First, I would love to apologize like crazy to my beloved blog. Sorry babe!!! I missed you too!! Mommy was too busy dealing with mundane crap a.k.a daily life.
Another note of apology to whoever is still following my blog. Work life and personal life has been pretty hectic leaving me with no life. With that depressing note, let me go on with what i got on my mind.
The Four Fountains Spa graced me with an offer to check out their services. So the following is my experience with them. Though this is a sponsored review, i'm not gonna suck up to anyone and whatever appear here is my opinion of them .
I visited the
Bangalore branch
of The Four Fountains Spa on a sunny Sunday Afternoon (1st week of March.....I know a pretty long time to write about. Same old busy life excuse) and trust me when i say this, it was the best day in a long time. I'm not exaggerating here. This offer came on an opportune time when i was dire need of De-stressing.
Let me start off with a brief note on The Four Fountain spa:
About The Four Fountains Spa:
The Four Fountains spa is India's largest chain of professionally managed health spa that are affordable. It was founded in 2007 by S.P.Jain and 3 MBAs from IIM, Ahmadabad and since then has come a long way in terms of success and number of branches. Now there are more than 20 spas spread across 7 cities: Mumbai, Delhi, Gurgoan, Benagaluru, Kolkata, Pune and Goa. Their future plan is to set up 300 spas by 2016. Their goal is to keep India stress-free through affordable spa therapies.
My Experience at the Four Fountains Spa:
There were so many things i fell in love with: The ambiance, the courteous service, the skillful hand of the masseuse is just some of the things I'm going wonky about. Let me talk about them in detail.
Ambiance: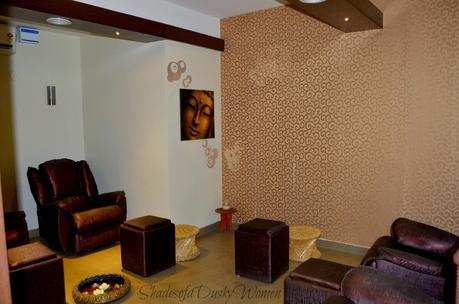 There is something so earthy about this place. The lemon grass fragrance that surrounds this place is so refreshing and inviting. And of course it is my favorite fragrance. I don't go for the touchy Vanilla, Lavender or anything floral as it tickles my nasal sensors. I felt like have entered a magical land. The lighting and decor reflected a oriental...more like Thai style to it. I'm a big fan of Wood-y tones and Buddha decors. There is something so serene and soul-quietening about them.
Reception & Consultations: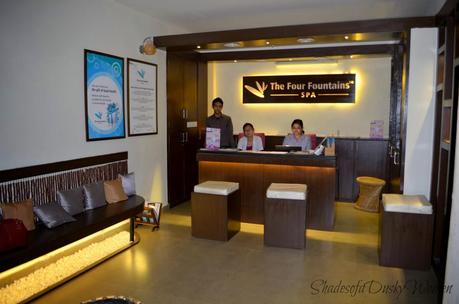 I was given a warm welcome by the enchanting lady Ranjani there. She made me feel comfortable there and explained to me about the various services there. I was given a stress test by Dr.Sonia there, who confirmed my hidden fear, that i was too stressed out. I liked it how they take their job seriously. This makes a difference because they let you know what you need rather than push some expensive services at you. In spite of their recommendation for de-stressing aromatherapy, i went for the body polishing service.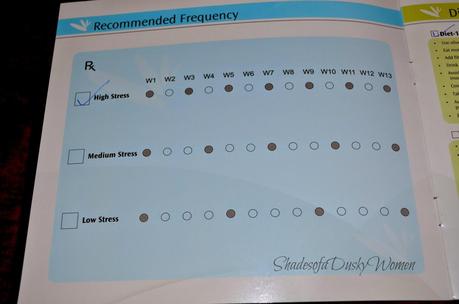 This prescription booklet was pretty useful with information on diets and various stress and pain relieving exercises.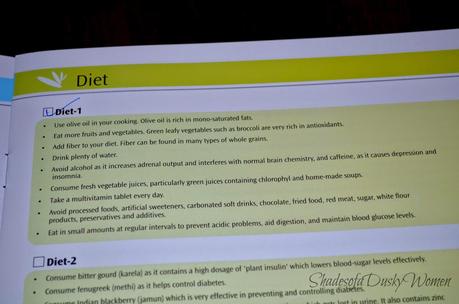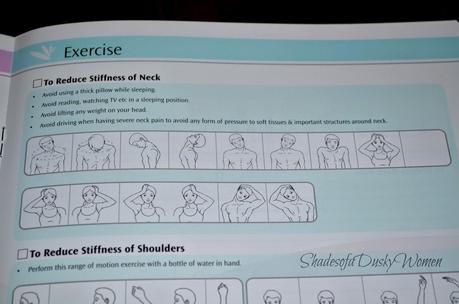 Services Offered & Cost:
There are more than 25 massages, facials, body polishes and body wraps to choose from. Indian massages like Ayurvedic and Head-Neck shoulder massage.  Even international massages like Aromatherapy, Thai, Swedish and foot reflexology are available.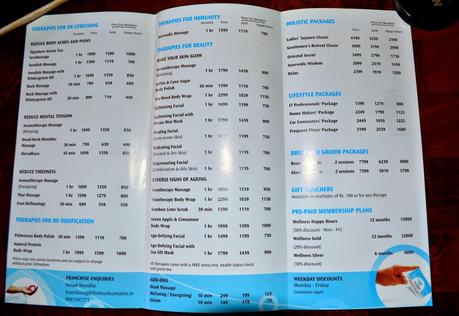 The services are classified in to 4 broad categories:
De-stressing
De-toxification
Immunity
Beauty
There are just too many to choose from and each of them serve a purpose.  I'm just trying to try out the aromatherapy and thinking of gifting a massage to my husband. God! he needs it. There is an array of option within options. Like in a massage to reduce body aches, you can go for Green Tea scrub, Swedish massage, massage with Wintergreen oil. There are so many types of massages to choose from depending on one's needs. Besides the aromatherapy, i want to go for the Thai massage, as i heard so many good things about them.
Besides the services, I'm in love with the fact that it is affordable enough to make it a part of your monthly regime. I personally believe that anything good for  health has to be followed on a regular basis to see its benefits.
There are also customized serviced based on life style: like packages for IT professionals, Home makers, Commuters and frequent fliers. I like this concept, as it has been created with people in mind.
All the therapies are provided in a scientific and holistic manner and this matters the most.
The Massage: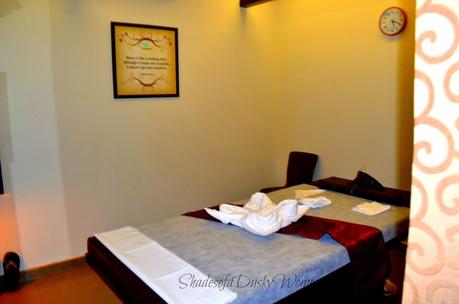 The place were the massage happens is a quaint and a comfortable place complete with a attached shower for convenience. What i love the most is disposable underwear one can wear during the massage. This is a wonderful thing for all those people questioning about hygiene and for those feeling queasy about being naked.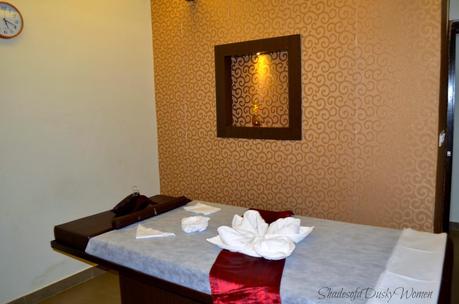 Masseuse Rameela (I believe that's her name....hopefully!!) with the complementary Green Tea. Not a big fan of Green Tea but i like their overall approach to being healthy and stress free.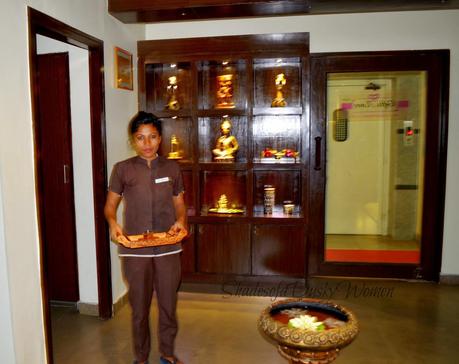 I was given this 'Guide' which had all the information pertaining to living a healthy life. I also got a complementary stress-relieving balm, which when applied to the forehead and toes at bedtime, releives stress and allows you to sleep fitfully. (Sorry no pic of it) I really loved the lemon grassy fragrance of it and  it non-sticky,non-oily formula.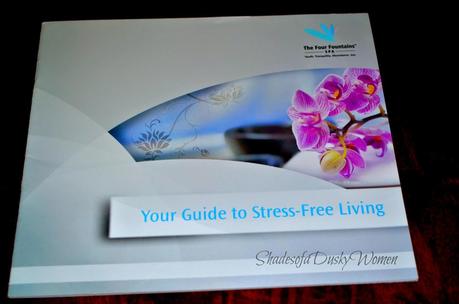 My overall experience and impression of The Four Fountains Spa was pretty relaxing and a enjoyable one. I intend to go back for more and introduce my husband as well, to the positive benefits of an invigorating spa session.