I thought I'd share with you the pieces of makeup which have made it into my box of everyday makeup for autumn. I shopped my stash the other night to find autumnal makeup that is quick and easy to put on in a morning before work.
Some pieces of makeup are essentials which live in my box throughout the year, with only the odd mix up if I get a new product to try.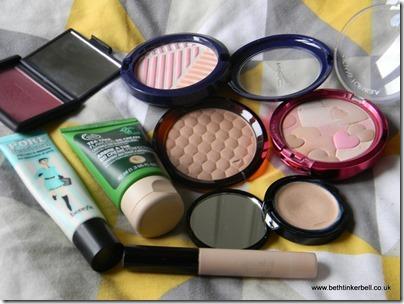 The Porefessional £24.50 – The first of the products which lives in my box, now I don't tend to apply this on a day to day basis when i'm going to work. However, if I'm going out after work i'll put it on, or if I'm doing something special during the day and I need my makeup to last then this goes on.
Tea Tree Flawless BB Cream £8 – I have this in the shade 01 which is a perfect match all year round for me, I never get much color. I really like that this has tea tree in to help battle those pesky spots, and I also love the smell! It's not a smell that lingers, so you don't need to worry about smelling like tea tree all day long. It applies flawlessly and blends really easily I have yet to spot brush strokes across my face even when I've applied a too much. The only issue I have with this BB cream is that there are only 3 shades available, I hope they expand the range so that everyone can try it!
Phwoarr Paint £5.49 – Phwoarr Paint is my under eye concealer and has been ever since Emily introduced me to it on our shopping trip to York back in May. I do sometimes find this to be a little too dark, but I tend to use my foundation brush to blend it in which helps to make it less like i've slapped something on top of my foundation.
Lasting Perfection Concealer £4.19 – We all know that this concealer gets raved about, and I'm another one who loves it. I haven't yet strayed away from it when needing a concealer for blemishes.
Honey Bronze Bronzing Powder £13 – I was lusting after this for ages, I'd seen Estee rave about it and then Emily insisted I buy it so I finally caved. I'm so glad I caved, this is the perfect bronzer for my pale skin,I have shade 01. I really struggle finding a bronzer that isn't too dark for me and that doesn't take forever to blend in, but this one is the best i've ever found.
Crew High-Light Powder £17 – I got this from Cohorted earlier on in the year, it's been available a couple of times since. I love that there's 3 coloured sections, it just looks so pretty. You can choose to use just one of the coloured sections, or like me mix them together. I'm sure there is a reason behind each color but i have no idea what it is.
Blush £22.50 – Seduction has been my favorite blusher ever since I bought it a year ago. I wore it all through last autumn and well into spring before I retired it for the summer, but I'm so glad to bring it back out again. It's such a beautiful plum shade, and very pigmented. I did a wee review on it earlier in the year along with my other Nars blush which you can see here. 
Happy Booster Glow & Mood Boosting Powder $13.95 – I use a translucent powder to set my face, I just find it a lot easier as I don't need to worry about adding extra color to my face when I've got my makeup looking great. This powder does have a shimmer to it, so not really advisable if you have oily skin, but you could also use it as a highlighter.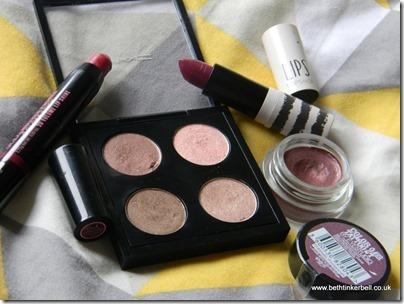 24hr Colour Tattoo £4.99 – Metallic Pomegranate is the perfect autumnal color for me, much like my Nars blush. I use this over my lid as I find it makes a great base for any eye makeup look I decided to do.
Pro Palette Refill £10 – There's only one color from my MAC quad that I use which is Sable (top left) I use it in my crease and it goes perfectly with Metallic Pomegranate.
Lips £8 – I have the color Called Up which I bought for my confirmation last November. It's the perfect berry shade that can be worn every day, it's not too dark that it looks vampy like some can do. 
Sexy Mother Pucker Gloss Stick £8 – Plum Jam is such a lovely plum balm ideal for everyday wear, it's really nourishing which is what I need as the weather changes.
I'm sure you've been able to tell that during autumn I go for berry and plum toned colours, they just make me feel all autumnal ready to curl up with my blanket and a book or a movie. I also love being able to wrap up warm with lots of layers.
What are you Autumn makeup picks?
Beth x