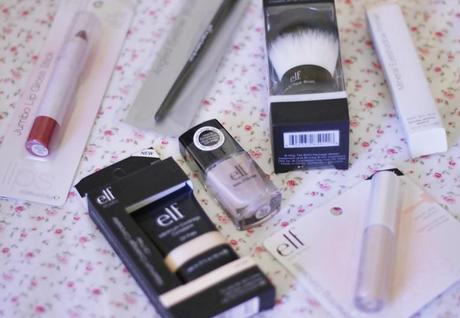 On Sunday e.l.f celebrated their birthday by offering 50% off everything on the website, so I just had to order a few of the products I've been hoping to try. Totally justified, right? I was excited to see my package from e.l.f come through the door this morning and I wanted to make a quick post about the goodies that I treated myself to! I'm sure I'll be posting individual reviews soon enough but for now I just wanted to show you what I picked up..
I've been in need of a couple of new brushes lately and thought it was the perfect time to pick up a small kabuki and liner brush while this great offer was running. I bought the Kabuki Face Brush (normally £6) as I needed a small brush to pop in my bag for powder touch ups during the day and this one seemed perfect. I also ordered the Angled Eyeliner Brush (normally £3.75) as I was desperately in need of a good brush for applying my gel liner, and this one had great review online so I quickly snapped it up.
I've also been in need of some new concealer as my beloved Dainty Doll Concealer Pot is nearly finished, so I thought I'd give a couple of the e.l.f concealers a try. The Maximum Coverage Concealer (normally £3.75) sounded great and I think it would be perfect for covering up the red blotches that are currently taking over one of my cheeks, as well as any blemishes of course. I also went for the Tone Correcting Concealer (normally £1.50) as I thought it would be good for covering any under-eye darkness and also smaller blemishes.
Eyeshadow primer is a product I'd never really bothered with as I wasn't much of an eyeshadow wearer, but these days I'm right into my neutral shadows so I decided to try the Mineral Eyeshadow Primer (normally £3). I also treated myself to Jumbo Lip Gloss Stick in Movie Star (normally £2.50) as I'm a big fan of lip crayons and thought this would be a lovely one to try. Movie Star is a gorgeous sheer red that I think will be perfect for Christmas time. The final product I went for was of course.. a nail polish! I've never tried any of the e.l.f polishes before but ended up going with the Nail Polish in Desert Haze (normally £2.50) which looks like such a pretty cool-toned nude shade.
Have you tried any of these products? Or did you treat yourself during the recent 50% offer?