Last Thursday (October 13) was the opening night of a new art show in Gaffa Art Gallery in Sydney city where my digital dioramas made their debut in the world of art.
And I sold a few! Well, to be more accurate I turned my dioramas into postcards for sale, and we've not only sold most of the first batch of postcards, we're printing some more to keep up with demand.
At the end of this blog posting I'll provide some details for Sydney readers who might be interested in dropping in not only to see dioramas in an art gallery, but also the wonderful paintings by my wife Pam and her good friend, Margaret. For people working in the city, the Gallery is near the Town Hall and open Monday to Saturday.
Right now, here's some photos of the opening night, my "installation", and then a small sample of the dioramas included in my installation.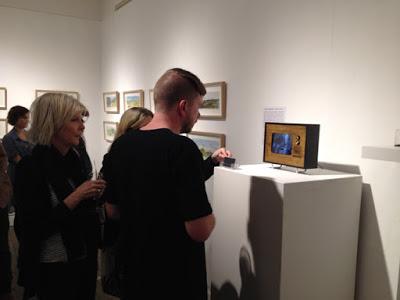 My installation consists of a cute retro TV set that contains
a tablet device, and into this I have slipped a USB stick loaded
up with my 26 best dioramas (I have about 80 or so to choose
from). The display is a simple slideshow, with all sorts of
random fancy dissolves, etc.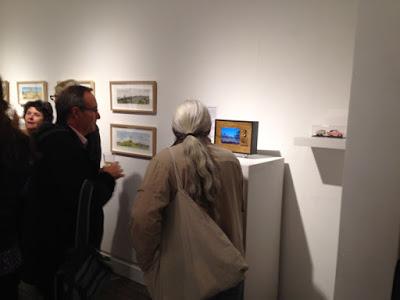 The little retro TVs are made by my wife's picture framer,
Koru Studio in Enmore Road, Enmore. www.korustudio.com.au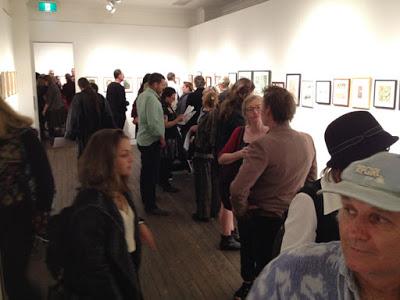 My little installation was a sideshow, of course. The main
reason for the show is the paintings done by my wife, Pamela,
and her good friend Margaret. As you can see, the opening
night attracted a great crowd, and they managed to sell a
good number of paintings as well.
Now, for a change of pace, here's a small selection of several dioramas that were in my installation. Most of these were turned into postcards, and it's lovely to think people actually wanted to buy my work.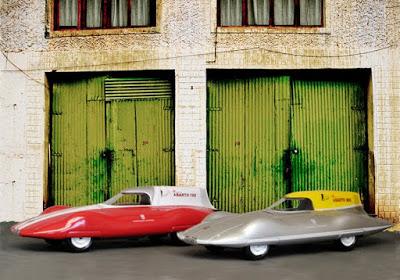 Abarths at Monza, 1957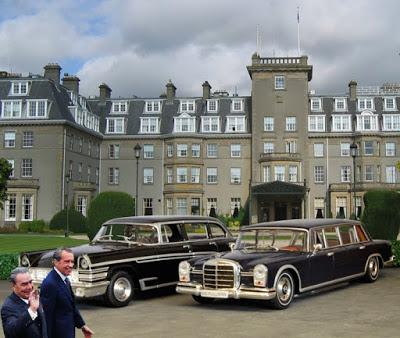 Nixon and Brezhnev at a Peace Conference at Gleneagles in
Scotland. The car on the left is a Zil limousine, and the one
on the right is a Merc 600.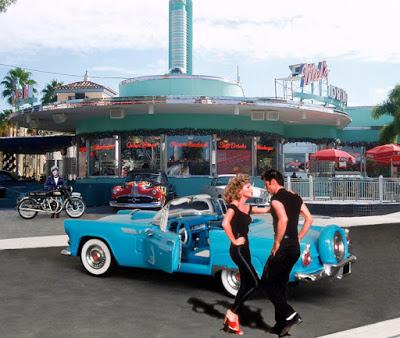 Boppin' at the Diner. Livvie and John in the foreground,
Marlon Brando with a Vincent motorcycle in the background.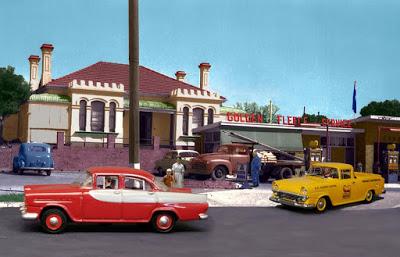 Auburn Golden Fleece Servo. The background is a black and
white photo which I then colourised. The red Holden is a
not very nice 1/76 model, the yellow Holden a very nice
1/43 model by Trax.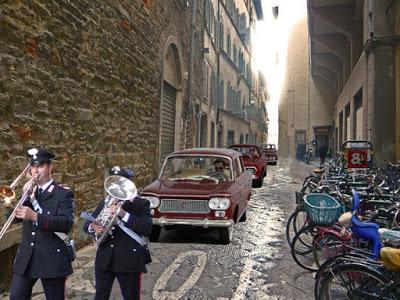 Marching Band Practice Holding Up Traffic in Rome.
Marcello Mastroianni driving the Fiat 1500 Gina Lollabrigida
in the Lancia Fulvia behind.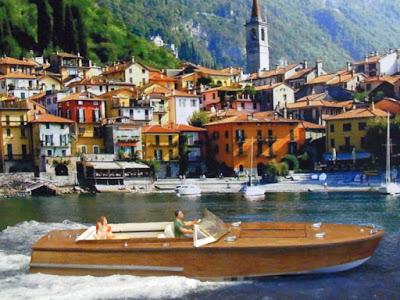 Mr Lothario in his Speedboat on the Italian Lakes.
This model is a 1/35 plastic scale kit of a Russian military
speedboat, which I have converted into Mr Lothario's runabout.
The fake water and wake is a 3D diorama of my own making,
while the photo is merely one stuck on the wall behind.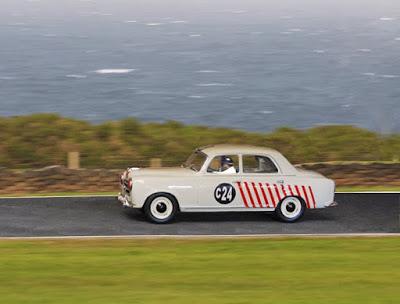 An action shot! Peugeot 203 at Phillip Island. The driver
in this one is Jack Brabham, originally in action in a Cooper
at the 1959 Monaco Grand Prix. With its blurred background
the original shot had a Honda car in it; I photoshopped out the
Honda and replaced it with the Peugeot, which carries the
correct livery for the Peugeot 403 which came second in the
first ever Armstrong 500 in 1961, at Phillip Island.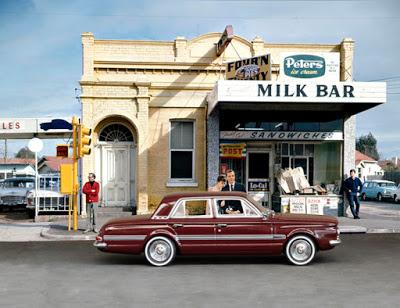 Prince Valiant. The charming couple with their Valiant is
Carey Mulligan and Peter Saarsgard from the film
"An Education". The original milk bar is in Melbourne.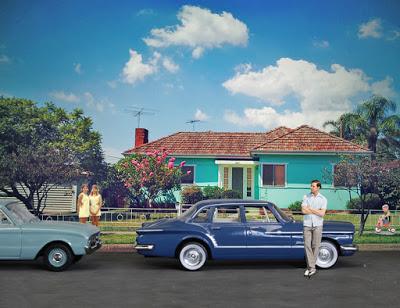 Suburban Status Seeker. The background photo actually is
that color of house. Wonderful. The little cars are both
1/43 scale models by Trax.
As I mentioned earlier, there are 26 dioramas in the installation, but I guess these ones here are among my favourites.
I have to admit it was a very nice thing to have all sorts of people checking out my dioramas in this way, and talking to them about how they are created, and so on.
What they all seemed to like about them, apart from their realism, was their sense of innocent fun, which is exactly what I have been aiming for all along. Thanks everyone!
SHOW DETAILS: Gaffa Art Gallery, Level 1, 281 Clarence Street, Sydney (it's close to the Sydney Town Hall). The show is on until October 24, Monday to Friday 10-6, Saturday 11-5, closed on Sunday. www.gaffa.com.au