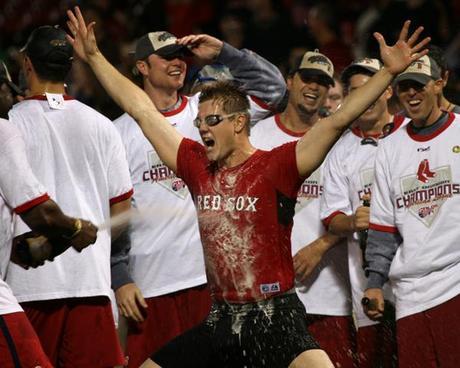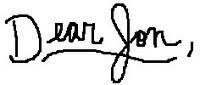 Despite all of your previous threats, I really never thought it would come to this. After seven dramatic but successful years, you just spurned the Boston Red Sox and signed an exorbitant $50 million contract with the Philadelphia Phillies. I mean, I always knew it was about the money with you. I always knew you wanted that record-breaking contract more than anything else. But it breaks my heart for our relationship to end like this.
In terms of the Red Sox, you were the best thing to happen to me since Manny rolled around the outfield trying to field that fly ball. Well, at least until the Popeye's Saga of 2011. You saved 219 games in the regular season and seven games in the playoffs, making you the greatest closer in Red Sox history. You were a four-time All-Star and allowed runs in only one post-season appearance. Then again, that one appearance – during the 2009 ALDS – was the last time we have seen the Red Sox in the playoffs. I don't want to spread rumors, but you probably cursed them. And now you are running away, just like Theo and Terry. I won't call you a traitor, because you aren't; you have always been unabashedly upfront about your career goals. Instead, I will call you, at best, a hired mercenary, and at worst, a money-grubbing asshole. The Sox will miss you almost as much as I will.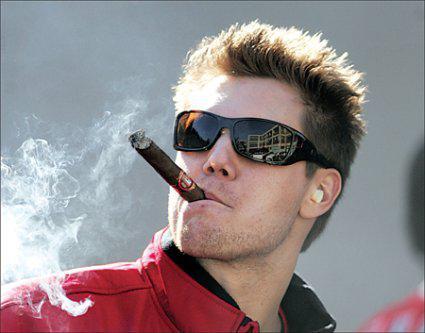 We don't have to discuss that it seems rather ludicrous, as good as you have been, for Philly to give you $50 million and four years after the Brad Lidge Experiment. We all know how that one turned out. And now Ruben Amaro went ahead and gave you $13 million more and an additional year. Certainly, this is a compliment to you. You are an improvement, although not a huge one, over Ryan Madson (who helped Joe Girardi's Braces to an undefeated regular season). But there is a reason that teams do not normally pay $50 million for a closer and, with Mariano Rivera as the outlier, history has not been kind to teams that give multi-year contracts to relievers.
Don't get me wrong. You were excellent in 2011. You were 4-1 with 31 saves, to go along with a 2.94 ERA and 87 strikeouts. You became the fastest reliever to reach 200 career saves (in 359 games). Yes, even faster than the legendary Mo, who needed 382 to get there. But only a man with an alter-ego named Cinco Ocho would sign a contract for $50,000,058. Recently, when asked about Cinco Ocho, you said that "He's kind of a pain in the ass to deal with. He's an alter ego that just came along in 2007. You can thank Alex Cora for that. He kinda brought him to light." Well, thanks a motherfucking ton, Alex Cora. You added that, "Cinco, he's the guy that comes out in between white lines." Like cocaine on a mirror, white lines? Because, drug addict or not, that would make some of your quotes seem much more tolerable. You even had Cinco Ocho threaten poor Antonio Bastardo, who looms in your shadow as closer-in-training: "I basically told my agents to tell Bastardo to give me the number or Cinco Ocho was gonna kill 'em," Oh, they are going to either adore you in Philadelphia or eat you alive. I will watch with bittersweet tears in my eyes.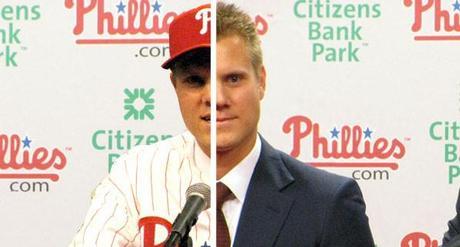 I know your ego must be bruised. The Red Sox didn't even bother to offer you a contract this year. It is not like they had larger issues to deal with or anything. That is probably why you were such an asshole on your way out of Fenway, huh? You had to riff about being "loyal to those who are loyal to me" and wanting to go to a "team with a chance to win." I guess you forgot about how loyal the Red Sox were to you when you sucked ass in 2010; you know, when the Nation was in an uproar, crying for Daniel Bard to close. To be honest, I was really hoping that you would have an ESPN special called "The Deci$ion," where you would announce your huge $50M contract, break out that godawful Irish jig, and insult a few more people. I wonder if in your decision-making process, you compared the fan bases in both cities and decided, like I have, that they are pretty much equal in terms of their rabidity and evilness. You will fit right in. But if you felt threatened in New York during a mass-policed parade, just wait until you blow a few saves in Philly. The profanity from the crowd on Sixth Avenue will give you warm fuzzies in comparison to what will rain down at Citizens Bank Park. You can't possibly have forgotten our drama in July 2008? The All-Star Game parade in New York? Oh, right, that. When you arrogantly and delusionally said that you should close the game over Mariano Rivera in Yankee Stadium? Mo was only 23-for-23 in save opportunities at the time and, well, only the greatest closer in the history of baseball. When asked by a reporter if you would escape the Bronx if you closed the All-Star game over him, you acted alarmed and insultingly replied, "You're starting to scare me with that question. Do you have the mob after him or something?" Because obviously all New Yorkers have mob ties. As you already know, I have to kick back 22 cents for the $3 I earn on this blog every month in a shakedown on the corner of Fulton Street and Broadway to keep this operation going. And, then, during the parade itself, when you saluted the crowd with your World Championship ring finger on Sixth Avenue to a thundering chorus of boos? And said that your wife's life was being "threatened" and that you felt like you needed "to be in a bullet-proof car?" Shockingly, we New Yorkers were not pleased by your comments. But I got over it – for you.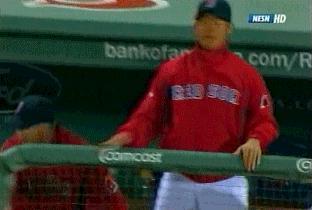 And really, I got over it because I live for your me-first antics. I know you don't pay very much attention to baseball outside of yourself. I mean, I would want to forget too, but you didn't even know that your team signed John Lackey. Remember that enlightening chat with Gordon Edes? When, besides feigning ignorance about Lackey, you also were unaware about Marco Scutaro, Mike Cameron, Jason Bay, and Mike Lowell? If this was a Madlib and I had to find an adjective, I'd struggle between "uninformed," "incompetent," "selfish," or "fucking dumb." This time around, I suggest at least pretending to give a damn about your new team. As much as everyone loves a disinterested diva, until the pilot of Real Baseball Players of America's Counties airs, it may be in your best interests to not live under a news-oblivious rock. It was during this interview that you also said, "I swear to you. I don't know anything about the ballclub but I know the words to the 'Mickey Mouse Clubhouse' song." Maybe you are, in fact, better suited for the Magic Kingdom. You would own those Celebration Parades in the middle of the day that seem to make the line for Splash Mountain seem even more unbearable. I bet if you asked nicely, they would even let you play the role of Prince Charming. Or the man who shot Bambi. After all, you did tell Esquire that you find relaxation in killing ducks.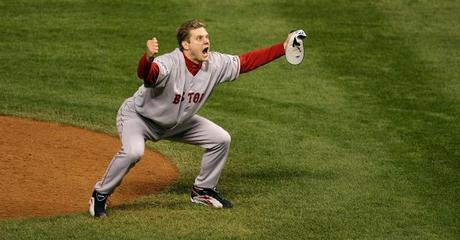 But I should have seen the writing on the wall. Back in March 2008, you mentioned how you were "at a point to where I feel like the position I'm in, there's a certain standard that needs to be put in place here. I feel like with me being at the top of my position, I feel like that standard needs to be set, and I'm the one who set that standard." Sigh, it was always your humility that turned me on. But I should not have ignored your subtle threats. Maybe it was heroic selflessness. Maybe it was simply the fact that you are a douchebag. In January 2010, you confessed to Mr. Edes: "But what do I have to give up to be in that marriage? Understand, I'm in the prime of my career. Why would I give up something? I'd give up something if it's fair to both sides, but I want to do things for my fellow closers, just like Mo paved the way for me. I want every closer out there, man, to get every penny they deserve." I don't know if you were talking about your contract or us, but our "marriage" meant something to me. It was a perfect give-and-take of assclownery on your part and biting sarcasm on mine. I know you don't think it was fair to both sides, but it seemed like a really sweet deal for me. Especially when you would go and blow a monstrous save like at the end of this season. The sheer happiness you brought me on so many occasions is immeasurable. And it just doesn't mean as much from Philly, Jon. It was the "Boston" written across your chest that made it special for me. That said, if I learned anything from your heart-to-heart with Mr. Edes, I realized that our marriage was bound to fail any way. If you wanted to name our kid "Gunner Roberts," simply because it was "just a badass name," we would have had much larger issues than your egocentric obsession with money.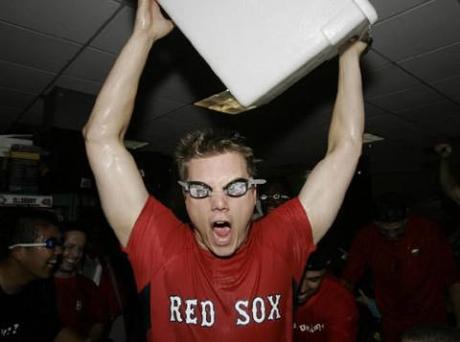 I should have accepted that we were never meant to be when Curt Schilling, of all fucking people, said that you are "not exactly a charter member of Mensa." You are already intimately aware of my feelings towards that man. When someone as stupid as him calls you stupid? Well, it is not exactly a glowing endorsement. But, still, I could not quit you. Your wife Ashley has "learned just to let [you] go." She said that when you were "dancing around with that box on" your head, she was just thinking, "Oh my God, what are you doing. But [she] really wasn't surprised." But my surprise and amusement never ended. And now, as you leave me for Philadelphia, it simply must.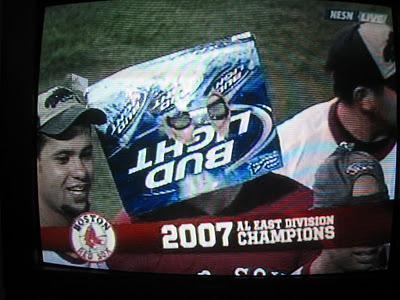 But I will always hold our memories close to my heart. I loved when you called Manny Ramirez "a cancer" that "had to go." I loved that, during the same interview, you called Mariano Rivera "the Godfather" and suggested you would be an "even greater" closer than him. I loved that when you were asked as a rookie where you "see yourself after baseball," you simply said, "In the Hall of Fame." I loved that everyone in Boston was shocked by your arrogance. And I sort of love that you may just prove them wrong. It was awesome when you said Big Papi is "the worst poker player ever. Just brutal," and it was equally awesome, if not more so, when you called out Commander Fatass for getting kicked out of a Jay-Z party. I will fondly remember that time you were on the cover of Boston Fire Department Magazine and you awkwardly asked the reporter if he thought you "could pose for Playgirl or something like that, maybe?" Um, sure.  I will miss you and I will especially miss your "slutter." When you explained how you created the "slutter" pitch, a cross between a cut fastball and a slider, the reporters around you cracked up, quite literally.
And now instead of cracking up, we are simply breaking up. I hope that by the end of next season, Mets fans have a love-hate relationship with you much like I did. It's been real. It's been fun. It just hasn't been real fun. Farewell, Number Fifty Eight. And God Bless, Cinco Ocho.
XOXO,


P.S. I remember this, too.  Alas, the rivalry will somehow survive without you.