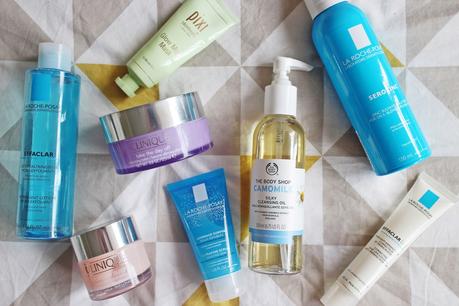 The past couple of weeks I've been pretty lazy with my skincare routine and my skin is most certainly angry at me for it. I've always been prone to an angry spot or two, but for the past two months I've had the angriest of spots ever imaginable. The ones that nestle themselves right in there, wouldn't dare peep out in a head but shine so bright they let everyone know it's there.
I actually had one so bad on the side of my chin that my cheek actually swelled up - no joke! I've now got a swollen septum on my nose because one has decided to set up shop there for a bit. I've also got a cold, so sneezing and blowing my nose is agony at the minute. Feeling sorry for myself much?
Because of this, I've really knuckled down and I'm sticking to a routine that I really like at the minute so I thought I'd share it.
THE CLEANSE
I'll be honest, I never used to double cleanse. I used to take my make up off, years a go with just a make up wipe and then put a bit of moisturiser on and be done. Not anymore. I'm currently using The Body Shop Camomile Cleansing Oil and Clinique Take The Day Off Balm which has been a favorite of mine for a while.
At the minute I'm using the camomile oil as my first cleanse to take my make up off with and then the take the day off balm for my second cleanse. A bit backwards I know but I like how the take the day off balm leaves my skin feeling. So soft. I am looking for an alternative second cleanser so any recommendations would be gratefully received?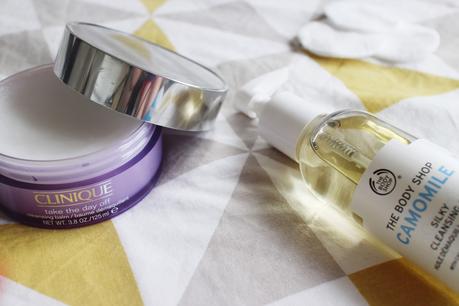 THE TREATMENTS
This is a fairly new step in my routine. I've finally found a face mask that I don't have a reaction to. I love this Pixi Glow Mud Mask. It's dries quite hard on the skin but isn't uncomfortable and you can see the areas on your face which it's drawing dirt out of. A little gross but so satisfying. I try to use this product at least once a week.


Another product that is new to my routine is this

La Roche Posay Physiological Ultra-Fine Scrub

. Before this I was using the

Elizabeth Arden Visible Difference Skin Balancing Exfoliating Cleanser

 which is still one of my favorite products. I only exfoliate my skin every other day as I have really sensitive skin and it can sometimes be a little too harsh on my skin.




A good treatment for spots is this

La Roche Posay Effaclar Duo Cream

. I'll only really use this on those big angry spots.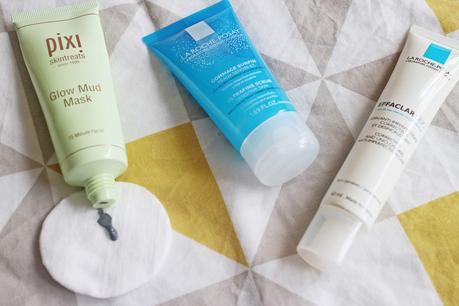 THE EXTRA HELPERS
I use the La Roche Posay Effaclar Clarifying Lotion on the days I haven't used the facial scrub. I use it as a toner before applying moisturiser. I can't say I've noticed too much of a difference since using it so I don't think I'll be repurchasing.
A product that I did repurchase is the La Roche Posay Serozinc Spray. I believe this product played a big part in clearing my skin up before. I ran out a few months ago and my skin is noticeably different when not using it. So glad I repurchased it!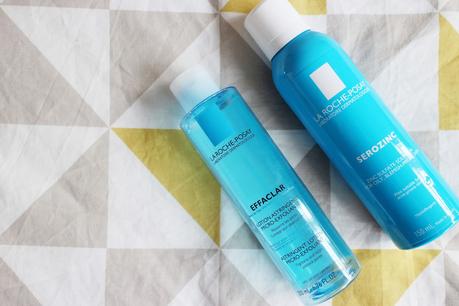 THE MOISTURISER
If you've got dry/dehydrated skin, this Clinique Moisture Surge Moisturiser is THE SHIT!!! I love this product, it's one I'll repurchase over and over again.
I've tried so many moisturisers over the years and as soon as I tried this I fell in love. It sinks into the skin beautifully, no tacky feeling, doesn't sit on top of the skin and a little goes a long way. This has saved my dull, dry skin so much!! LOVE IT!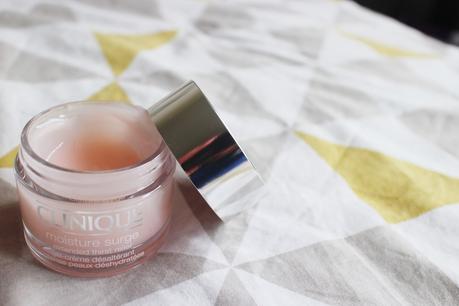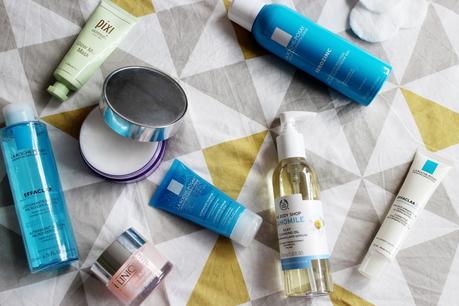 I'm looking at going to see a dermatologist about my skin, I've mentioned it before but I have a lot of trouble with the skin on my nose breaking and being very sore to touch. If any has any recommendations for one around Birmingham I would really appreciate it.