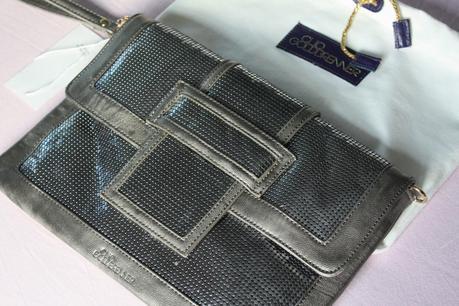 I spotted this gray Terpsichore clutch some time ago but it was only when I saw
Clara
's picture on Instagram and some hours laters I received a reduction code from Shoe on the cake that I decided to go for it. There were just too many signs for the shopaholic that I am to ignore, and as I was always told to not go against fate I had to order the clutch.
The Terpsichore bags are made almost entirely of Clio Goldbrenner bags's trademark chainmail (
cotte de maille
in french) which gives them an irrestible disco feeling. Her trademark is in fact a small rectangle of chainmail  which you will find on all the collections' bags. The gray Terpsichore clutch is definitely my favorite, the size and color are perfect for a night out, and by the way I will be trying out mine this weekend (yeaaaaaaaaaaaaaaah !).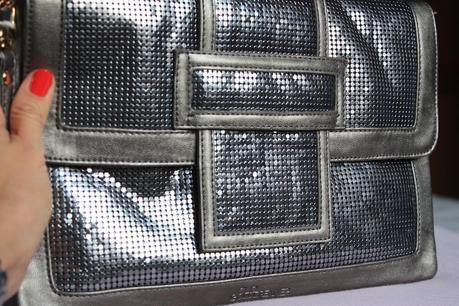 Clio Goldbrenner is a young belgian designer who has created her own handbag line in 2010 and in barely two years, Clio has become very popular in Belgium but also abroad (I recently saw on twitter that
Sharon Stone
is carrying one of her bags !). If you want to know more about this talented designer, my friend
Yeba
met Clio recently and has posted the interview on her blog.  
It's probably no secret for you but I am addicted to online shopping. I know many online shops from experience and I know what good and bad service is when it comes to online stores. Let me tell you that Shoe on the cake has probably the best (and personalised) customer service that I ever experienced. On top of that they have a great selection of Clio Goldbrenner bags, Sam Edelman shoes, Chiara Ferragni shoes and many more. I managed to get you a 20% reduction code so if you have an eye on one their items, enjoy ! Use the code CARAMEL until July 13th for 20% reduction on all items except those on sale (sales should start at the end of the month).
I've selected my favorite Clio Goldbrenner items available at Shoe on the cake and let me tell you that I have an eye on the Polymnie rust bag . As my husband would say, the only sure thing after I buy one bag is that I have already another one in mind...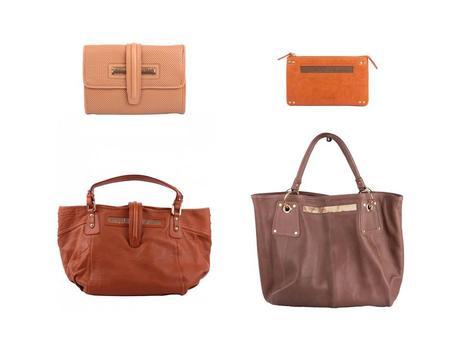 Polymnie nude clucth, orange mini-clutch, Polymnie rust bag, Erato vison bag 
 Don't forget to share with me if you fall for bags or shoes at Shoe on the cake, I would love to know what your favorites are !
xx Marta