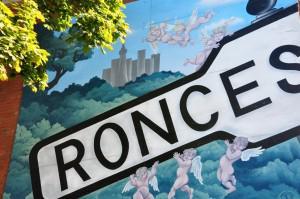 Although this originally ran in the New York Times in October, I  just found it. My hip 'hood is thrumming again, and apparently makes for one of Toronto's most engaging strolls. There really is so much new happening I'd need a whole month to dedicate to my great neighbourhood. Please click on the link.
http://www.nytimes.com/slideshow/2011/10/09/travel/20111009-surfacing.html
A Low-Slung Piece Of Toronto Gains Casual-Hip Cachet
Begin Slide Show
By MICHAEL KAMINER

IN the Roncesvalles Village area of Toronto, shop windows still trumpet "godziny otwarcia" — Polish for "opening hours." But as young, creative types have snapped up homes, this west-end Polish enclave has morphed into a hub of local design and casual-hip dining. After a multiyear neighborhood reconstruction project that temporarily cut streetcar service and starved merchants, Roncesvalles Avenue — the area's main artery — is thrumming again. Despite their big-city location, the street's indie bookstores, quirky coffeehouses and smart boutiques feel more like small-town hangouts, with stroller-pushing locals popping in to chat up proprietors. Tree-lined and low-slung, with a blessed absence of the chain stores that have crept across Toronto, the rejuvenated "Roncey" now makes for one of the city's most engaging strolls.

Begin Slide Show »   
 photo from polishfestival.ca