I've been re-listening to Loveless, the classic album My Bloody Valentine released 20ish years ago. It is an odyssey of sound, a truly titanic record that is as deep as it is wide (and loud). It was – is – a visionary record, made by musicians steeped thickly in their own juices. Loveless surprises and soothes and frightens all at once; two decades after its release, it still sounds fresh, alive, somehow both urgent and distant. It is a record for dreaming and listening. Its place in the history of pop is not incidental.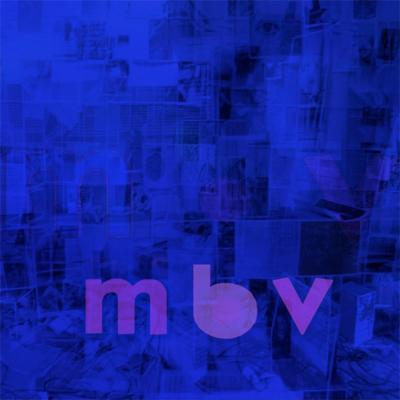 M B V, the band's first record since Loveless, does not disappoint. Guitar master and general apathetic-layabout-in-chief Kevin Shields remains the band's auteur, wailing and screeching and droning and flanging his way across every minute of the record. Shields' much-imitated guitar tone makes a triumphant comeback as well, and as with Loveless, it's the guitar that does the majority of the musical work: drum and bass loops beats are the skeleton, Shields' parts the muscle. To that end, M B V boasts a more pronounced harmonic pallet than on their prior releases.
(Let me back up a minute to do what is rarely done for rock bands, which is to – as James Brown would say – give the drummer some. There can be no doubt that Shields is at the band's helm, but titanous skim-beater Colm O'Ciosoig is the entire galley-full of slaves breaking their backs on the oars. O'Ciosoig is John Bonham without the ego or the tricks. "who sees you", "if i am", "in another way" – all are predicated entirely on his pounding. Hats off, Colm.)
There is something for everyone on M B V. There's the charcoal delicacy of opener "she found now", the  throwback rock of "new you", the full-throttle "nothing is." And there are lighter moments, like the keening feeling of open sky on "wonder 2″ or the contemplative psychedelia organ music on "is this and yes".  M B V is an incredible experiment in history: it is no exaggeration to say that all rock-informed music made since Loveless has drawn in one way or another from the record. My Bloody Valentine invented shoe gaze, fused noise and pop, made doom metal beautiful, defined and redefined grunge. All of the things that grew from Loveless can be heard now, here, today, in the focused-unfocused wail of M B V.
Bars: 4.5 / 5


My Bloody Valentine – if i am
05 if i am
My Bloody Valentine – nothing is
08 nothing is