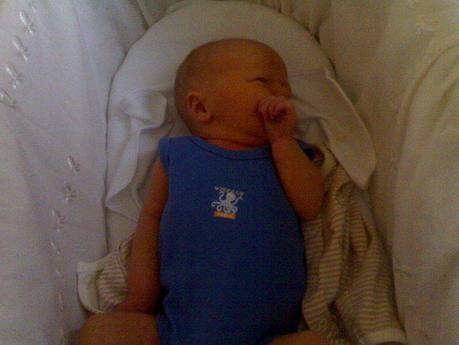 Baby Joshua
 I wrote the blog about my angel Josephine being stillborn at 33 weeks.  Months after losing Josephine we discovered we were expecting again, times were hard, I felt I wasn't bonding with my bump and really contemplated abortion if I'd found out we were having another girl, just my way of dealing with things I guess, although I am anti-aborting.
I had a pretty good,although worrying pregnancy and at 21 weeks we found out we were having a baby boy, much to my relief!
We hit 36 weeks and were told our boy was rather large so was to be induced the following week on Valentines day 2008. It couldn't have been on a better day,could it? 2 days later at 37+1 weeks our baby boy was born, it wasn't an easy delivery, our baby was back to back and causing a lot of pain.
Once his head was out his shoulders got stuck, the 2 midwives hurling themselves at the panic button, then with 6 midwives and 2 consultants in the room tugging and pulling at him and putting me in several positions my sons shoulders were freed after 8 minutes, 8 minutes of blur not knowing what was happening, thinking we'd lost another baby. Our boy come out rather grey and limp, he was whisked off somewhere with the midwife who gave him a rub down and some oxygen and there it was a great big cry from our baby Boy.
Phew. There he was our baby boy who we names Joshua Steven, weighing 8lb 15oz, feeding straight away and alive
What more could we want?
Up on the ward we had an unusual amount of visits from midwives and consultants, to then discover our sons arm was limp and bruised from shoulder to finger tips, we were told it'll soon rectify itself. The words Erb's Palsy were thrown at me, no information, no leaflets to read.
My baby has Erb's Palsy
A physio come to visit us whilst still in hospital and showed us some exercise routines to do with Joshua, still it was something we could deal with, not knowing it'd be a lifelong condition.
We took Joshua home and got on with things, doing his stretches to his arm every nappy change, buying things that would his range of movement.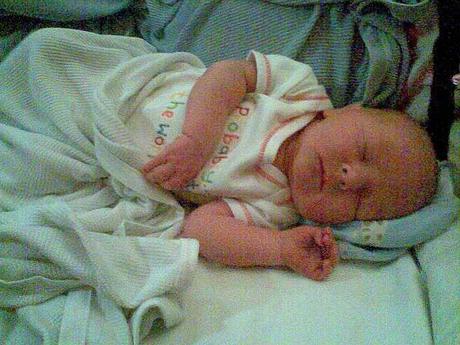 Baby Joshua
At 9 months Joshua lifted his arm for the first time, and from then on has been coming on in leaps and bounds.
Joshua is now nearly 5 year old and has just started school, he has not needed any operations on his arm yet, although he does have difficulty with day to day things life pulling his pants up, doing things two-handed, feeding himself and has bouts of pains but nothings going to stop him.
Although Joshua has this disability and this could have been avoided with different birth options, I feel that we should be grateful he is here. He's happy, just like any other boy, and not many people I tell would have even guessed he has nerve damage!
For more information about Erb's Palsy either Google it or visit the awareness page
This inspirational post was written  by a mum who is a member of my Facebook mums group. I have full permission to share her story. If you can relate to this post and would like to share your own post please contact me.
You can read many more Inspirational Stories of hope and courage on the blog.
You could help us share the blogs love to helping others by sharing via the social sharing buttons bellow.