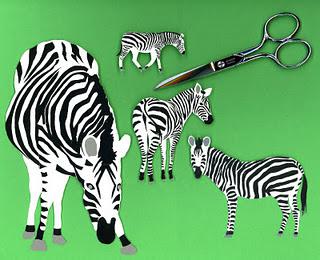 My cut-paper collage illustrations are created by first drawing the animals, using photographs as a guide. I then cut paper into the necessary shapes before assembling and gluing the pieces together. I prefer using heavy colored paper that I buy at the art store, but I will use anything I can find if it is the right color. I like the thickness of the art paper which, as pieces overlap, gives a three-dimensional quality to the illustrations. In a few cases, if I cannot find the right color of paper, I use my printer to create the color I need. My illustrations are the same size as the printed pages in the book.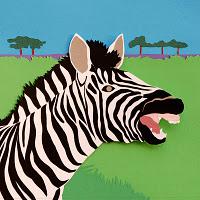 I like using cut paper collage as an illustration technique because the pictures are bright and colorful and the art allows me to convey information about the animals and their environments that I could not do in any other way. I can make the animals big or small, change their positions, and place them exactly in a visual environment that best shows where they live.
   I chose the cut-paper collage technique for my Picture Window Book animal series because the books are intended for children in the primary grades. The bright colors and large scale of the illustrations make them ideal for beginning readers or for reading aloud. The pages are big enough that children in the back of the room can see the pictures when a teacher or librarian is reading the book aloud.  Facts at the beginning and end of the book and in sidebars provides addition information beyond the main story.
   To make fine art prints from my illustrations I use a printing process called giclee, a French word meaning "sprayed".  Giclee prints are created from the original artwork by making very high resolution scans and then printing them with a professional quality printer onto fine art paper with archival inks. The technique allows for an extremely high level of detail and a print that is very close to the original art.  Even though the paper of the print is flat, it reflects the three-dimensional quality of the layered paper of the original art.
   You can see and purchase my prints at my online gallery at www.etsy.com/shop/CarolineArnoldArt .  All prints are limited editions and are signed and numbered.