If you all know, I had this amazing chance to be a guest makeup artist for an Elizabeth Arden event for which I got some lovely goodies. I couldn't resist sharing the goodies with you before they went into the reviewing section. I must say I have a ridiculous amount of backlog to cover in product reviews, tutorials and a lot of other stuff and I am shamelessly talking about hauls and press releases.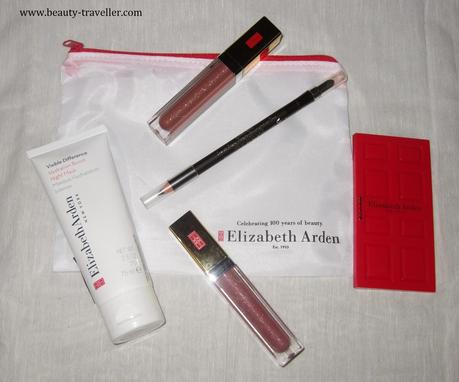 Anyways, these Elizabeth Arden goodies are from the recently launched Beautiful color line and Visible Difference skin care. I have been eyeing on their products for quite a while and this is a good way to begin using them.
Lets see what all I got............
Beautiful color luminous lip gloss - Dulce and Iridescent Mauve
Visible Difference Hydration boost Night Mask
Beautiful color Smokey eyes pencil - Smokey Black
What a lovely gift!!! The red door that you see is actually a beautiful little mirror. 
Do you own anything exciting from Elizabeth Arden??
Till then,
Ciao

Please do not copy any pictures or content of Beauty Traveller without prior permission. Thanks for reading my blog. I don't give 100% on the authenticity of the content here and it is subject to change without prior notice. Please read the disclaimer for any questions.Thanks a lot for reading my blog. Do subscribe, follow and support. Thanks.