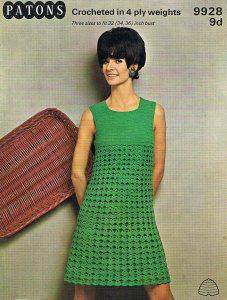 How many of you are old enough to remember crocheted dresses in the 60s and early 70s?   Do you recognize this pattern?  It brings back lots of teenage memories for me.  Always wanting to be in the height of fashion and working in London in the late 60′s (that ages me!) I made several dresses.  My sister-in-law crocheted her wedding dress and  bridesmaid dresses (in sugar almond colours) – such a labor of love.    Then crochet seemed to fall out of fashion and I have not picked up a crochet hook for many a year; that is until recently.
There is a treat of a little wool shop in town called The Wool Bar.   A warm welcome is guaranteed and you will always find people sitting at the old scrubbed pine table in the window with whatever they are making at the time.  Either they have called in for the help and advice which is forever at hand or they just want some "knit and natter" time.   The shop is a treasure trove, full of fabulous yarns, including Louisa Harding and Debbie Bliss as well as unusual designer yarns.
Last year The Wool Bar ran an Afghan blanket project in which 70 people joined in.   I thought it was a great idea and when it was announced that the 2014 Afghan project would be crochet this year, rather than knitted as the previous year, I decided I would join in and make a Afghan blanket.   When the call was given that the yarns for the project were in, I eagerly trotted along to the shop for my wool.   What a choice of colours faced me, making a decision on colours was very difficult!
The way this project works is to initially purchase 30 balls of wool, the suggestion being 6 balls of 5 colours, but of course it could all be of one color or combination.   I opted for berry colours and bought by King Cole Merino DK (100% superwash wool)  in Cranberry, Heather, Old Rose, Fuchsia and Wine.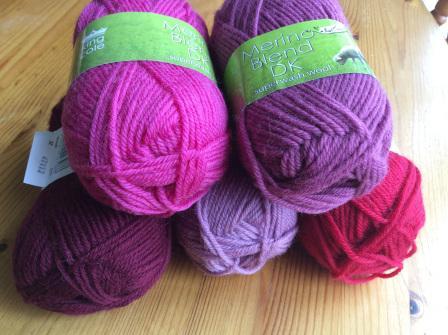 We are then sent via email, once a month, two patterns for either 4″ or 8″ squares.  It is up to us as to whether we want to do a combination of large and small squares, all small squares or all large.   There are no rules and regulations but the idea is to get through 3 balls of wool a month and depending on the pattern it depends on how many you can make out of the 3 balls.    These are some of the patterns: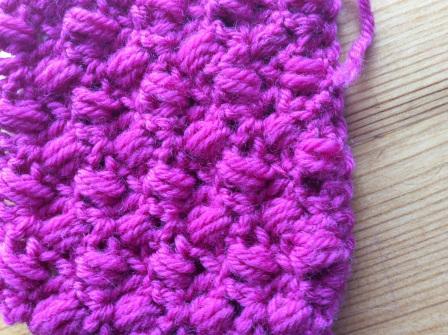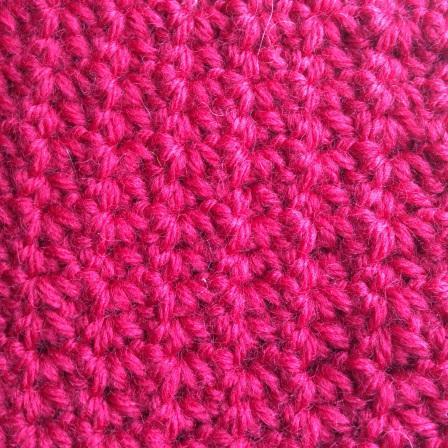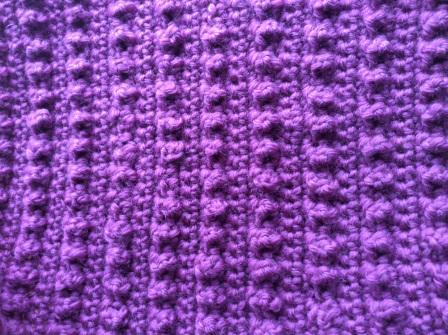 I have found some of the designs difficult to get the grip of, especially getting the tension and size correct, so have unravelled and remade my squares several times before getting them right.  So far I have crocheted 5 large squares and 3 small ones.   There is a Facebook page which is really useful because  we can discuss the latest patterns and any difficulties, such as changing up or down a crochet hook size to get the correct tension for the design.  We also share our progress and its fun to take a look at the other shades my fellow Afghan Project people have chosen.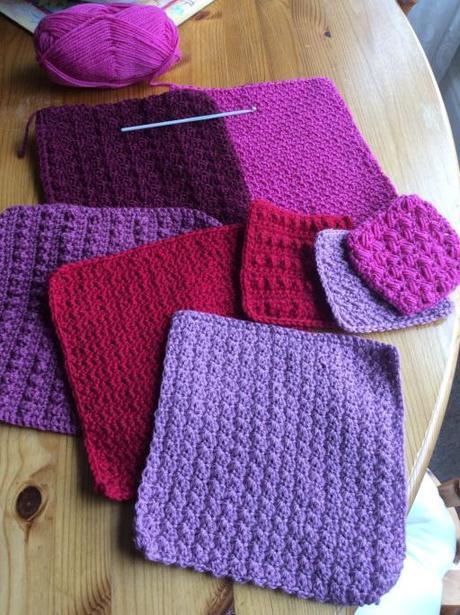 This project will take 10 months and then there will be the task of putting all the squares together.  I daresay a further head scratching decision will have to be made to choose the color to use to join them. 
Having started this project I thought I should find out what an Afghan Blanket is, especially as a number of friends have asked me.
An Afghan blanket, also called a "throw", originated in Afghanistan and is made of coloured yarn, knitted or crocheted in geometric shapes.   There are three main styles, mile-a-minute, join as you go and motif.   The Mile-a-minute Afghans are usually one piece with a minimum of stitches.   Join as you go, are made from different pieces, one beginning where the last leaves off.  Finally, the Motif afghan, the one I am making, is the most popular and complex, and made from many different small pieces, which may be of the same design or different designs but typically the same size.
Quite what I will do with the blanket once I have finished I am not sure.  In hindsight, I wish I had chosen more neutral colours because I could have used it on my bed but I fell in love with the idea of berry shades.   At the moment I am thinking I may auction it and give the money to Macmillan Cancer Support so I am spurred on to complete this exciting project and look forward each month to the next patterns dropping into my inbox.   In a few months time, I will publish another short post to update you on the growth of my Afghan 2014 project.