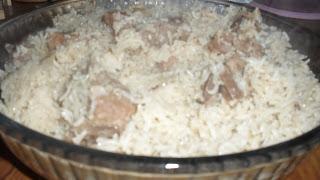 Some of you might be thinking it's a very common dish and who doesnt know how to make Pulao.. but for me its one of my most favorite dishes and the valuable recipe of my mom. You might find something different !
Ingredients:
Rice      ½ KgWhole garam masala   1 tbsp (cloves, black pepper, cinnamon)Salt      2 tspWater      2 and half glassOnion   2 medium finely diced Garlic      1 whole peeled and halfedMutton    ½ KgOnion(For yakhni)         1 diced into big pieces
Recipe:
For the yakhni(stock):
Put mutton, 1 tsp salt, whole garam masala, garlic in a wok. Add enough water to tenderize the meat plus some water should remain as yakhni. Put it on flame for about 1 hour or until the meat gets tender. I use a pressure cooker so it just takes 10 minutes for the meat to get tender.
Now for the pulao:
Soak the rice in water. Fry the finely diced onion in a pan until it gets light brown. Now add the meat and the garam masala from the yakhni. Put about 1 cup of water and let it simmer for some time. Meanwhile, put a tawa on flame on another stove. When the water dries up, stir fry the meat with the spices. Now add 2 and half glasses of water and put it on medium flame. When water starts boiling, add the rice and put the lid on. After about 2 to 3 minutes, when the water dries up, put the rice on a hot tawa for dum. Put it on dum for 10 minutes. Carefully stir the rice once and let it remain on tawa for another 5 minutes. Pulao is ready. Serve it with raita and salad.