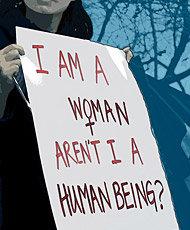 This post is part of a series discussing the 2012 National Organization for Women (NOW) Conference: Energize! Organize! Stop the War on Women.
Plenary VI, the closing plenary session, was dedicated to celebrating Dr. Heidi Hartmann, who was given the Woman of Vision Award, and Dr. Vivian Pinn, who received the NOW Foundation Victoria J. Mastrobuono Award. They were introduced by Bonnie Grabenhofer, NOW Executive VP, and NOW President Terry O'Neill. I was unable to take notes on this session, since it was Shabbat (the Sabbath) and Orthodox Jews are prohibited to write, but I'll do my best to share what was said and my impressions of the session.
Heidi Hartmann, PhD, is the president of the Institute for Women's Policy Research (IWPR), a scientific research organization she founded in 1987 to meet the need for women-centered, policy-oriented research. She is a feminist economist who has done extensive research on women, economics, and public policy, frequently testifies before Congress, and is often cited as an authority in various media outlets. Dr. Vivian W. Pinn is also an extraordinary woman who deserves the recognition. She was the only African-American and woman to graduate from the University of Virginia School of Medicine in 1967. She went on to be the first full-time director of the Office of Research on Women's Health at the NIH, where she made women's issues a priority when few others cared.
Hartmann talked about her mother, a single mom who struggled to make ends meet but ensured that her daughter had more opportunities than she had. I could really relate to this, since my mother has always supported my family. Although my mother is very educated and always held responsible positions, she too wants me to have more than she had. Hartmann was really inspiring, sharing her view of a utopian world where society will take care of the downtrodden and ensure that they have the resources to improve their own lives. I certainly hope that her vision of the future will be a reality for my daughters and their daughters.
Pinn also spoke about her mother, and how she was greatly disturbed when she went to a doctor's appointment with her mother and the doctor spoke down to her and wouldn't take her seriously because of her sex. Sadly, this doctor misdiagnosed her mother's bone cancer, which led to her premature death. This unfortunate experience gave Pinn the determination to ensure that medical research properly addresses women's health and that doctors listen to what women have to say. She also talked about how she became the director of the Office of Research on Women's Health. When Pinn heard it would be created, she suggested that it should address women's health, women's careers, and diversity issues rather than just inclusion of women, and expected to be told to go on sabbatical rather than given an offer to become the director. She stressed the fact that if she had not spoken up, she would probably still be working as a professor, and would not have been such a groundbreaker in women's health. In many ways, I feel like that was the message of the entire NOW conference: speak up! Make your voice heard! Otherwise, who will?