You may have recently read, or heard on the news about Frank Meyers, the 85 year old farmer who has been in a fight with the Federal Government to keep his 200+ year old farm in Quinte West.   The direct descendant of a loyalist war hero, Frank Meyers farms the very same plot of land that King George III bestowed on his famous forefather as gratitude for his legendary service during the American Revolution. Now, more than two centuries later, the Canadian government wants it back.  Sadly after seven years of fighting Meyers finally broke down and surrendered to the Government's demand.   In many cases a story such as this would simply fade away, Meyers would start over somewhere else, the Department of National Defense would take over the property and turn it into a military base and in time the people would simply forget.  However there is something about this story that is making it gain momentum, and fast.  First a Facebook page that was created and has just surpassed 12,000 likes and now a Belleville based music promoter, John Shipman, is forming a coalition of musicians called "Musicians for Meyers" to help raise awareness and support for the Meyers' cause.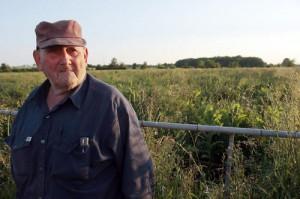 Frank Meyers at his farm! (from Facebook)
What is happening to the Meyers family is 100% within the government's right but the Meyers farm isn't just your neighbourhood farm.  There is some belief that there is historic significance to this property, or what's left of it anyway as most of it is already part of modern-day CFB Trenton.  Originally owned by Captain John Meyers, a loyalist spy during the American Revolution. He recruited soldiers, gathered intelligence, and carried dispatches through enemy lines for the British army in his native New York. Exploits such as his daring attempt to capture rebel General Philip Schuyler in 1781 made "Hans Waltermeyer" a legendary figure in the folklore of the times. After the war, Meyers moved north to British territory and bought this site for a grist mill in 1789. He traded furs, ran merchant vessels, and built a sawmill, distillery, fulling mill, and inn nearby. The surrounding community became the town of Belleville in 1816. Meyers was one of many loyalists whose defeat in war led to the beginnings of permanent settlement in what is now Ontario.
The Crown Patent for Meyers Sidney farmland was granted in 1798. In it, King George the Third "GIVE(s) and GRANT(s) unto Captain John Meyers and his heirs and assigns forever, a certain parcel of land situate(d) in the Township of Sidney"
In this day and age where farms and farmers are becoming less and less and our food costs are climbing higher and higher I'm completely shocked that our Government would force this family from land that has supported this country for over 200 years.  If we allow the ancestors of our founding fathers to be pushed around in the name of national security, or any other reason for that matter, what will become of our great nation?  Don't get me wrong I believe National Defense is important and I also believe that the JTF2 (slated to occupy the Meyers land) is a critical unit in desperate need of a new home but I don't believe that the Meyers property can't be saved.
It's time to stand up and tell the Government to find someone else to pick on and allow this historic land to remain and continue it's destiny to provide food for another 200+ years.
If you are interested in hearing more about the Meyers' story or want to become a part of Shipman's coalition please like the Facebook page or email John directly at [email protected].