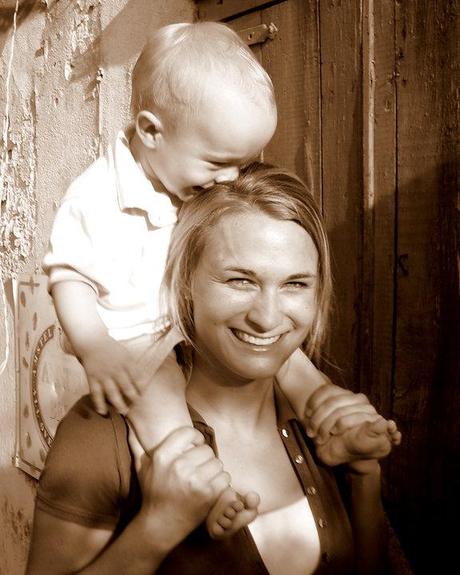 I sing at least three songs to my three-year-old every day before nap, and every night before bed.
I tell you this to preface another different, yet connected story:
My son can be, well, three at times. Most of the time. All of the time.
He speaks his mind, regardless of whether it is or isn't offensive, politically correct, feng shui, etc. Illustration: he has reminded me that I have a much larger butt than his own on many occasion, and has, more than once, asked me why my boobs sag. Thanks. Spent $50 on a new bra after that one.
This time it was regarding my MIL (mother-in-law for those not up on the anagrams). She was babysitting him so my hubby and I could go out on a date. Baths were taken, teeth brushed, books read and then it was time for the songs. She began singing 20 different songs, but was halted each time with a 'you can't sing that song – my mommy sings it better'.
I guess while looks are lacking, my voice is still appreciated.
It is because of this constant singing, however, that has helped my son become quite the musician himself. When a song he is familiar with (because of my singing) is played he BELTS out the notes, with fairly accurate tonal precision, and (usually) similar sounding words.
It's only been since we have been living with my brother, however, that his love for the piano has grown, though. My brother is a very accomplished pianist and often plays and sings at the same time. My son now does the same. His songs aren't nearly as ear-friendly, nor do his words make any sense – but the spark of the musician is there. And I think it's adorable.
Here are some of the things I have been doing with him to keep this fire regarding music alive:
-Sing every nap-time and bedtime WITH my son (he sings along)
-Play the piano in front of him AND help him play (push down his fingers in the correct fingering needed to play 'Hot Cross Buns', 'Mary had a Little Lamb', and 'Twinkle, Twinkle' – simple, recognizable songs that don't require very large hands to achieve.)
-Allow him to 'play the drums' while I cook – pull out extra pans and spoons of various materials, creating various sounds.
-Make homemade instruments, like paper plate maracas, grass whistles, oatmeal container drums, pvc pipe xylophones, and scrap metal chimes.
-Play music in the car when driving places, and encourage him to sing along to the words.
I constantly praise my sons singing, and occasionally bribe him with gum to sing louder (especially at church – all the old ladies love seeing him belt out the hymns!) and it works – he not only sings, but he loves to do it, and does it well. And he tends to be on pitch, which mean he's already developing a musically inclined ear.
Music with toddlers is easy and fun, it just requires a little patience with a lot of noise and (at least in my case) a few less-than-polite comments…
Hi, my name is Heidi and I love to blog about parenting and health.  Currently I am a part time juicing blogger at Juicingpedia.  I love to share my juicing recipes with fellow health conscious people…including my little boys who are really starting to love green juice!