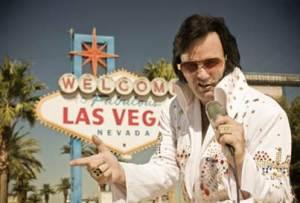 In my business as a Las Vegas Wedding Planner I find that whenever I talk to outsiders about Las Vegas Weddings it doesn't take long before someone mentions an Elvis-themed wedding. Of course they are great fun, but I thought it would be interesting to blog about the other music themed wedding choices in Las Vegas.
The majority of these packages also include professional photos, online video of the ceremony and flowers, amongst other things. Follow the links for more information.
Viva Las Vegas Wedding Chapels offer a Thriller themed wedding for $960. They will provide a Michael Jackson impersonator for your officiant, who will sings a selection of Michael Jackson's songs for you during the ceremony. This is a Thriller themed wedding, not a Michael Jackson theme, so there will be theatrical lighting and even some fog!
Cupids Weddings offer a Johnny Cash themed wedding for $379. For this the Johnny impersonator will walk the bride down the aisle to Cash music on the sound system. Then the impersonator will perform the ceremony and sing some Cash songs.
Las Vegas Weddings offer a Liberace themed wedding for $860. A Liberace impersonator will play the piano and serenade you as you walk down the aisle. He will also perform the ceremony. You will have theatrical lighting and fog, and you get to light the unity candle on his famous candelabra.
Gothic Weddings offer a Rocky Horror Show wedding package for $1010. Of course Frankenfurter will perform your ceremony, but several of the other characters from the show will be there to help him to serenade you with the hits from the show, which wouldn't be complete without theatrical lighting and fog.
The Venetian Casino offers a "Cerimonia Sul'Aqua" wedding on a gondola for $1000. As you travel around the casino's canals on a gondola large enough for the couple, the officiant and a witness, you will be serenaded by the gondolier.
Vegas Weddings Now offer a Billy Idol themed wedding for $850, presumably inspired by his song "Nice Day for A White Wedding". You will be collected by a limo, and a Bill Idol impersonator will sing his classics then perform the ceremony.
For more information on planning your Las Vegas music-themed wedding, email Claire or visit her website. For updates, "like" the Las Vegas Bridesmaid page on Facebook.