Trends happen when a formula works, why branch out, take risks when there's a success story to copy? One Direction have reinvented the boy band, they are cool for the first time since the sixties. Social media is still all the rage, put two-and-two together and you get The Vamps. Four young good looking boys who play instruments, 'write their own songs' and met through social media. I doubt the last two are 100% true.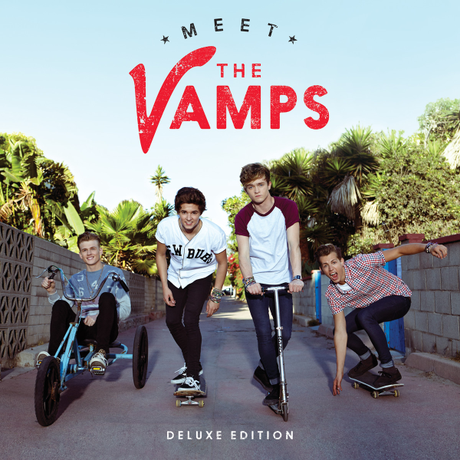 The story of the fresh faced quartet began in 2011 but it was on January 15th 2012 Bradley Simpson posted this on his Facebook page.



Prestige Management work with McFly, try Googling them though, nothing. Within eleven months sixteen year old Bradley went from a solo artist with a dedicated fan base of young girls infatuated by his good looks to a front man of a band on the rise, signed to Mercury Records. The previous year guitarist James who had already been courted by Prestige then 'discovered' Bradley through Youtube, plausible, right? The pair, who lived in different cities spent weekends bonding and writing songs together (what about their GCSEs!) before finding drummer Tristan on Facebook (the chances!). A nice story, almost possible, but I don't buy into it. The line-up was completed with bassist Conor, a mutual friend... The quartet then began uploading some covers to the very place where James first found Brad and Mercury 'discovered' them. A busy old year.
2013 proved equally important as they built on their foundations with key support slots for McFly, The Wanted and The Saturdays, picking up fans on the way. Wild Heart was their first original song to surface online in July, it gained momentum quickly. The in September the band released their debut single, Can We Dance, within two weeks the video had been viewed over a million times and entered the charts at number two. Quite remarkable. From then on these teens have gone from strength to strength.

This lot remind me of Busted, music wise, rather than One Direction but their clean cut image and hair styles are almost carbon copy of the X Factor finalists. I saw them supporting Taylor Swift in February and they were really good, making the massive stage in the huge arena seem like a home-from-home. I guess they have become accustomed to arenas, they haven't had the delights of the 'toilet tour'. It was only last week, to promote the release of the record when the band headlined their first ever show!

Meet The Vamps is a pop album which explores a variety of territories but it's the pop punk edge where they really hit the mark. Three of the four opener tracks are their singles which glare with high-impact consistency, catchy sing-a-long types. As the album expands there's a few forgettable slow numbers thrown in but the likes of High Hopes and Move My Way bring the tempo and toe-tapping back. It takes an interesting twist with Oh Cecilia (Breaking My Heart) where they reword the verses of Simon and Garfunkel classic, whilst Girls On TV almost rips-off Peter Andre's Mysterious Girl. Again, if a band as big as One Direction can get away with blatantly stealing from others why not do the same?

The band have tried to cut comparisons with One Direction but it is almost impossible not to, they even use the same song writers, Jamie Scott (Wild Heart) Wayne Hector (Last Night), Carl Falk (Somebody To You) have all worked on some of 1D's biggest hits whilst Bruno Mars worked on Can We Dance and High Hopes could be a McFly song, then again, it was written by them...
The success of The Vamps is down to a number of factors, One Directions, good looking boys, great marketing but killer pop songs. Without the tunes they would have struggled.