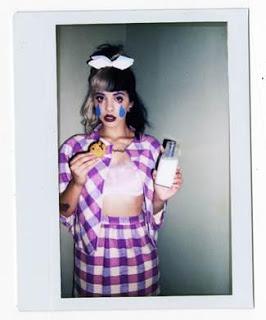 I came across Melanie Martinez a few months ago on Tumblr. I was drawn to this girl who wore baby doll dresses, big bows in her hair and make-up that suggested innocence. After a bit of digging I discovered she was a pop star, I didn't need to hear her music to know that I'd like her, her image ticked the right boxes for me.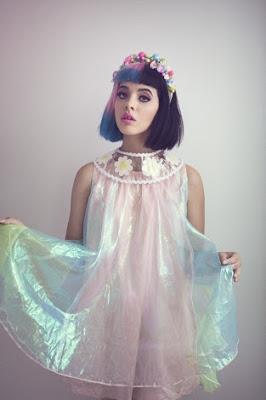 The next step was to Youtube here, and yes, her aesthetics were no coincidence, her debut EP, titled Dollhouse featured songs that masked adult issues with children's stories and the album, Cry Baby is no different.

Melanie was a contestant on The Voice in America however, the experience wasn't all that enjoyable, she's not the pop puppet they wanted but she used the show to springboard her career as a quirky and original artist.
When I look for pop stars I'm drawn to those who play characters, who have fun with imagery and Melanie certainly does that but it can be quite a niche market. This debut record features some great songs, the singles are catchy, the album tracks offer longevity and the lyrics are clever and witty but I'm sometimes a little confused on who these songs are for.

Her playful presence is great, using the childhood and references dolls, training wheels, pacifiers, sippy cups and many more on that theme all come together in songs with much darker meanings giving substance for people aged over thirteen but she does swear a fair amount too, it isn't really required and that could lose the younger audience.
As an album it works, messages of self-esteem issues, family dramas, infidelity and depression are all tackled as she tells tales that have been put together with precession. There are moments that show influences from Lorde with vacant electro beats whilst at times her vocals remind of the sweet tones that Lana Del Rey often provides but there is no mimicking here.

It will be interesting to see where this project will go. Will she gradually grow into a toddler, remain in pastels or completely ditch this character? We can worry about that later...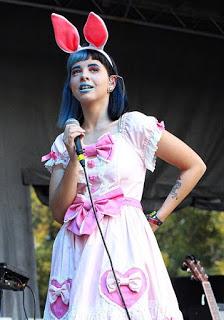 Just hope she comes to the UK soon.