Although I've been to the Worthy Farm festival twice some of the highlights engraved in my memory come from the tv. The BBC's coverage has helped push the popularity and year-on-year thanks to technology (iPlayer etc...) and demand the coverage has become more than extensive. The exposure can make or break band, this clip of Robbie Williams in 1998 took the former Take That member into a mega stardom.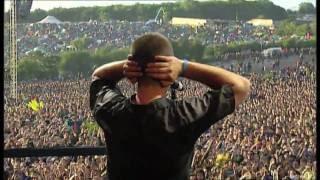 I remember staying up on what I think was a Saturday night to catch Coldplay's set in 2002 and it was one of those moments where they became the giants they are today.

A year later David Gray did a similar thing, unfortunately for the singer with the wobbliest head in showbusiness this was the pinacle of his career.

Beyonce was a megastar before setting foot in Pilton but her 2011 headliner set broaden her audience as she owned the Pyramid Stage like nobody had managed before.

Glastonbury raised the profile of The White Stripes in 2002, Jack has become regular ever since.

Paul McCartney closed 2004's festival in style, strangely with the former Beatles first ever appearance at Glastonbury.

There was something about Janelle Monae energetic 2011 performance that caught me by surprise, it was flawless in delivery as her explosive pop and vibrant personality made you sit on your settee and be wowed.

And finally the late great James Brown was simply stunning in 2004, one of his last big outings.

What memories will the BBC delivery this weekend?