The other night Sheffield lads Arctic Monkeys headlined Glastonbury's Pyramid Stage for the second time, that is some feat for a band who are still in their twenties and in seven years they have become one of most successful bands ever, constantly breaking records and pushing boundaries. They have come far since breaking out of post-Liberties era via internet forums with catchy indie pop tunes with quirky lyrics to an established constantly evolving rock n roll band who have become superstars by doing it their way and remaining grounded, like they declared in the 2006 anti-hype anthem Who the fuck are Arctic Monkeys.
The once shy Alex Turner has always had a very likeable personality but he sometimes struggled to show that on stage, appearing more awkward than the charming character that he can be, this time around the singer made the iconic Pyramid Stage his own as a showman whilst the band rattled through material from all eras of their career in a set jam packed with hit after hit.
 In the six year period between the bands Glastonbury sets they have gone from fresh faced newcomers with a shit load of potential balancing on their shoulders to established and experienced headliners with over a thousand live appearances and a back catalog stronger than most, along with this comes confidence and Alex beamed with it this time round as he entertained the masses with a certain swagger looking more comfortable in the limelight than ever before.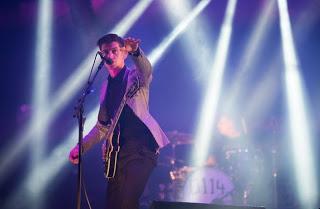 The floppy hair of 2009's Humbug, an album that saw the band move away from indie dance-floor fillers was chopped off to see a new side to the singer as he now proudly sports a slick fifties quiff, accompanied by sharp suits and charisma that he lacked in the early days. Alex is now looking the part that he had been portraying for years without arroganceor cockiness. The bands influences' have changed as they've grown, naturally and not only has Alex channeled Richard Hawley's crooning ways both fashionably and musically whilst soaking up Josh Homme's diehard relationship with rock 'n' roll he's collaborated with both of them too! Heavier song writing structures have crept in, helping the band steer away from become a fad like many of their mid-noughties contemporaries. The musicianship often gets overlooked by Alex's witty, clever wordplay and pop mentality you don't realize how great the band are, new single Do I Wanna Know is full of hard-hitting drums and guitar riffs that pay a subtle-yet-vital role but early favourites such as Mardy Bum and I Bet That You Look Good On The Dancefloor have stood the test of time.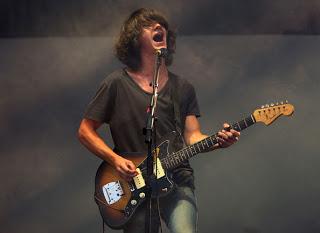 Maybe it was dating model and fashion 
supremo Alexa Chung
 that gave Alex an interest in fashion or just that he's no longer a kid who'll settle for a Fred Perry polo shirt and skinny jeans from Topman 
as it isn't just the style which he's perfected to the finest detail but the brands he chooses such as Lewis Leathers biker jackets and Dior Homme suits, that lad from up the road has become somewhat of a dapper gent as smooth as Elvis and as cool as Nick Cave who has studied the art of being a rock star.
They are a band who will always keep us guessing and they haven't shown any signs of feeling the pressure despite it being there on every release, every show since the hype began in 2005. They way that they have progressed has only
built their 
fan-base
 rather than alienating those who first fell for the Northerners when the 
metaphorical
 ball started rolling.
The quartets fifth album, AM is released in September, a UK tour follows with tickets going on sale this coming Friday.
This video remains one of my favourites, ever. Enjoy.